Lagoon 67 Review
This time we have something special for you – extravagant Lagoon 67 developed by VPLP design is a powerful luxurious motor catamaran specifically designed for long-range voyages. We describe the experience during our own trip on board of this cat, as well as opinion of other respected reviewer from famous yachting magazines. As usual, informative photos, videos and summaries are included.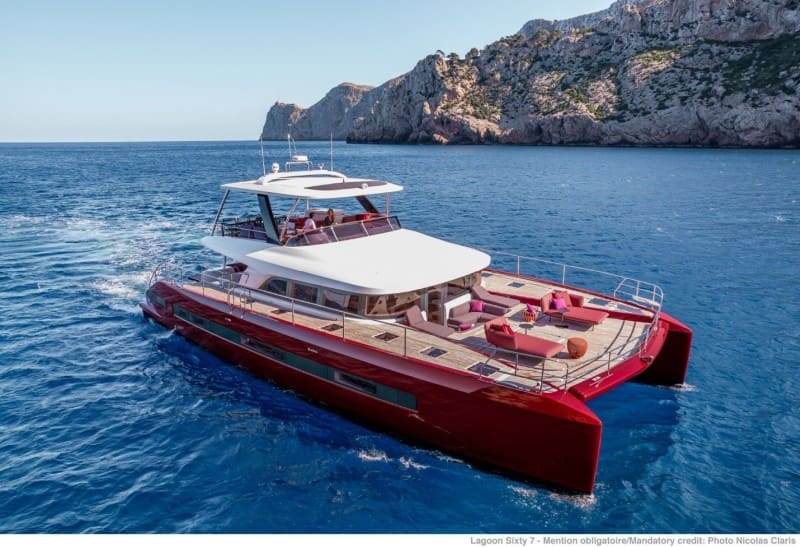 And here she is – 20-meter-long floating castle, looking daring and aggressive thanks to the mix of bright red and pure white. As much as Lagoon likes the color white, this time they went full out on trying to make the yacht look modern and unusual, almost like a Ferrari, but much more expensive.
VPLP design took care of naval architecture of the vessel, the exteriors were created by legendary Patrick Le Quément and Nauta design delivered the comfort and luxury of the interiors. This catamaran is destined to replace Lagoon 630 and, compared to its predecessor, offers much more usable space – around 30% more both inside and outside. The flybridge grew bigger, the space between hulls at the foredeck was used extremely well and overall layout was optimized in many spots.
The main impression that we got from out tour is that Lagoon went full out on details this time. Yachts of this level are not about something specific – they win you over with hundreds of small innovations and additions that don't really have to be there, but since you notice them and get surprised by them, your fascination with the yacht just keeps going up. You'll see what we are talking about as we step on board.
Features of Lagoon 67
Brand:

Lagoon

Hull type:

Catamaran

Overall length, m:

20.15

Width, m:

10

Draft, m:

1.15

Displacement, t:

48.3

Water tanks, l:

2 x 500

Exterior design (Architect):

Patrick le Quément

Interior design:

Nauta Design

CE Certification:

Category A

Engine, hp:

2 x 340

Option engine, hp:

2 x 440

Fuel tanks, l:

4 x 1375
Would you like to buy a boat or get more information, such as delivery dates, safety equipment, registration, and insurance?
Call or Text us, and we will provide actual information ASAP!
Official representatives and service suppliers will provide all data.

English / Hrvatski / Русский
Virtual tour
Review of Lagoon 67 by TopRik Team
Miami International Boat Show saw many yachts over the years, but I think not a single one was as striking as this one – that color red definitely makes Lagoon SIXTY 7 stand out from the crowd along with its partner in crime Lagoon SIXTY 5. The model 67 is drastically different when it comes to bow though – the trampolines are replaced with a huge terrace all covered with teak, we couldn't wait to check it out from the start. But we go around and move towards the stern first as that's where the steps are.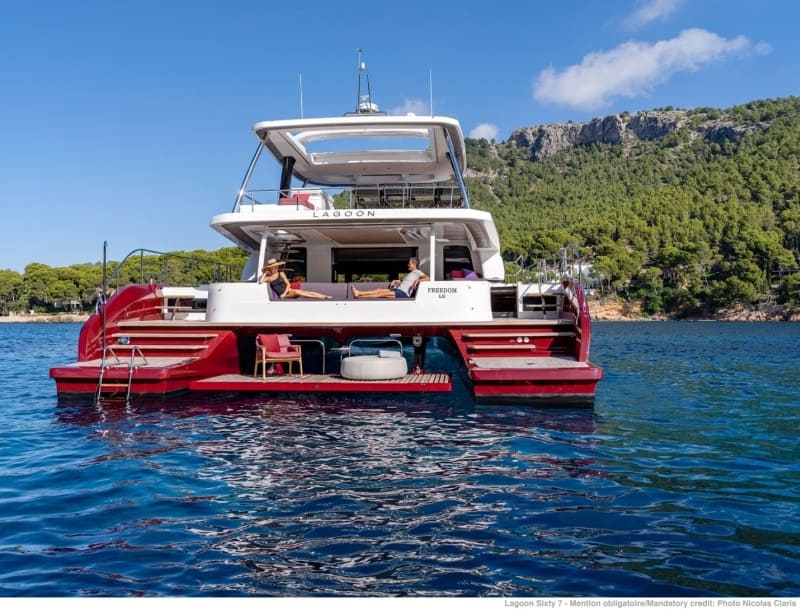 A Transom or a Wooden Beach?
Look how tiny people look on those sofas! That's what you get when your yacht is 10 meters in beam and the architects had some fun with the open spaces. Also, that's where you can already notice those details: nothing is cramped or restricted, steps are extremely wide and can be used by multiple passengers at once, without the need to get into a line to climb them. Right away you see a very solid and reliable swimming ladder, and, of course, all the transom is covered in anti-slipping wood planks.
After a swim you can take a shower right there near the ladder and let the sun dry you up while you enjoy the view on the platform in the middle in your lounger. Most such platforms don't have any railing attached to them, yet here you get solid metal guarding you from falling over. The railing situation on the yacht in general is pretty much perfect – no lifelines whatsoever and it is hard to find a place where there's nothing solid to hold on to. Based on our practical experience with many yachts, this is one of the most reliable signs of higher-than-average quality (and price tag) of the vessel.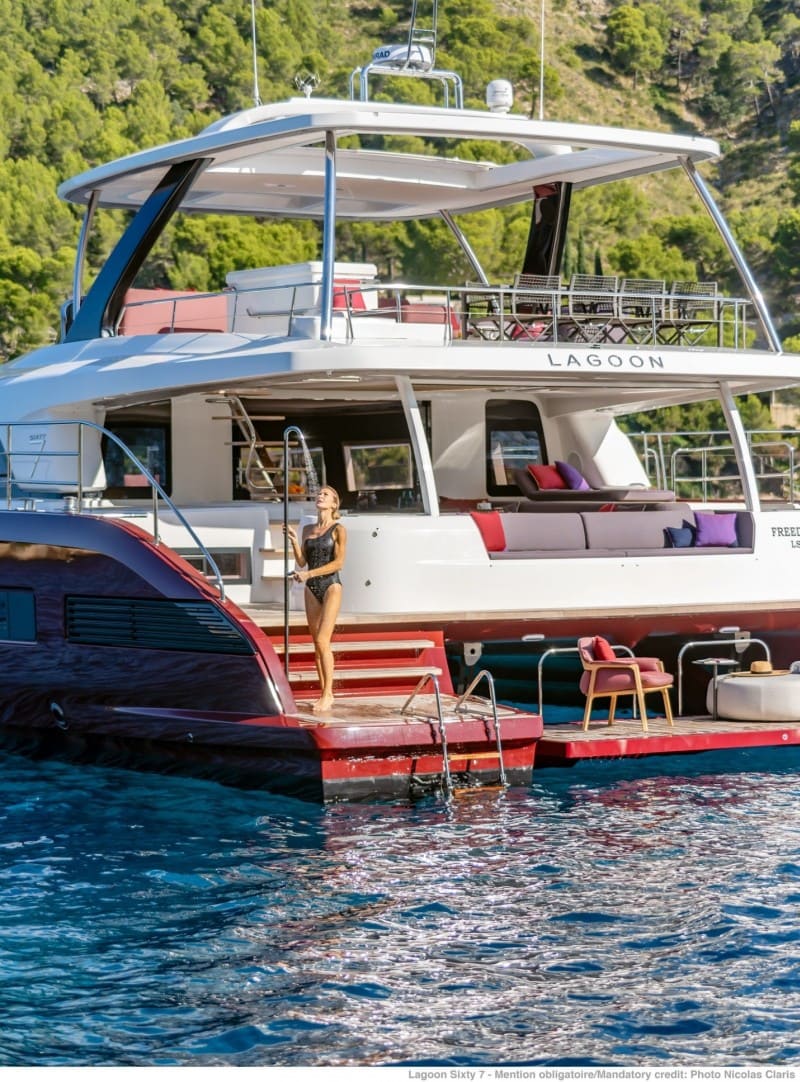 A Cockpit or a Dining Hall?
The first thing you notice is that these white structures on the sides of the sofa are not just for show: on the portside you have a grill with cupholders hiding under a cover, and on the opposite side there is a refrigerator for drinks. The sofas themselves are also more sophisticated than they look – the backs can be moved, making the sofa face either aft or the saloon. The roof (which is also the floor of the flybridge) provides pleasant shade all over the cockpit.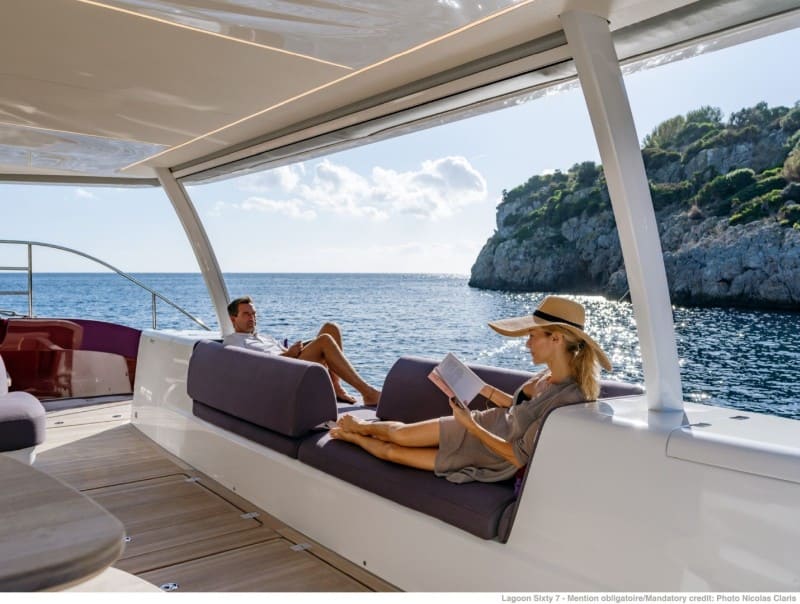 After climbing up, right under our feet we found two hearts of the vessel – 340/440 hp Yanmar engines, which are extremely convenient to reach through the hatches in the cockpit deck. Fed by a 5.5 thousand liters of fuel, these beasts can take you very far: if you choose to be efficient with your consumption and keep 10 knots on average, you can cover 1800 nautical miles without refueling. If you want to go faster, at 15 knots, you still get incredible range of 700 miles.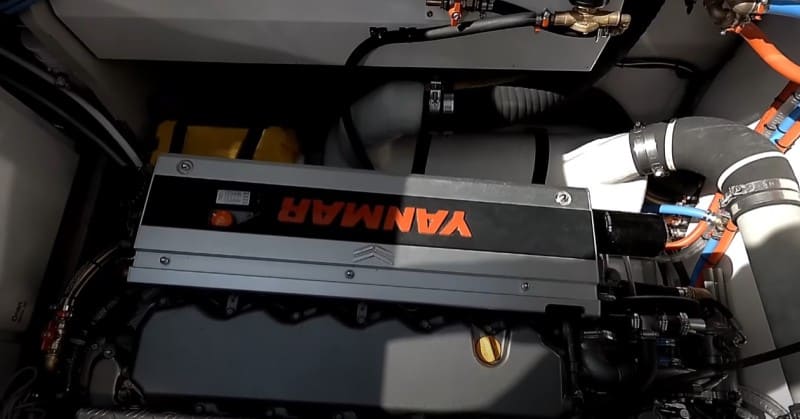 In the same compartment you will find the dual generators – one 19kW and one at 21kW. The compartment has enough room to comfortably fix any issues and keep your tools right here as you are working.
But let's get back to cockpit – in yachts like this it's the comfort that matters.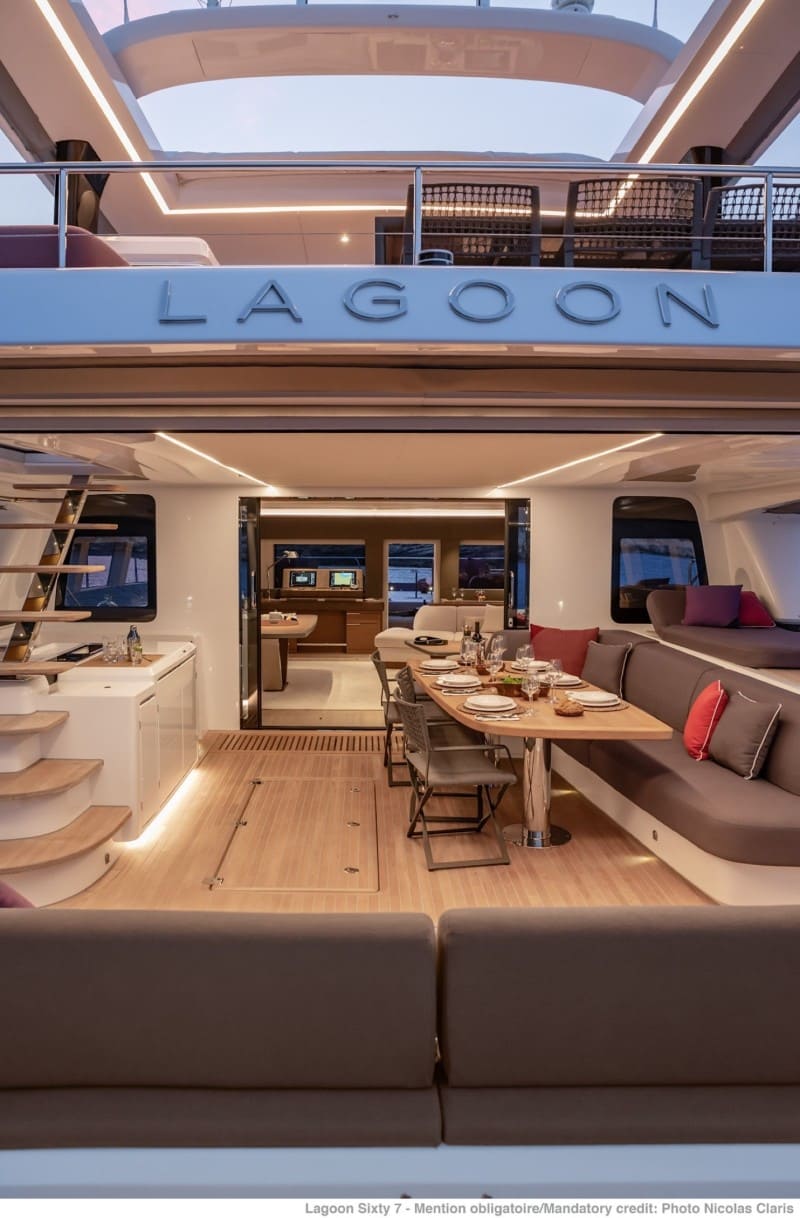 Yes, that's a longer near a huge table for 10 people. Indeed, after a good meal lying down always sounds like a good idea. But look at the size of this cockpit! Even the door leading the saloon is a double door – indeed, fitting for some kind of dining hall. The provider of furniture for all the living areas is Belgian brand Tribù – it is modern, simple, elegant and not afraid of fun colors.
As you can see, to the portside there is a mini-galley with in-built cutting board, sink with a cover and garbage disposal, as well as freezer and icemaker for drinks.
Let's enter the saloon now.
A Living Room in Place of a Saloon
When talk about the saloon, usually we have some reminder that we are still on board the yacht. There might some beam in the center of the space, small hatches, some limited space or compromises made during the design. But in case of Lagoon 67 it is really difficult to not call this one a living room.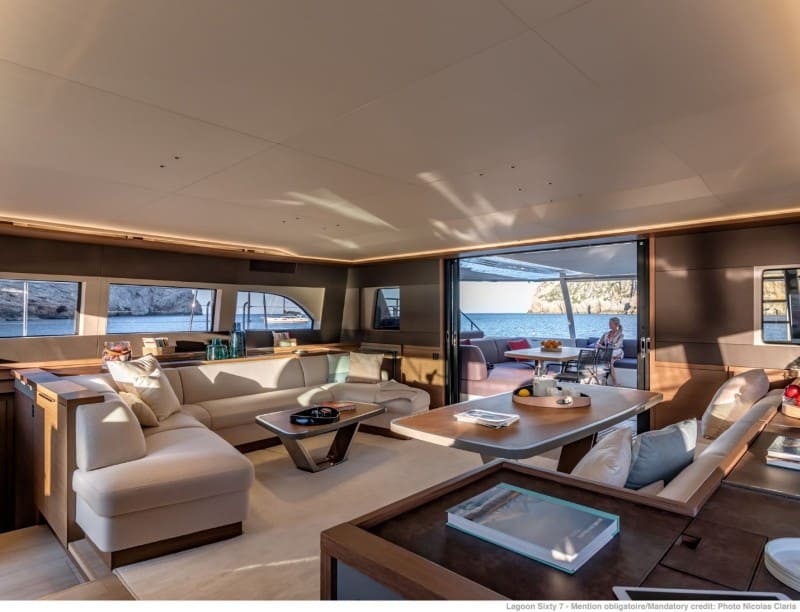 Right away you see C-shaped large sofa with a coffee table facing… nothing? Don't worry, this can be fixed – look carefully at the roof and you will see outlines of an opening robot arm that brings out a huge TV. You can also rotate that TV automatically using the controls at the skipper's table. The optional Waterfall Audio system will also allow you to enjoy favorite music in highest quality.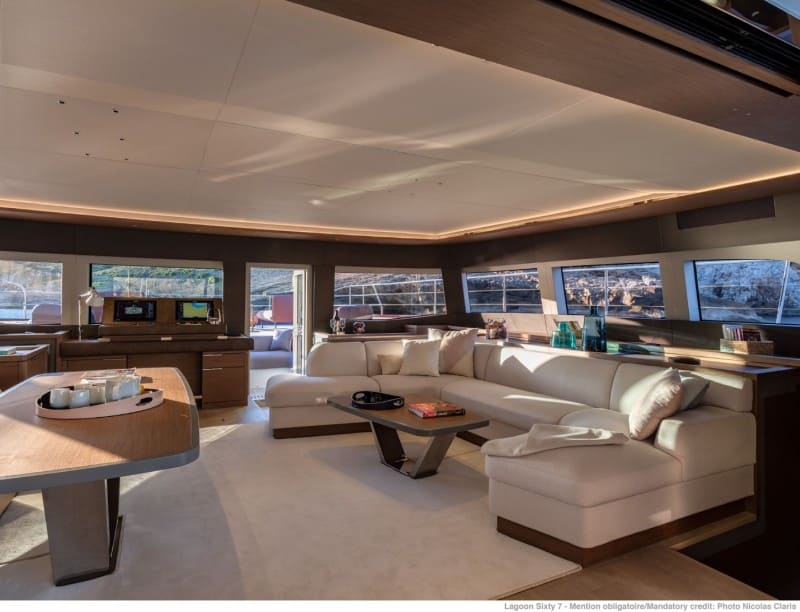 Big dining table is perfect for gathering all the passengers in one place during bad weather. There are shelves and lockers everywhere, making it easy to find a place for your books and gadgets. Again, details – these surfaces are surrounded with a rim, preventing stuff from falling during roll.
The color scheme is a big change compared to the exterior – mostly beige and white, comfortable and cozy.
As for the skipper's table, it looks the most formidable with wood surrounding premium Simrad navigation equipment and all the necessary controls to keep the boat steady. To the left of the table there's another fridge for drinks (can't be too many of those) and behind the sofa you get a wine cooler and lots of storage for bottles and glasses.
Usually at this stage we show off the galley and move on into the cabins, but Lagoon 67 is not like other yachts. The galley is nowhere to be found in the saloon as it was moved to the lower decks.
But it is time to talk about the elephant in the room, which is that unusual door next to the control station. Very rarely we see such a decision, but here it is – direct access to the bow deck, a true proof of sophisticated, expensive and convenient layout.
Door to the Foredeck – How's That?
Not much yachts can boast a foredeck like that. Enormous living area, replacing more budget trampolines and proving space for a dozen passengers, that can be directly accessed through the saloon and is surrounded by reliable protection around the boards.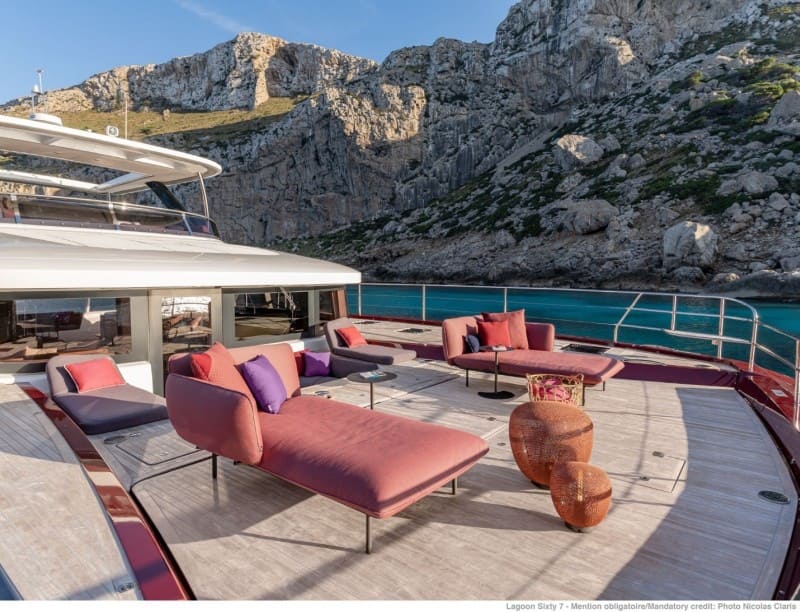 There are enough teak planks here to build a small hut in the forest! Under that teak there is access to chain and windlass, a lot of lockers, and also a crew cabin, which is not large by any means, but has all the necessities – a bed, shower and a toilet. The lights and mooring chocks slide out from special spots and don't take any additional space when not needed.
This place feels like a bow of a cruise ship, as nothing reminds you that it's actually a filler between two catamaran's hulls – the build quality is stellar and nothing creaks under your feet. Sunloungers and decorations can be moved to the sides and the whole area then turns into a dancing floor, which can not be done on board any cheaper cat which has trampolines here instead.
To the Flybridge and Helm Station
We decided to move along side decks this time instead of going through the saloon – even more teak under our feet, even more railing under our palms. The black hatches are built-in flush, so you are not going to trip over them.
We climb the ladder from the cockpit and voilà!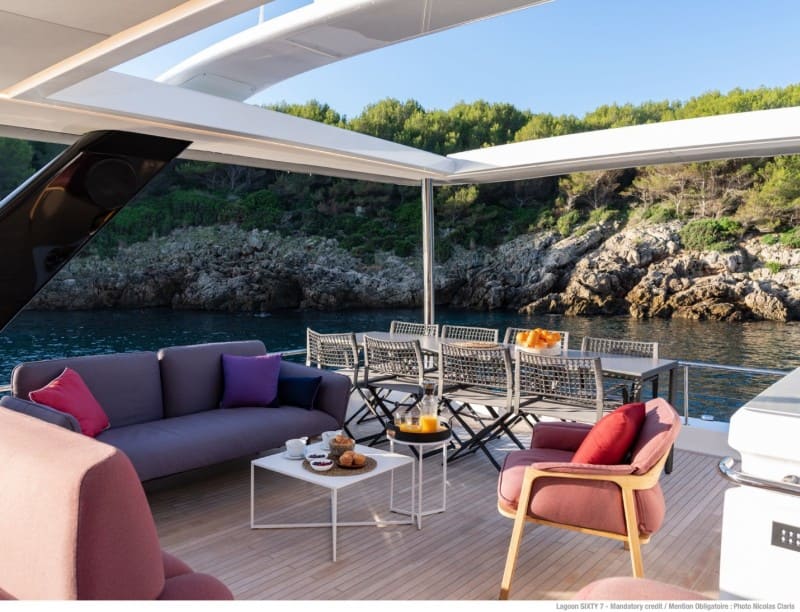 More excellent Tribù furniture and very much summer theme with light fabric chairs and small coffee table in the middle. The awning is retractable, so you can enjoy the pleasant side of the sun when you want and avoid the annoying scorching rays at especially hot days.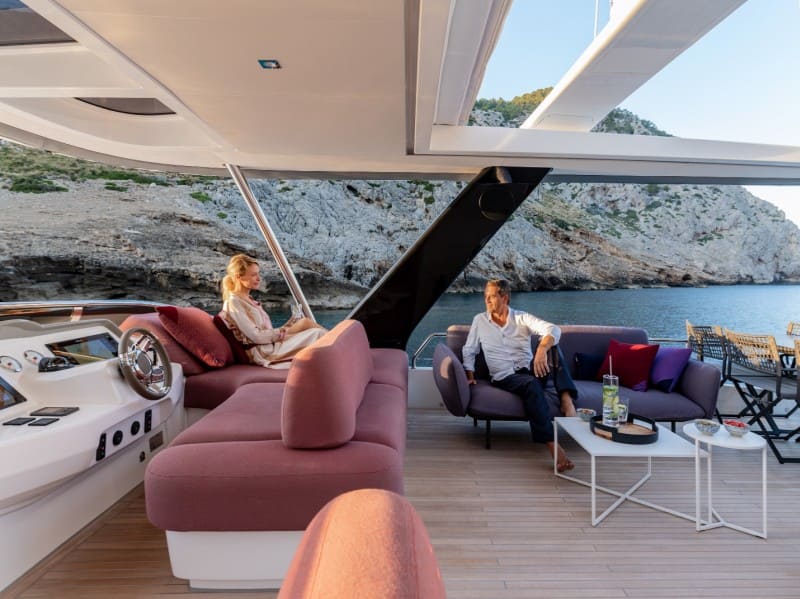 From here you have probably the most convenient seat for a skipper ever – no small mattress or just something to lean on. It is a full-size sofa with adjustable back.
The helm station itself is executed in same modern style as the rest of the boat – it is minimalistic and high-tech, with car-like steering wheel, advanced cameras for precise control of your boat's position, Simrad chartplotters and all the necessary equipment laid out in the logical way. To be honest, looking at this small number of controls you are surprised by simplicity of this yacht's management, especially compared to sailing yachts – no need for winches, sheets, halyards etc., which definitely lowers the barrier of entry for a potential buyer. Actually, according to some yachtsmen, such huge motor vessels are actually easier to manage than a regular car, thanks to the lower speed and more time to react in dangerous situations.
You get another galley for an occasional snack or a drink on the flybridge with the same features as the one on the cockpit.
Lower Decks and Higher Comfort
Now we go from heaven to… even more heaven! As we descend the stairs into the cabins, we immediately go and look for the galley since we didn't see it in saloon and it felt like unfinished business.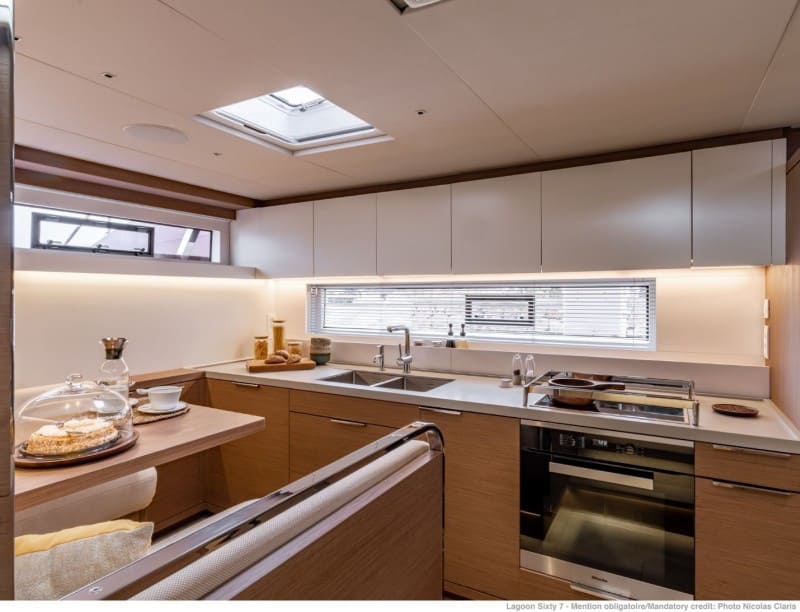 That's not a galley, that's just a kitchen. Actually, most kitchens look much worse than this. Here you get a full-size high-tech oven with bunch of options, convection microwave, built-in coffee machine, large sink, lots of working surface and storage space. Even though it's not lit by the saloon windows, as it usually goes, the lighting is surprisingly good and you can always turn on some electric lights if needed.
A little table and a sofa are a nice touch and definitely make it look even more like a regular kitchen at home. But was is even more surprising is that you get a washer/dryer right in the galley, which makes much more sense when the galley is located in the cabins. Keep in mind, that it was out model that had the galley down – you can always opt for a more usual layout where it is up there.
Talking about layouts, here's the quick look at possible options (you can find higher definition at our website's Lagoon 67 sale page):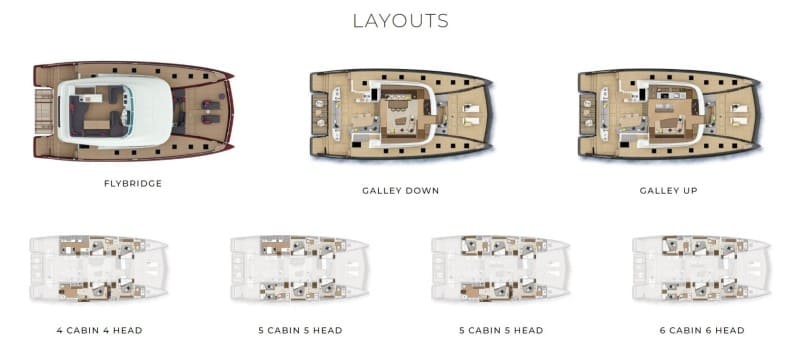 We found ourselves at the 4/4 owner's version so we decided to check out the owner's cabin next and were not disappointed.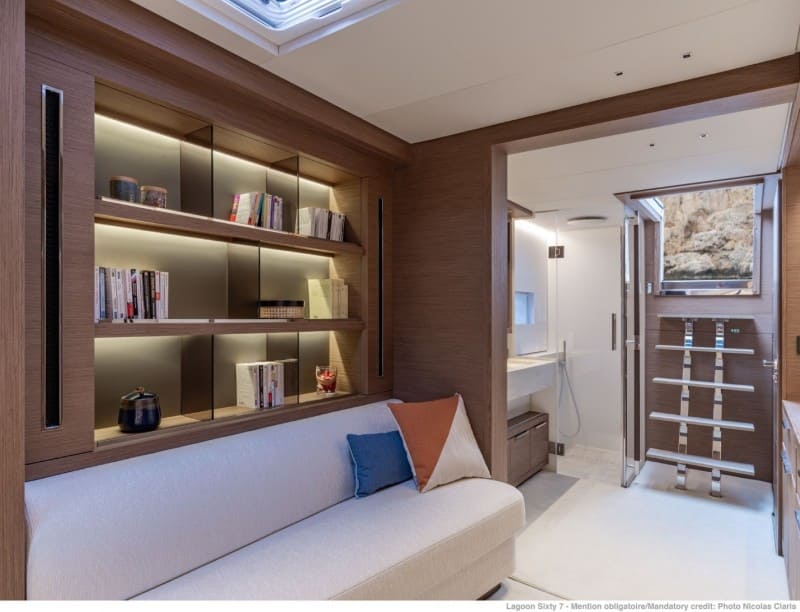 This is what you see right after you climb down into the master cabin. To the right there is a truly large closet for all possible garments you decide to take on a voyage, drawers and shelving. The sofa and decorative shelves, again, are not necessary, but you will not see anything like this on a smaller yacht.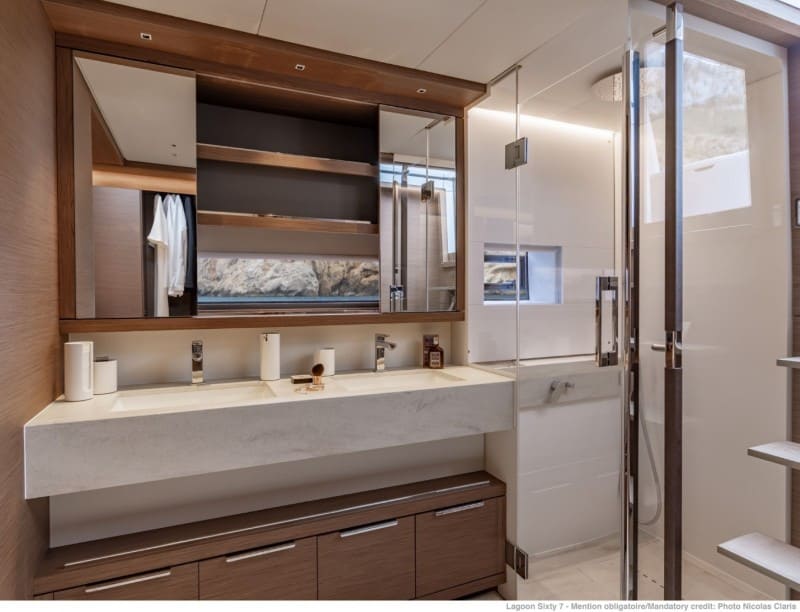 You can see the conveniently placed ladder to aft which is perfect if you decide to take a swim and right after you come back the same way and take a shower. Near this shower with very high ceiling there is double vanity sink with large porthole and lots of drawers.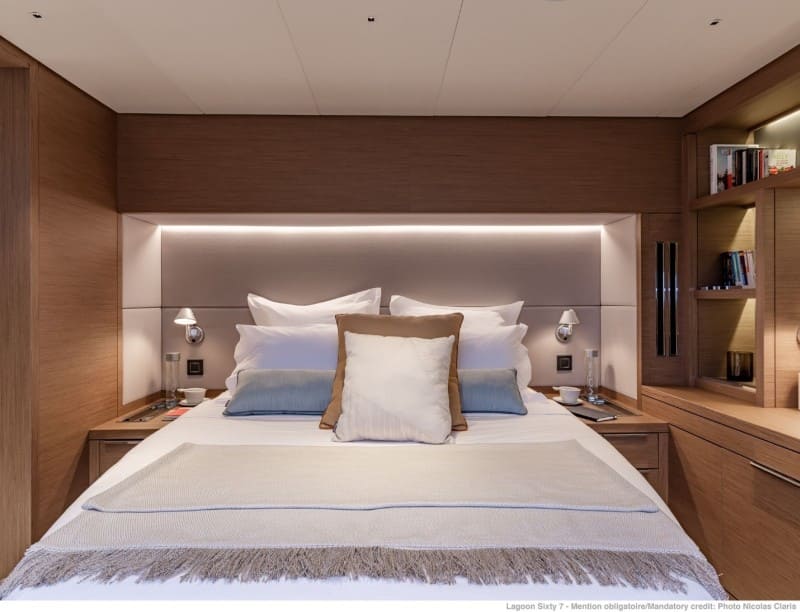 Even more shelving, lockers and drawers inside. All the doors pleasantly click into place when closed, held by a reliable mechanism, preventing them from opening. Two lamps to the side of an island bed add even more to home feel. The leather inserts at some surfaces are a clear reminder that your yacht is something special. And if you want to watch TV while at bed, there's another automatic TV sliding out in front of you. The toilet head is separate and has electric flushing. Details!
Now, let's move to VIP suites.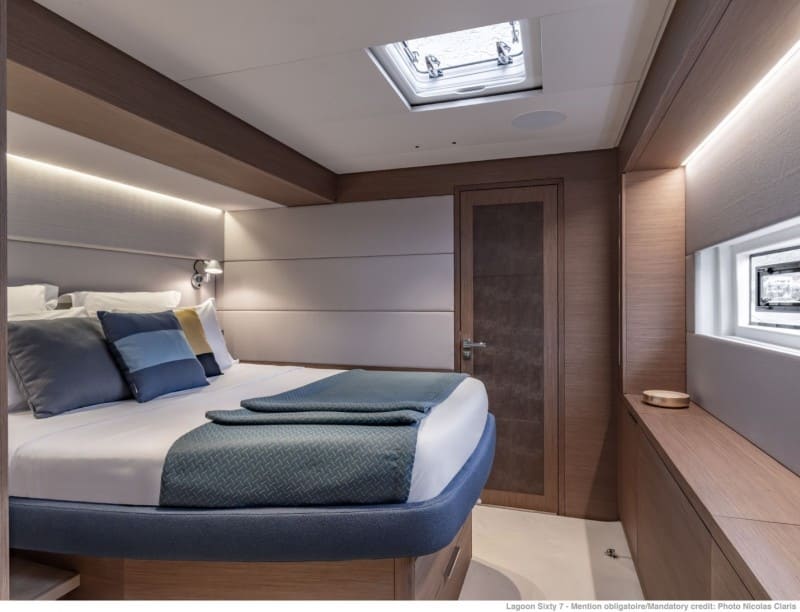 Sure, at many other boats that would be the owner's cabin, but here it's just a VIP one. Also, lots of drawers under the bed and in the shelves, hidden electric sockets, very high ceilings, a lot of expensive materials used in the interior and, when it comes to plumbing, you can easily access it through the hatches in the floor in case of an emergency. The same TV "extraction" process is available here too.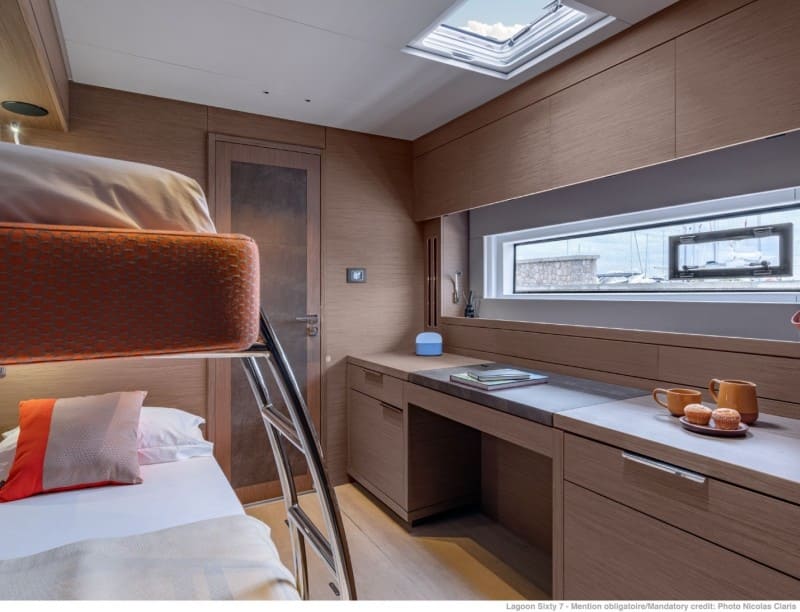 And here are the crew cabins – definitely much more comfortable than the one at the bow. Full-size desk with great lighting, thick mattresses and the bunk beds that are wide enough to sleep in any pose you want. The crewhead has a separate shower with drawers under and above the sink. By the way, these panels under and above this hatch also hide storage places inside.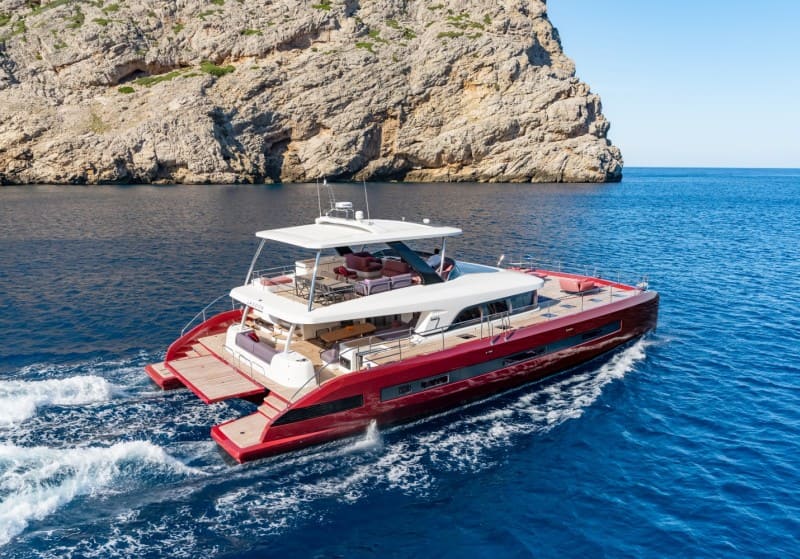 Honestly, after coming back from all this journey, we still couldn't understand what was it about this yacht that made even our most nitpicky crew members, including our sail-loving captain, to talk about Lagoon 67 with such excitement. And after some deliberation, I got it – it is death by one thousand needles (for your bank account). Noticing a great detail here and another interesting detail there, multiplied by simplicity in management and overall build quality and you just start dreaming about owning a yacht like that. Well done, Lagoon, well done.
Advantages of Lagoon 67
After finishing our research, we can say the main advantages of this yacht are:
Details. The shipyard decided to impress yachtsmen not with some new solar panels or racing capabilities, but with details to comfort on board and differentiation from other yachts that try a lot to be luxurious, but don't quite reach that level.
Balance. It's not only our opinion that in trying to make a palace on the water, Lagoon didn't go too far by making it immovable. If you want to burn fuel and go fast, you can easily reach 21 knots without any problems and the cruise speed of 10 knots is pretty impressive considering the size of this thing.
Space. Yes, it is another "spaceship" – whether it's a large family, group of friends celebrating somebody's birthday or a horde of passengers in case of a charter, this boat can house around a dozen people on board no problem.
Efficiency. When it comes to long range cruising, it is about the size of fuel and water tanks and the amount of storage. This yacht passes the test with the ability to confidently commit to ocean crossings, especially with a watermaker installed.
Modernity. This time Lagoon decided to try and leave the traditional helm look behind, as well as old-school lines and colors of the exterior and furniture in the cockpit and at the bow. For those, who don't live in the past it will be a definite plus.
But the definite minus of the boat is its price, especially when you add the highly recommended optional packages (you can message us to find out which packages are worth getting). Your wallet will not take this purchase lightly, so make sure that you are fine with burning this bridge in order to live in true luxury.
Reviews of Lagoon 67 from Professionals
Here we offer some more unbiased opinions on this yacht from top yachting journalists in the industry. Phil Draper takes on testing this yacht on the water and Niccolò Volpati, as always, provides sharp analysis of the boat's features.
Video Reviews
Another portion of high-quality footage to get accustomed to the yacht of your dreams.
First, the well-made promotional video from Lagoon with great soundtrack:
Great walkthrough by Caroline Laviolette at Miami Boat Show, part 1:
Second part of the review, this time showing off the exteriors:
No-commentary 10-minute review of Lagoon 67 by Catamaran Channel:
Main features of the yacht discussed and demonstrated:
Conclusion
As we confirmed after our little research, this yacht is not for those people, who enjoy showing off their intricate sailing skills and knowledge of different kinds of knots and furling systems. Everything is automated and guided but cold-blooded machine – both the engines and the computing system on board.
For some it might seem unsettling, like something is missing. Yet for others it is the step into the future, moving forward while bravely disregarding the necessity of being accepted into certain afficionado club. This simple-to-use yacht is made for those, who just want to enjoy life while cruising on one of the most luxurious and voluminous yachts out there. The automated approach combined with meticulous eye to detail at a premium price – this combination might not be for everyone, but if you see yourself behind the helm of this yacht, it is very difficult to get this picture outside of you head, whether other yachtsmen like it or not.
Where to Buy Lagoon 67 at a Bargain Price
As they say - "look no further". Well, you can look further, of course, but it's usually quite pointless for most our potential buyers. Our experts fight daily to get the most attractive price for our customers and making sure that all the additional equipment is properly priced as well.
You can reach us using the phone above or message us through the feedback system. We will provide consultations absolutely for free and will make sure to assemble the boat that you need first on paper and then in reality. You can also use our calculators on the sale page to get an estimate of the price of the boat with additional packages (based on constantly updated price lists from the manufacturer).
If you wish to buy additional equipment for you boat, we got watermakers, dinghies, fenders, batteries any many other things you might need on a long voyage.