Fountaine Pajot Aura 51 Review
This time we are going to discuss the yacht that is perfect for those who enjoy stellar sailing performance, lavish lifestyle and protecting the environment – Fountaine Pajot Aura 51. We made sure to insert high-quality photos, videos and reviews of respected yachting journalists to provide you with information from different sources.
Let's begin!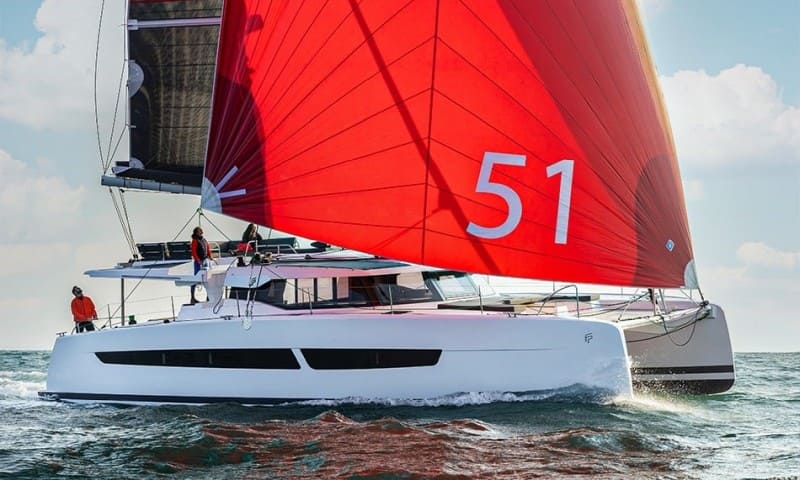 First off, the yacht looks absolutely gorgeous. Berret-Racoupeau Design made it look like a luxurious spaceship on the water: clean sharp lines, little bit sci-fi look and that flybridge – the angle is just perfect, as it gives daring arrow-like appearance to the whole vessel. The futuristic theme makes sense, since this yacht is equipped with plenty of solar panels, which allow it to produces 2000 Watts of renewable energy, which is 5 times more that any yacht of this size.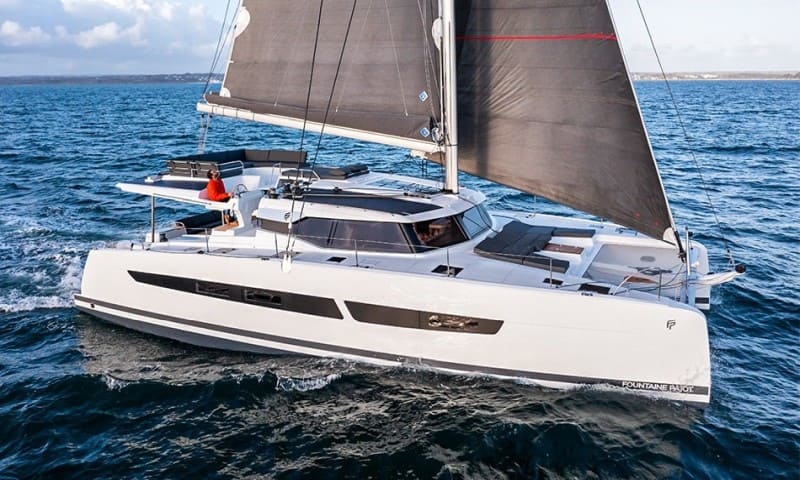 Speaking of size – based on our own experience, it is very rare to see such roomy 6-cabin layout options on a boat that is 15 meters (50 feet) long. Of course, owner cabin version is also available, which allows you to use all the living area of the port float. Overall, you can choose between 4 different layouts so you have plenty of flexibility.
Fountaine Pajot pulled off the move from LEEN's playbook here as cockpit and saloon were unified into one huge living area. Some people prefer seclusion and others choose as much open spaces as possible for all their friends - this boat is ideal for a party.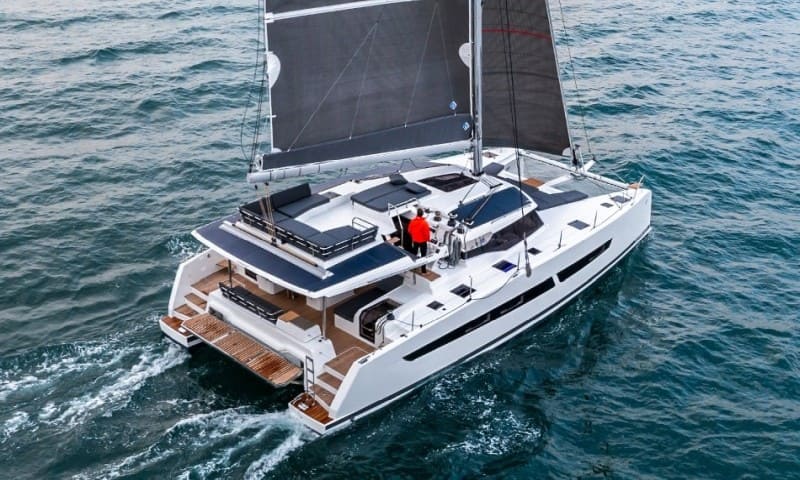 With all being said, this yacht is a powerful long-distance cruiser with CE certification class A, allowing you to enjoy sailing until you run out of products on board. Top brand sailing rig allows it to reliably catch even the smallest wind, you will always have water on board with 900-liter tank available with a watermaker installed and, if needed, you can always make use of 900 liters of fuel on board, feeding two 75 hp highly efficient engines (20% less consumption compared to usual engines).
There are also special propellers installed that spin during movement and this way help to recharge the yacht's batteries through so-called hydro-regeneration process. Some alien technology indeed! When you add to that plenty of energy coming from solar panels, providing for all possible needs of the passengers, it becomes clear that Fountaine Pajot were ambitious enough to try and create the most autonomous and ecofriendly 15-meter boat in the world. Did they succeed at this? Let's look closer now.
Features of Fountaine Pajot Aura 51
Brand:

Fountaine Pajot

Hull type:

Catamaran

Overall length, m:

15.54

Width, m:

8.08

Draft, m:

1.58

Displacement, t:

18.1

Water tanks, l:

900

Exterior design (Architect):

Berret-Racoupeau Design

Interior design:

Berret-Racoupeau Design

CE Certification:

Category A

Engines, hp:

2 x 75

Fuel tanks, l:

2 x 450
Would you like to buy a boat or get more information, such as delivery dates, safety equipment, registration, and insurance?
Call or Text us, and we will provide actual information ASAP!
Official representatives and service suppliers will provide all data.

English / Hrvatski / Русский
Virtual tour
Review of FP Aura 51 by TopRik Team
When we first saw the yacht at Cannes Festival 2022 and had the opportunity to step on board, we didn't even do it right away, just admiring the shapes of Aura 51's exteriors from afar. After finishing a couple of laps around the boat, gasping like we saw an actual spaceship, our team approached the stern of the yacht and saw a more down-to-earth picture.
This official photo demonstrates that when it comes to the stern, the yacht is pretty conservative – optional sliding hydraulic platform, swimming ladder and steps leading to the cockpit. Simple and tasteful. Of course, the platform can be used both for swimming and carrying a dinghy. Wooden flooring provided is a proven method of creating a non-slippery surface for the passengers.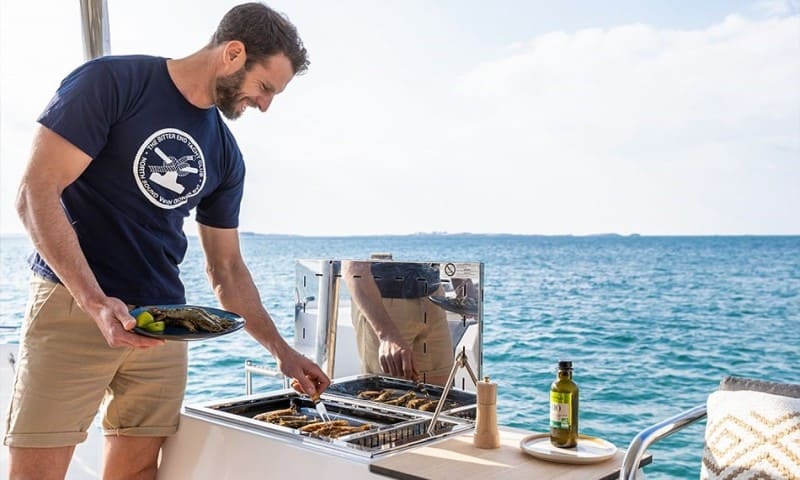 As you can see, the transom can be used as a place for fast cooking and as a living area. After taking a swim you can just climb up to tasty barbecue cooked by your significant other – what can be better?
In the Cockpit… Or So It Seems
Now it gets more interesting. The hybrid between cockpit and saloon is a bold idea for Fountaine Pajot. It is understandable, how huge almost square-shaped trimarans can house such a structure, but on a catamaran with such dimensions it is much harder to pull off.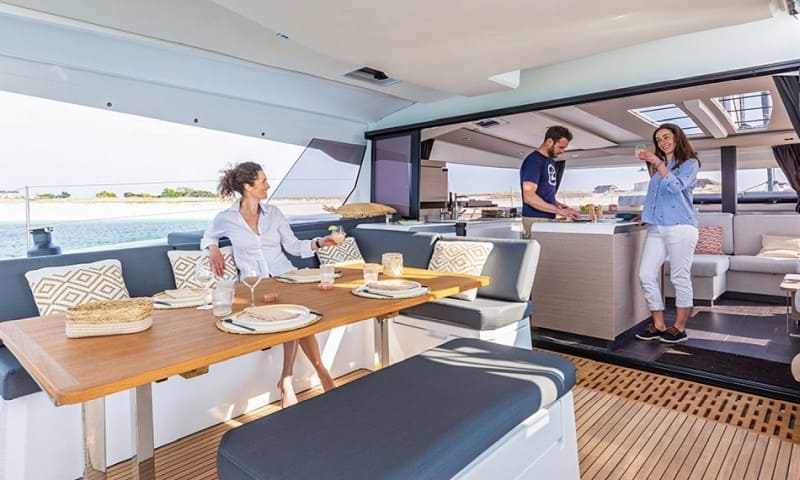 And yet here it is. Enough sitting place for around 10 people at the table, reliable canopy above and a huge sliding… we don't even know if it can be called a door – it is more like a gate into the saloon. This cockpit-saloon hybrid could never have worked on a monohull, unless it was maybe 50% longer and much more expensive. You have plenty of room here and even a sun lounger right in the cockpit. The seats at the sofa have reclining backs and all the seats here also serve as lockers, providing storage space for luggage, halyards, fenders, etc. The view from here is almost unobstructed. As you can see, the back rest against solid metal railing, which is always important for safety on board.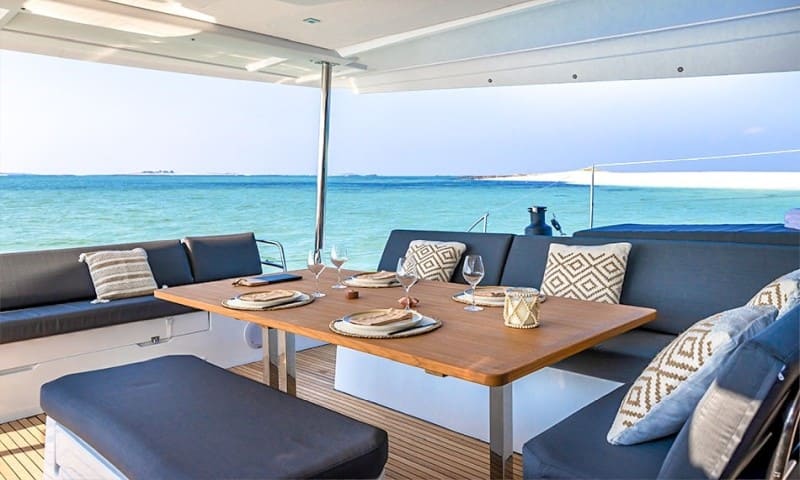 Let's move on through the entrance and into the saloon. We pass the cockpit refrigerator and the ladder to the helm (we'll get there later) and under this ladder we see a safety raft. It is debatable whether it's the best solution in case of emergency, but it is what it is. What you see inside the saloon is the battle between modern clean look and home-like feel of rounded beige shapes. As in all things, it's about balance.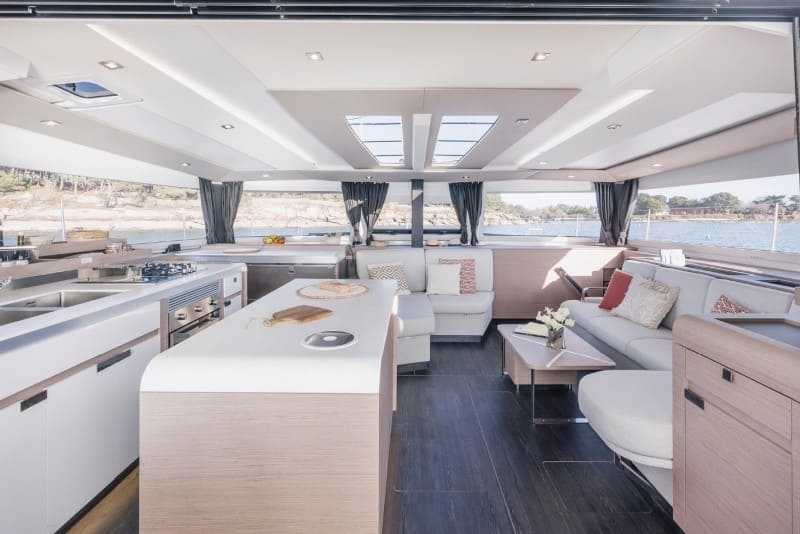 There's a lot to discuss here. First, notice how the galley doesn't lock you inside like on some other yachts – you can freely move around the "kitchen" table without the need to squeeze between closely put lockers and all kinds of freezers. You can see all the necessary stuff: the sink, big oven, high-quality stove and a well-thought-out hatch right above it. The main table is huge and has a hole for garbage disposal – very neat feature on every boat. Usually, rounded corners are just somewhat rounded on many boats, but here they are missing solid 10 cm of original volume of the corner, all for the sake of safety and comfort.
There is also a ton of space for storing goods and snacks – you will need it on a long voyage. You can see some conveniently placed electric socket right in the table, we really like that.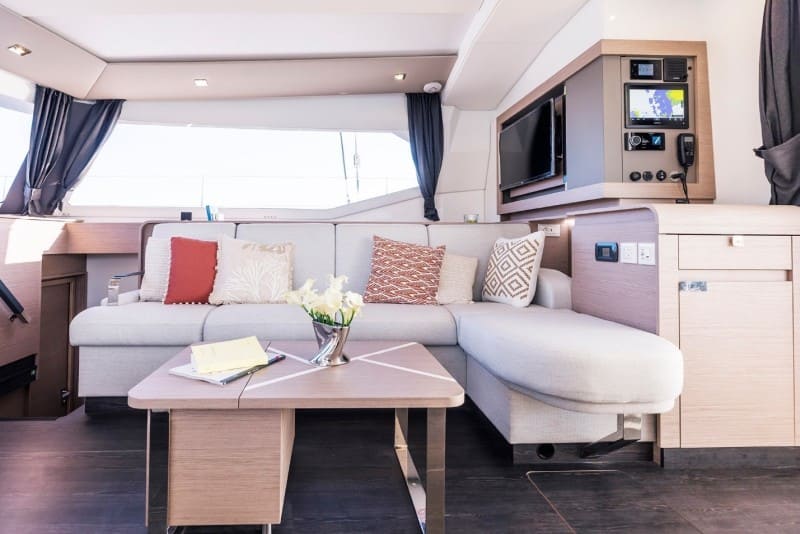 Above you can see the skippers control station – here you can easily control the yacht while waiting for dinner or just enjoy a drink on a comfy sofa while your kids chatter over the sound of TV. The station has VHF radio, chartplotter and all other things you would expect at such price. The important thing here is that it is connected to the same batteries that get constantly recharged as you move forward on a sunny day and the indicators to track all the innovative systems are also available from here.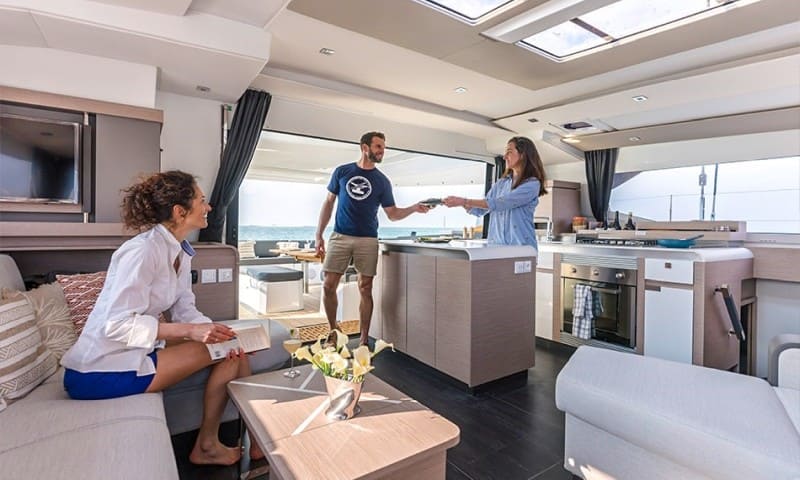 The coffee table is not much to talk about, but the amount of light in the saloon is really something. Since the bulwarks on this vessel were reduced in size in pretty much every entrance on board, the rays don't get trapped in the dark corners. Everything is visible even during dusk – that allows you to save on battery power even more. Large skylights above allow you to watch the sails from the saloon and if there's too much light, the curtains are always at your reach.
In the Cabins
On last photo, on the right, you can see the ladder down. Let's use it.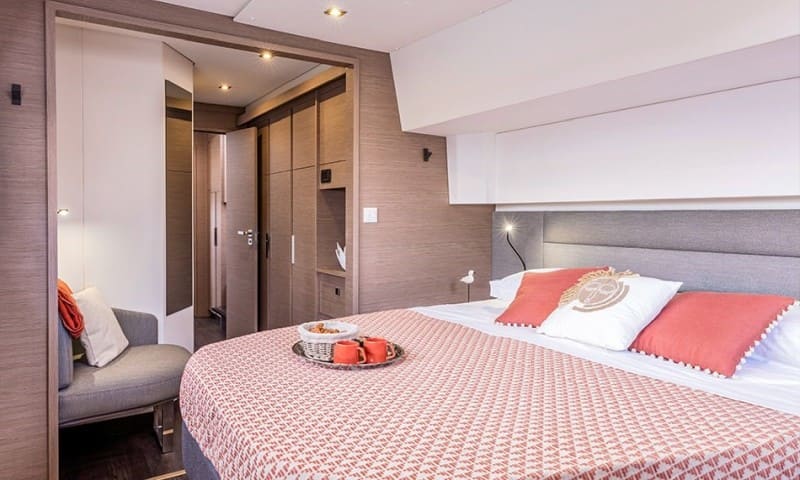 We already have quite some experience with various yachts, but we never saw such wide entrances for regular cabins throughout all the layout of the vessel. Just look at it – it is much bigger than in most apartments. Again, this is that new innovative design that allowed to keep the rigidity of Aura 51's structures while getting rid of heavy and cramping bulwarks. As a result, you don't have to feel like you are going inside of an elevator every time you try to get to your cabin. Very well done.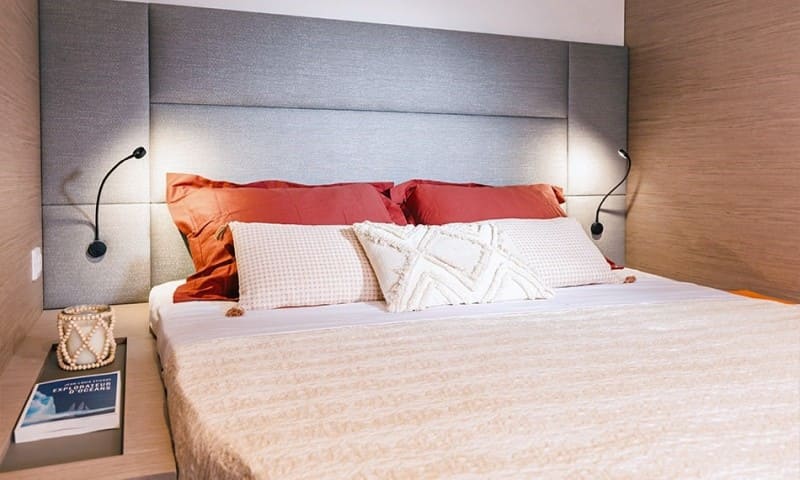 Does it really feel like a cabin on 15-meter catamaran? To us it doesn't – too much space! Including storage space too, just look at the number of lockers. And even inside the cabins we can see very well-lit cozy environment with rounded corners and good ventilation.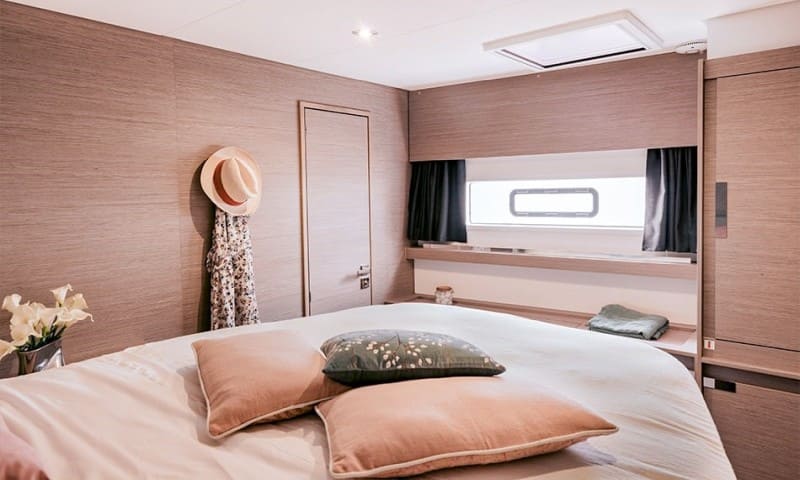 Even the bathroom feels like we just rented a hotel suite – actually, one of our crewmen complained that the last hotel apartment he paid for was about 10 times worse than this bathroom alone. Oh, well.
First time we see an actual full-size mirror on 15-meter vessel. Additional to another conveniently placed socket – this yacht has truly an electric soul is not afraid to show it through a huge number of sockets everywhere.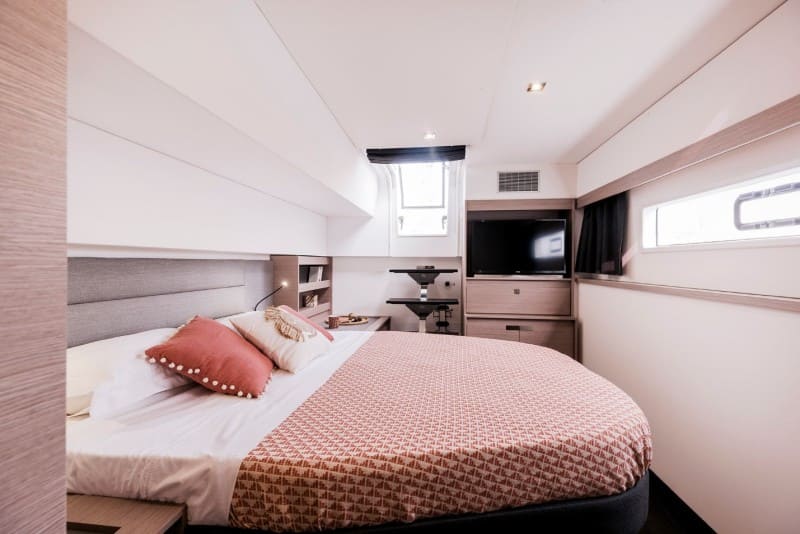 Look at the owner's room on the photo above. That staircase allows the access straight to the cockpit aft. The amount of storage room is the most noticeable here. You might recognize it if you ever looked inside this model's predecessor, Saba 50 - all the best features were taken from previous design and on top of that new ideas were added.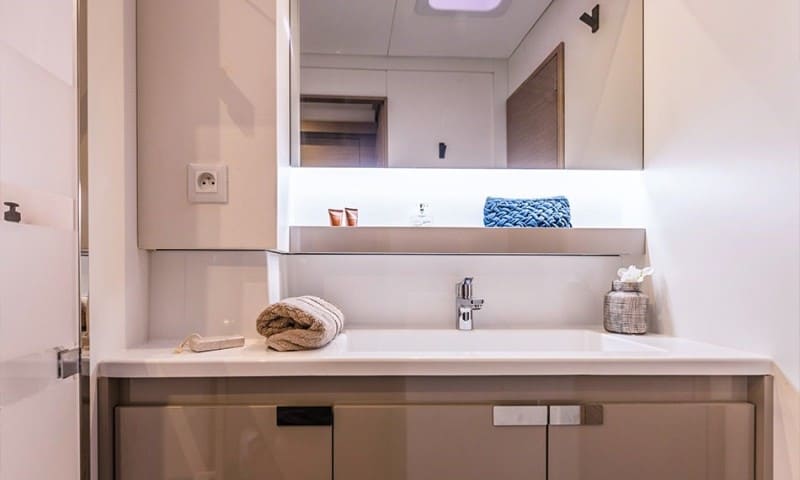 Back to Helm Station
Alright, we satisfied our curiosity when it comes to living areas. Let's get to more technical part.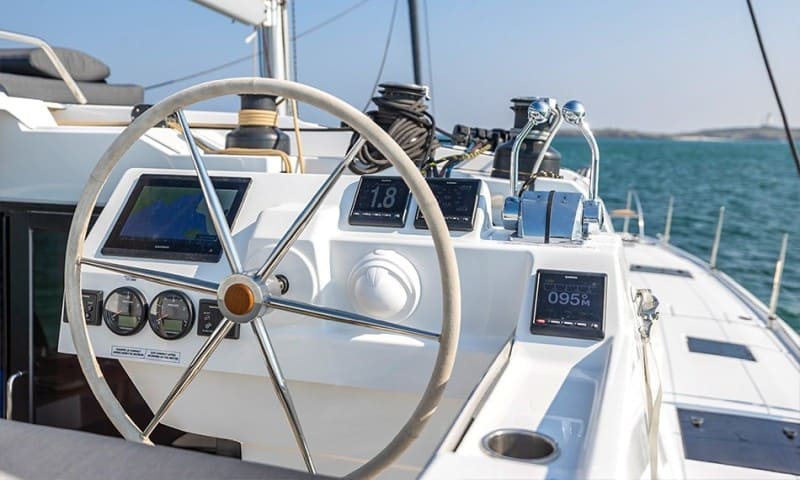 As we climb the ladder from the cockpit and into the bulkhead helm station we end up at an all-for-one spot – here's your hydraulic helm, here are you winches and there's not need to move anywhere from there or rely on an assistant. As for hydraulic steering, our skipper complained that he prefers a little more personal touch with direct steering, but that's just apples and oranges situation. The hydraulic steering allows to free up a lot of space, which allows better line handling.
Lewmar Evo winches behind the wheel are very easy handle, especially if you choose electric options. The bowsprit is slightly angled skywards for tacking the Code 0 or gennaker. There is an option for a carbon mast which is more expensive yet lighter.
The large bench is large enough for two people. The visibility is good for keeping the sails in your field of view, yet you would need to rely on cameras when docking portside since you can't really see the opposite float much from the single starboard helm.
The Flybridge
The flybridge or the sky lounge is a spacious sunbathing area with great safety railing around bunch of sofas with reclining backs similar to those in the cockpit. We highly recommend to watch out from the boom as you get up from slumber with a drink in your head – railing will not save you from hitting your head.
Sunloungers are extremely convenient (I happily checked myself) and the only thing that worried me is falling asleep and by accident rolling down from the lounge, to the side where's no railing. But maybe I just worry too much.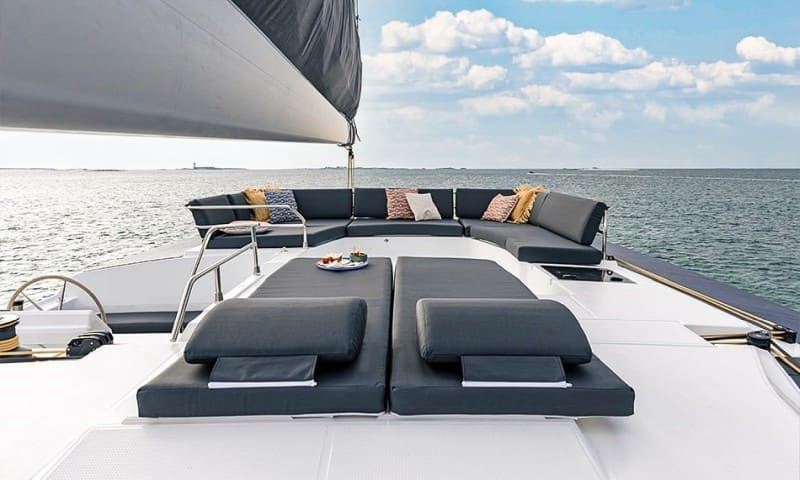 The Bow
Finally, we finish our tour around Aura 51 by passing the entire fields of solar panels on the roof while walking along the deck to the bow. This is one of the cases where the lifelines instead of metal railing are justified – the less weight is on the boat, the more efficient its fuel consumption will be and hence, more cruising performance is on the table.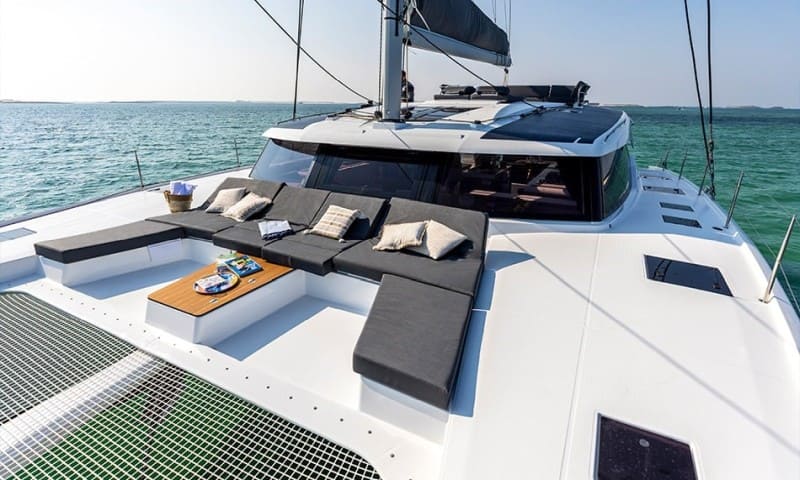 The bow deck has a pretty large table between two leisure-inducing sunloungers. Both floats extend very far forward from this position so you get a huge trampoline net at your disposal. The front window visible here can be opened, allowing fresh breeze from the bow ventilate the entire saloon even at an average speed.
Advantages of FP Aura 51
Based on our tests, the main advantage of the boat proved to be its autonomy. On sunny days that diesel generator is not even needed – solar- and hydro-generation take care of batteries without any problems. It is perfect for people, who don't feel like leaving the boat at all, and just spend some time at the marinas to replenish the supplies before another long journey. It has all you need to either travel across the ocean alone or with your significant other, knowing for sure that you are doing your best to keep that ocean little bit cleaner by supporting such ecofriendly projects.
Your experience is very likely to inspire other mindful people too, so just owning a vessel like this is already a huge sign of times to anybody who cares about our planet. This design is one step toward the goal named Zero Carbon 2030 – ambitious plan to decarbonize cruising and provide more sustainable ways to power long voyages.
As for comfort on board, very few vessels can boast such space and such amenities on board – Fountaine Pajot outdone themselves again, especially when it comes to main deck and cabins. So much space without any holding beams with minimal bulwarks couldn't be easy to achieve for Berret-Racoupeau Design.
Finally, the sailing rig is so robust and simple, that it can be perfectly managed by one person. Maybe it's not the sportiest yacht in the world, but it's no slouch either with its double spreader, like on Saba 50, and square top 95 m² mainsail.
Overall, this boat will be perfect for those, who love efficiency, comfort and maximum sustainability.
Reviews of Fountaine Pajot Aura 51 from Professionals
We provide two respected journalists' reviews that contain a lot of interesting opinion from both of these sea wolves: first one by thorough tester, Sam Fortescue from Sail Magazine, and second one by Toby Hodges, journalist and host on Yachting World's YouTube channel.
Video Reviews
There's nothing like a good video to get a full picture of what the yacht is truly capable of.
Let's start with the inspiring teaser from Fountaine Pajot:
Next, we move on to a more in-depth walkthrough by Yachting World:
Great commentary on various features of Aura 51 from Multihull Solutions:
High-quality footage of yacht's decks and interiors:
Another thorough review of what's on board:
And even more informative commentary in case you didn't have enough:
Conclusion
After testing this boat ourselves, we can conclude that not every boat has to be the sportiest or the most "hardcore" – some yachts have a different purpose. This one, in particular, takes the spot of the most autonomous and sustainable cruiser catamaran by Fountaine Pajot. Aura 51 is ideal for:
Mindful nature lovers – those who shrug at the idea of contributing to the suffering of flora and fauna of the ocean on a daily basis;
People who hate cramped tiny cabins, cockpits and saloons – on this yacht you can freely move inside like it's a regular apartment on land;
Those that think that a yacht must be a second home – long-term cruising enthusiasts who try to enter marinas only when it's absolutely necessary;
Yachtsmen who appreciate sustainability – the batteries on this yacht have multiple inputs for recharging – either sun or the ocean itself will provide you with lights and telephone charge;
Charter businesses – a 6-cabin layout looks like a bet that this model will become a very popular charter cruiser taking tourists to best places in the world with comfort and style.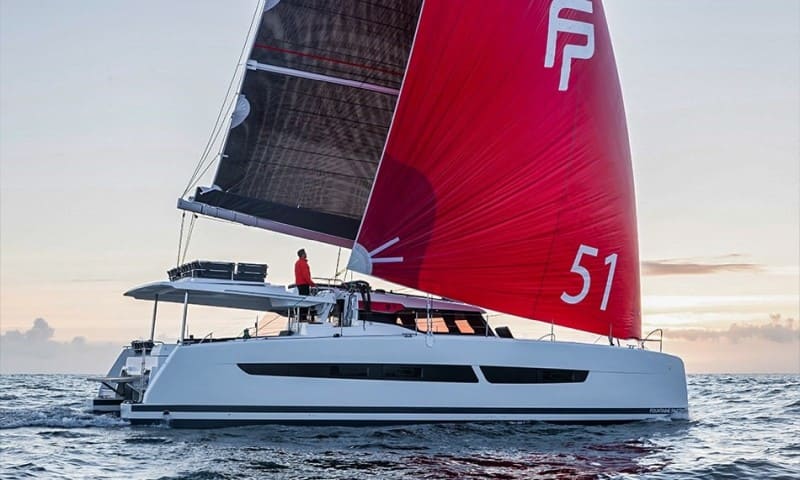 It is that simple - Fountaine Pajot successfully created the yacht of tomorrow that can be used today. We congratulate them on that and wish you happy and ecofriendly voyages in the future that is now!
Where to Buy Fountaine Pajot Aura 51 at a Bargain Price
If only fighting the pollution would be as simple as answering this question. At topRik marketplace we did our best to negotiate with the manufacturer keeping our customers in mind and agree on the best price possible for this boat. We can get you hooked up with the creator of this vessel in no time – just contact us using the phone above or through the feedback system on the website. We will figure out all the possible boring documentation for you free of charge, take care of moving the yacht to the specified location and will make sure that everything onboard is intact.
We will not try and upsell some additional goods, you can easily check what comes with the standard package using the calculator provided on Aura 51's sale page. But if you actually need something extra, don't hesitate to take a look at our huge assortment of marine goods: fenders, watermakers, chartplotters, sailing equipment, safety rafts and many other useful things are waiting for you if you need them.
Don't hesitate to reach our consultants now if you have any questions.