Neel 52 Review
Today we review one of the most anticipated vessels ever from Neel Trimarans – sporty and elegant cruiser Neel 52, designed by one and only Marc Lombard. There is still not much information on the upcoming yacht, so we had to conduct a thorough research based on available data from the shipyard. Yet, the existing information is more than enough to already form a certain opinion on the trimaran and draw conclusions regarding this exciting project even before it first launches in 2024. Additionally, we add similar reviews by professionals in the same field so you have information from different sources.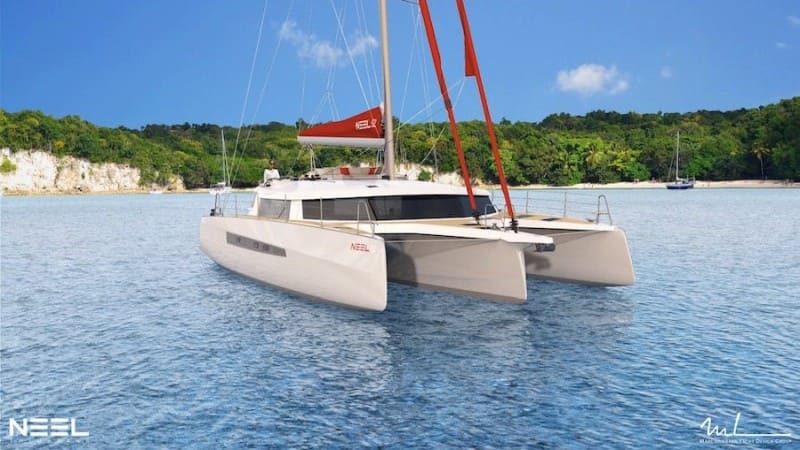 This is how the Neel 52 will appear to us when its finally launched. This trimaran, similar to the predecessors, provides incredible stability unheard of among monohull and even catamaran lovers. You can definitely see the influence of Neel 51's design philosophy in the new shapes, yet at the same time you are not likely to confuse the two of them – the lines of the exterior became more gentle and soft, almost like this trimaran resolved its inner issues and achieved enlightenment of some sort, especially considering that model 51 looked constantly angry with its curved saloon windows at the front.
Indeed, it seems that many of the problems of the model 51 were resolved by famous Marc Lombard Yacht Design Group in this new project.
Stability is definitely an advantage of trimarans, yet the maneuverability often becomes a problem. In order to address this, Neel 52's central hull was resedigned – now it features a deeper rocker which is supposed to improve the yacht's agility and load bearing. New long and swift amas (side floats) allow the yacht to introduce a more ambitious sail wardrobe and stay on target even during big waves. Add to that a powerful 110 HP Volvo engine, large fuel and water tanks for the 16-meter vessel, CE certification class A, allowing you to go on a long cruise in the ocean, and you have an interesting hybrid between a racing boat and a full-time cruiser that is lighter than ever with displacement of only 12.6 tons.
Based on our experience, it is the versatility improvements that eventually attract more and more people into the multihull market. Usually, speed lovers owners are worried that they will be stuck on a slow-moving cruising raft without any ability to actually drive it, yet Neel Trimarans are adamant about marketing their vessels capable of sailing and cruising combined, depending on the layout you choose. At the same time, Eric Bruneel, the founder of the company, spent a lot of time himself specifically on racing trimarans and is eager to show the world that a trimaran can be much more than just a comfortable apartment on the water.
Features of Neel 52
Brand:

Neel Trimarans

Hull type:

Trimaran

Overall length, m:

15.8

Width, m:

8.53

Draft, m:

1.82

Displacement, t:

12.6

Air draft, m:

24

Water tanks, l:

600

Exterior design (Architect):

Marc Lombard Yacht Design Group

CE certification:

A

Mainsail type:

Fully battened

Jib type:

Furling genoa

Mainsail area, m²:

95

Jib area, m²:

71

Engines, hp:

Volvo, 110

Fuel tanks l:

700
Would you like to buy a boat or get more information, such as delivery dates, safety equipment, registration, and insurance?
Call or Text us, and we will provide actual information ASAP!
Official representatives and service suppliers will provide all data.

English / Hrvatski / Русский
Review of Neel 52 by TopRik Team
Let's start with the yacht's main features and performance at the sea.
Our research shows that the weight of the yacht is concentrated very low and most of it resides in the central float. It is pretty much an only viable solution for a trimaran of this size, allowing to reduce pitching and achieve less shaky motion, including going to windward. Weight is reduced to the minimum: vacuum-molded composite sandwich was used to lighten the whole structure, with triaxial fiber reinforcements and foams made of PVC and PET at the core. For those who don't know – very often balsa is used instead of foam in such designs, which is cheaper, yet is more vulnerable to water getting inside. As we can see, Neel doesn't want to save up on hull's integrity and safety - to minimize toxic emissions of styrene, new resins and gelcoats were developed, protecting both you and environment from pollution.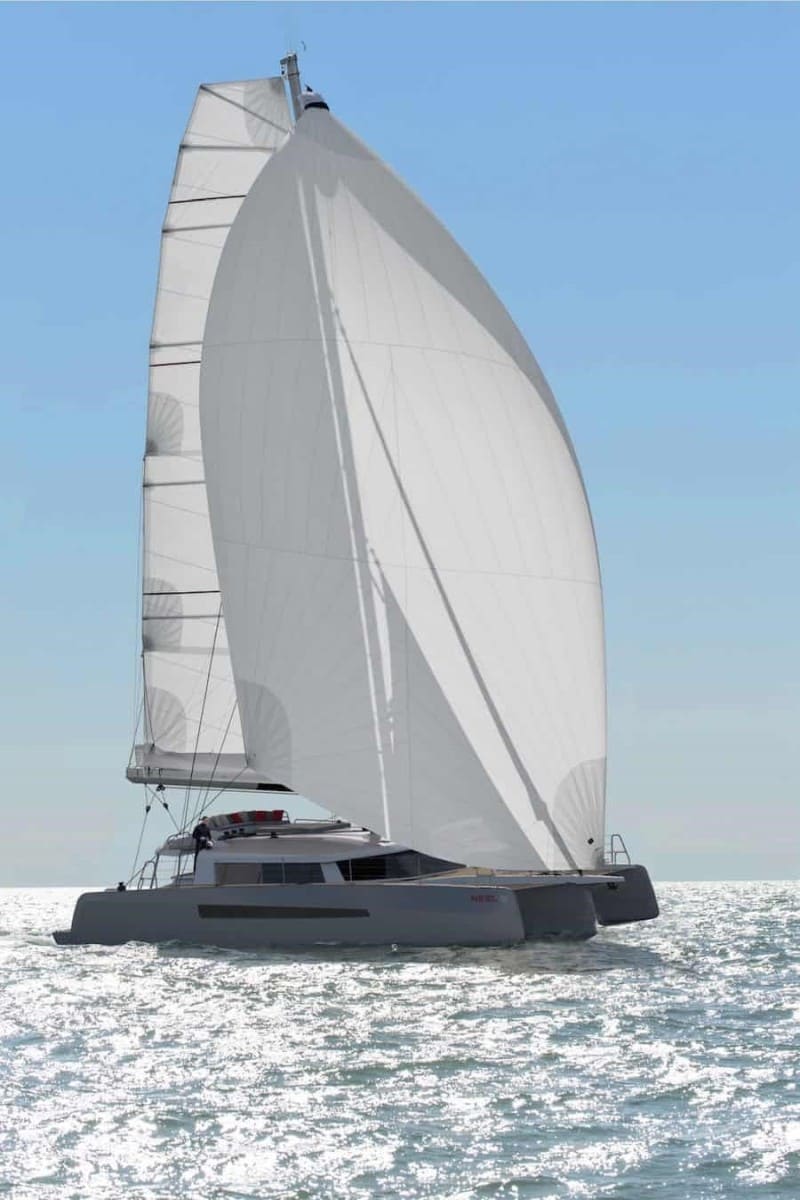 There are two options for the mast materials: aluminum and carbon, both doing a great job in reducing the weight and improving yacht's handling. The sail plan allows you to tame even the barely noticeable 8 knots of wind to put the yacht in motion – moreover, huge 95 m² sail area can easily be handled by one person, including reefing and all necessary maneuvers. No wonder that Neel trimaran are often noticed at ARC regatta – a famous competition for those who are enthusiastic about water racing, attracting around 200 boats from all over the world every single year.
The predecessor, Neel 51, was able to cover 290 miles in 24 hours with triple-reefed mainsail paired with self-tending staysail. We expect even more out of this model – after all, the displacement of new model is just 12.6 t compared to 14 t. Hopefully, the cruising speed will be improved, but we can definitely be sure, that we will at least get 10 knots reliably and even up to 14 knots thanks to occasional gusts of wind.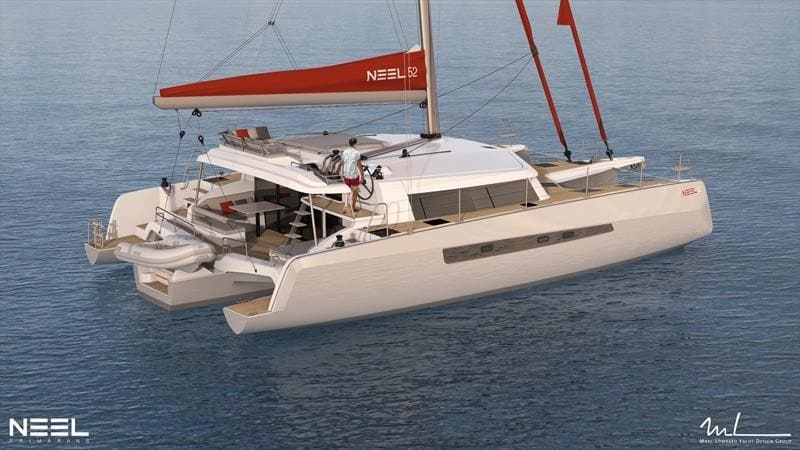 Even though you can manage it alone, if you have just one more person to help you, self-tending jib set and simple winches will make sails management a really simple task for the two of you. We also have a suspicion that we will see high-quality products such as Dyneema and Spectra for rigging and lifelines on board again.
Another peculiarity about Neel range is the high freeboards – as you stand on one of the decks while anchored at the marina, you should really hold on to that lifeline to avoid accidents. Judging from preliminary CG renders, we don't get full metal railing, yet Neel trimarans always had very sturdy lifelines, allowing the manufacturer to save up on precious weight of the vessel and make the final price more attractive too. Besides, such a sporty yacht by definition comes without a full-size flybridge, so not much safety railing is needed overall. Just make sure that you use the sunbeds on the saloon's roof with care and only during full stop of the yacht – there's quite some distance to fall from there on the deck's flooring if you roll over the wrong way.
The floats are connected by two trampolines – again, not the safest feature, but definitely the most fun one. If you go on family vacation, make sure your kids know that they are just named trampolines and are not supposed to be used as such, especially during movement.
Closer Look
The main deck layout of Neel 52 looks like this: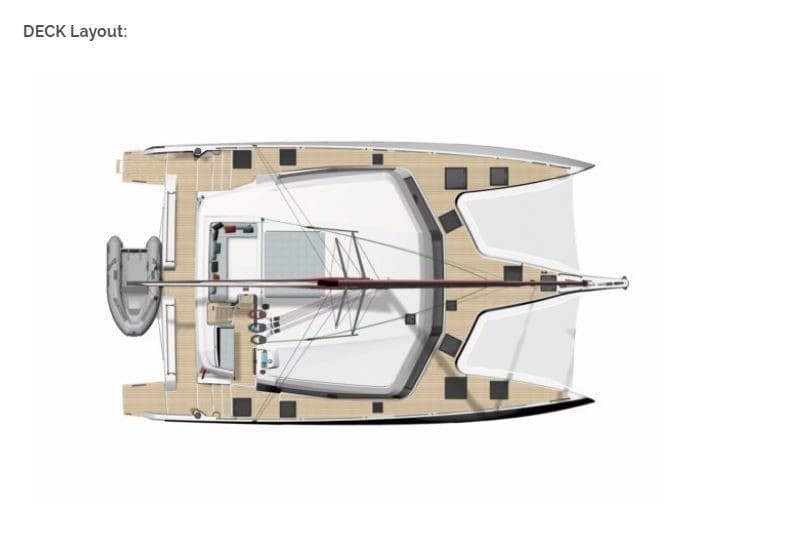 As we can see, the yacht is almost square-shaped – such incredible beam allows for huge amount of space on a 16-meter yacht, with wide side decks, tons of space in the bow and ability to house an inflatable dinghy or RIB of pretty much any size at the transom thanks to stainless-steel mounts with a convenient davit. The black square hatches are sprinkled along the deck, allowing light to enter the cabins below – there just can't be that many large cabin portholes on monohulls due to their limited width. The so-called Cockloon (combination of cockpit and saloon), traditional of Neel range, takes up most of the space on the deck, and on top of it is the aforementioned sunbathing area right under the sails. Let's take a closer look at what we will be able to find on board.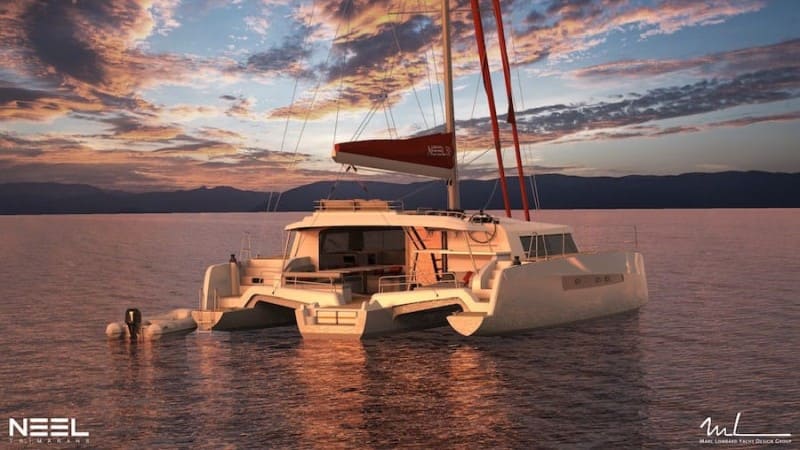 Right away, you can notice that there are not many ways to board the vessel – you get a short stern extension on either right of left float, which are accessible even if you are moored side-to. We don't get a huge bathing platform, typical for many popular catamarans – probably since the emphasis was put on cruising or racing performance and not all extra amenities. Also, the central hull makes it more difficult to set up a full-size hydraulic platform. You can easily use the extensions of both amas and the central hull (in case you don't need a dinghy) as mini platforms – considering the width of the yacht, you just get three smaller wooden islands above water instead of a single large one.
We are happy to see some lifelines in this area too. In general, the yacht looks very flat and it is impossible to imagine it flipping over, which takes care of another possible danger for monohulls on a long cruise.
As for the space on board – just compare the skipper behind the helm at the photo above to the deck width. A lot of yachtsmen get pleasantly surprised by the space catamarans provide, yet a trimaran is a completely different game. That's why the manufacturer proudly informs that Neel 52 will be able to easily accommodate 12 people on board, with max of 6 cabins! We'll talk about cabins little bit later though, let's discuss the cockpit/saloon hybrid.
In the Cockloon
The biggest living area on board the predecessor, Neel 51, took our breath away when we first experienced it. The simplicity of single open space with no ladders, pyramids-style secret doors and connecting corridors on the deck is a breath of fresh air in the world of long-range cruisers. You still get a small cockpit at the stern, but it feels more like a porch of the house, than a special separate area. There you have couple of sofas under the hard bimini and we don't see any reason why Neel would get rid of amazing galley to starboard which we got on Neel 51 before, housing a fridge, sink and a grill. Most likely, it will be present on model 52 also.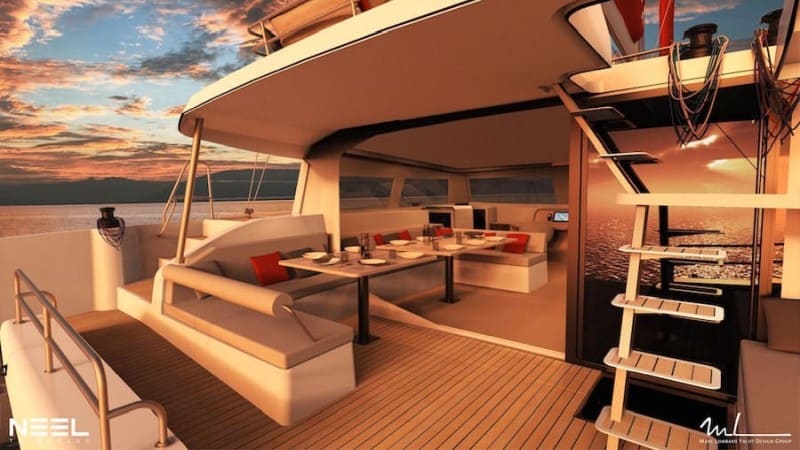 The only ladder that we can see, on the right, leads to the control station with a responsive steering wheel, all necessary displays and indicators and comfortable seating for three people in front of it. You can already see the electric winches in front of it – with three of them you can manage the halyards, reefing lines, sheets and traveler from the same spot. View from the seating position is somewhat limited when it comes to portside visibility, which is the price you have to pay for such large beam and flatness combined. Using the same ladder, you can climb to mini-flybridge with some rigid railing, only having enough headroom for sitting on the bench or lying on the sunbeds (watch out for the boom above you).
What's surprising, we don't see the solar panels on the roof, unlike Neel 51 – but maybe it just became an optional feature now. Or, the panels were also cut to reduce the weight.
Thanks to the well-engineered hull, Neel 52 gets full width sliding doors leading inside the main saloon space.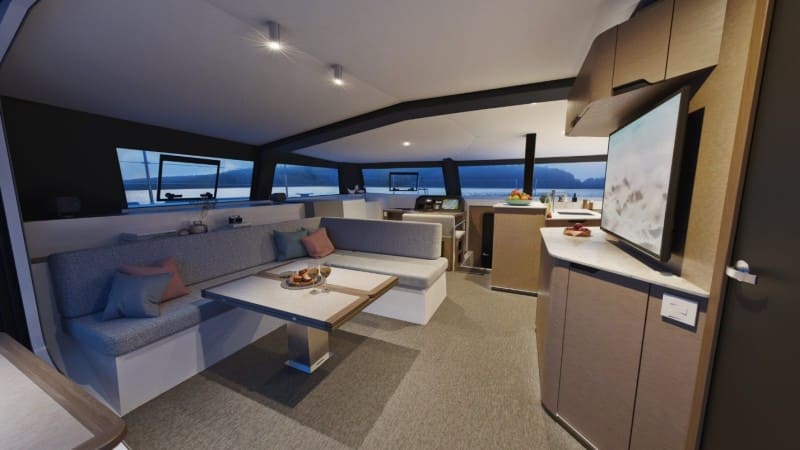 Even though it is a CG render and not a photo, based on our experience, we can tell that the manufacturer very rarely makes drastic changes on this stage of development – that's pretty much exactly how the interior will look when Neel 52 will be finally launched. We can see, that Neel stays true to conservative home-like color scheme – shades of grey and cozy beige always work well together.
We can see regular coffee table and sofas, because some usual things just have to be there. Same with skipper's table right near the galley, that's your typical high-quality control station. The circle-shaped galley itself has four burners, a lot of tabletop space, an oven, sink, microwave, special hole for garbage – everything that a chef might need.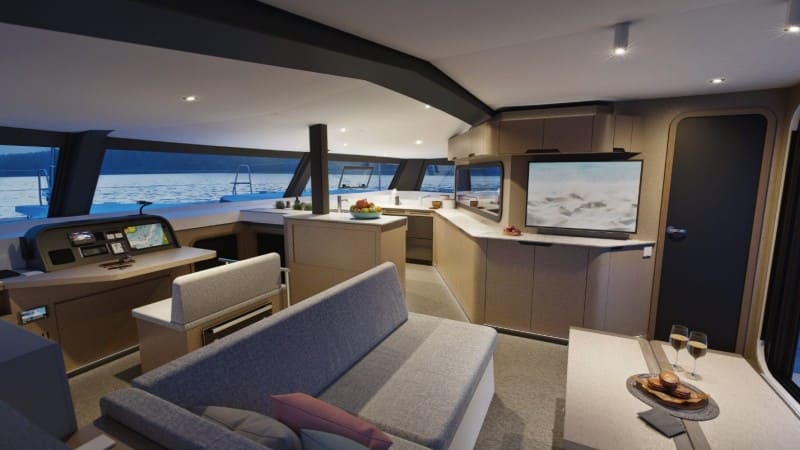 The skipper also has all he needs: full-featured navigation suite with chartplotter, autopilot controls, VHF etc. and all of this at the table from which you have great view – not quite like at the helm, but it's enough to take control of some situations right from the saloon. Everything we described is surrounded by enormous windows (can't even call them portholes) that make those ceiling lights pretty useless until its actually dark. The amount of light inside not only improves quality of life, but also allows to save up on energy, that is so needed on a long cruise.
Might be a surprise for those, who never sailed Neel yachts, but at the center of the saloon there is a big hatch in the floor. This hatch doesn't lead into a secret hideout – instead, when you open it and climb down, you end in a huge engine compartment with 2-meter headroom, big enough to be someone's apartment.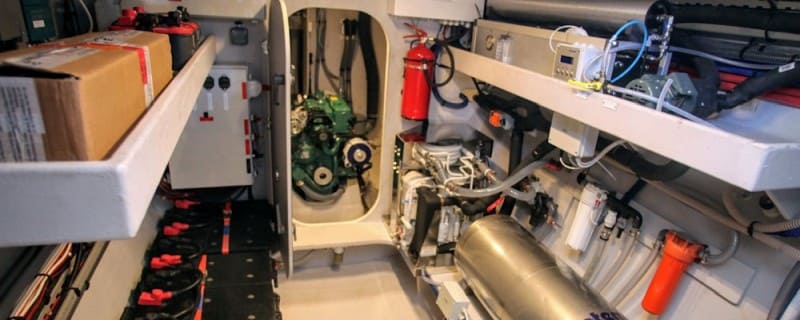 From our own trial and error, we know how important it is to have enough room in places like this – if there's not enough storage room in the engine compartment, all your tools end up dispersed all over the yacht. And when something breaks, you can't react in time because you need to assemble all the necessary equipment from various lockers first. Here you can just store everything you need for all your technical needs in one place, including some hefty tools that you wouldn't fit on other yachts. Or you can always just throw some fenders in here – depends on your needs.
The Cabins
So far, we know of two possible version of Neel 52 – not fancy names, just version 1 and version 2: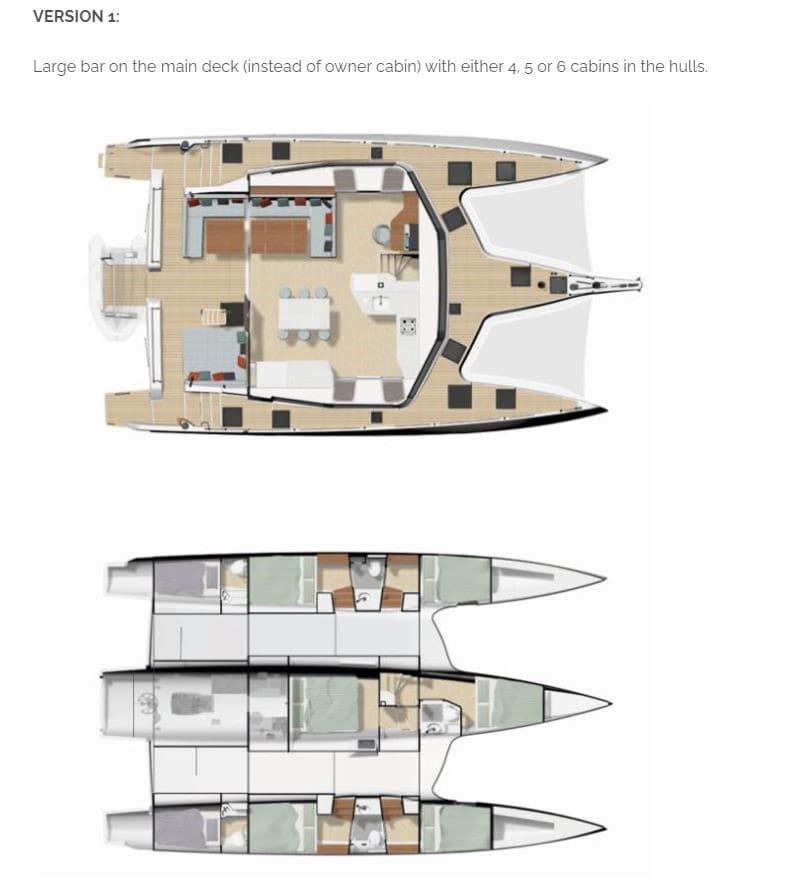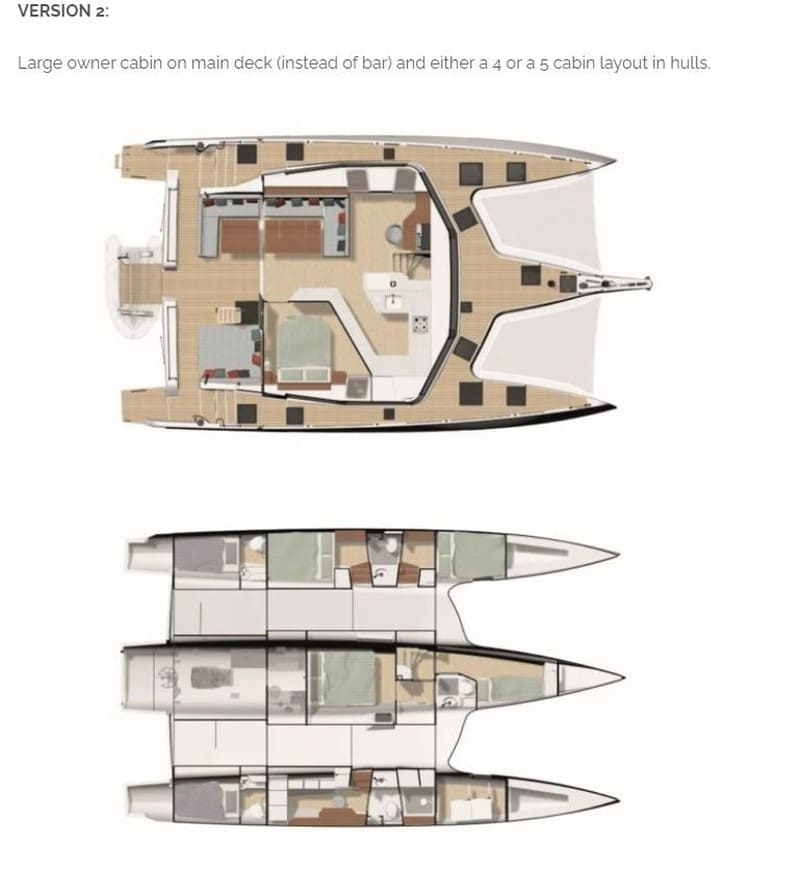 So, we either get a large bar or owner's cabin – first version is clearly made for charters and the second one for a couple, a family or a lone sea wolf. It's always great to have a choice. Owner suite has a big bed, separate bathroom with a spacious shower and a bunch of lockers.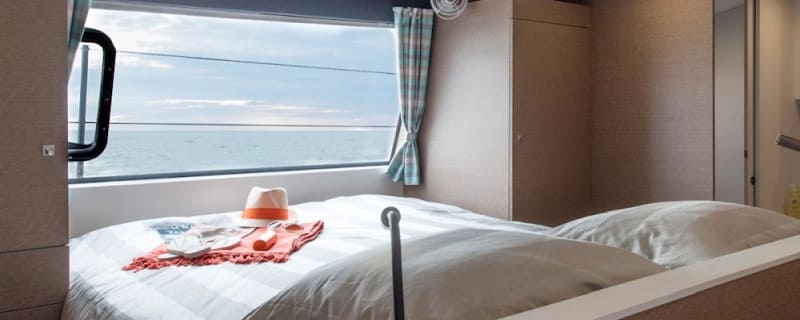 As for other cabins, we don't really have any CG renders of them yet, but relying of what we experienced on Neel 51, all of them will be extremely well lit in any layout with a lot of storage space, available thanks to yacht's impressive dimensions.
Advantages of Neel 52
So far, the only disadvantage that we could find is not the most reliable lifelines along the board of the yacht, but that can be justified as a mean to an end – this is all about reducing the weight and the price of the vessel. Other than that, we clearly see some good signs already:
Performance. Thanks to extremely lightweight structure, this model is most optimized to move as fast as possible even at the slightest breeze. Whoever is in love with actual sailing yachts, fit even for the prestigious regattas, will appreciate the agility and stability of this boat.
Ease of management. Electric winches with full control of everything you can think of when it comes to rigging, B&G controls and the helm station and mostly great view from the helm allow the yacht to be managed with little crew or without crew at all.
Variability. This yacht is not tailored towards a specific niche. Instead, its like a transformer boat, that allows you to pick the layout that is exactly right for your situation, whether you want it to be a family boat, a party yacht or a charter workhorse.
Comfort. Huge living spaces, lots of storage room, natural light coming from dozens of windows and hatches – this boat is not only about performance, but also about cruising and feeling like home even in the middle of the ocean.
It's a trimaran. Yes, an unusual advantage, but the stability and beam that you get from this type of vessel is something else. You have to try it to actually understand it, but if you want to know more, watch some reviews on the predecessor, Neel 51, and listen to what yachtsmen have to say about its qualities on the water – they will be even more pronounced on this new model.
The price reflects all that space and sportiness and even though the boat is not the cheapest, the price/quality ratio is much better than on many monohulls out there.
Reviews of Neel 52 from Professionals
To be fair, we didn't expect to find any professional review on this yacht whatsoever, but Chloé Torterat from Multihull News as well as Giornale della Vela's team blessed us with some of their writing.
Video Review of Neel 52
The information on the yet non-existent yacht is obviously lacking, yet we were able to find something that resembles a video review from Aeroyacht (better a small fish than an empty dish):
We will definitely add more video reviews once the yacht actually comes out.
Conclusion
When you are a seasoned competitive yachtsman like Neel's founder, Eric Bruneel, it's very easy to allow it to get to your head and start dismissing anybody, who just wants to enjoy some comfortable cruising with their family. Some people think it should all be about unbearable conditions for the sake of speed, maneuverability and the most complicated rig you can possibly imagine. It's understandable – that's what gives some people all the thrill they need.
The Neel's founder had different ideas though. He tried his best to open his beloved trimaran base to everybody who will not be scared away by it. When you have two hulls on your yacht instead of one some people already don't understand you, but what about three of them? It was not easy at all for him to convince people that this base is a viable solution, but when he finally did, he attracted all kind of people with all kinds of interest, just allured by the idea of perfectly stable yet fast and agile boat with tons of space on board. So, Neel-Trimarans made sure that every customer finds what they are looking in this boat with its 4 layouts provided, different rigging options and additional equipment offered. Even the price-list for all of the equipment is quite complicated – even with all our experience we got little bit confused at all possible options at first. And this is not necessarily a bad thing. Once you actually take your time, think about all the possibilities and finally assemble that trimaran of your dreams from all the provided options, it will be not be just a Neel 52, it will be your Neel 52.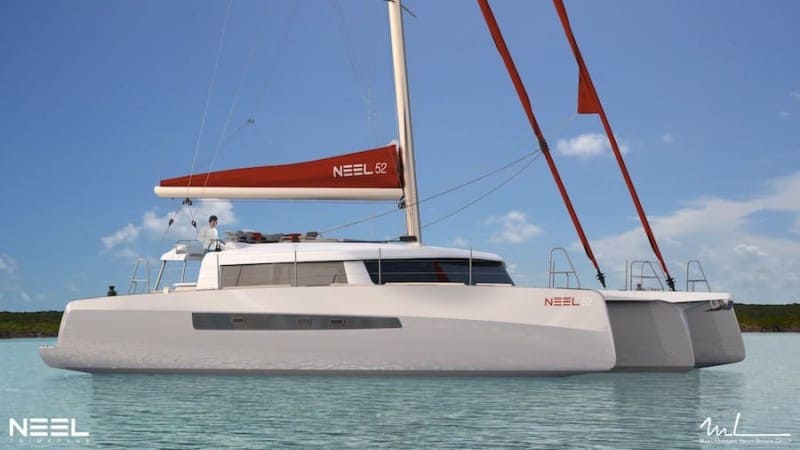 Where to Buy Neel 52 at a Bargain Price
We already have a calculator for this model on our website, but if you need a more personal touch, you can always contact our specialists – as we said, it might be a little problematic to figure out all the packages you need. After we agreed on what boat you would like to purchase, we will put you in a queue – when the boat comes out, you will be one of the first owners of Neel 52 in the world. And all of that at the lowest price we could possibly negotiate with the manufacturer.
As there's more and more information available about the boat, we will keep you updated on the progress and possible changes from the manufacturer. When the boat is finally launched, we will:
take care of all the boring documentation so you could just go behind helm right away;
move the yacht to specified location;
advice you on any additional equipment not included in the packaging (various rigging devices, fenders, watermakers, batteries etc.) We will not force anything on you or have some hidden fees or additional hidden purchases – it's all up to you.
Don't be afraid to contact us at any time through phone above of the feedback system on the website – we are always ready to help.