Lagoon 55 Review
This is the review of one of the best yachts we checked out up to date – Lagoon 55. We provide the reasoning for such high opinion and prove our points with pictures, videos and even other reviews made by fellow yachting journalist teams. In the end of the article, based on data collected from our tests, we provide more information on various advantages of the yacht compared to other models and also explain how to receive a free consultation regarding the purchase of the vessel and optional packages for it.
Let's go!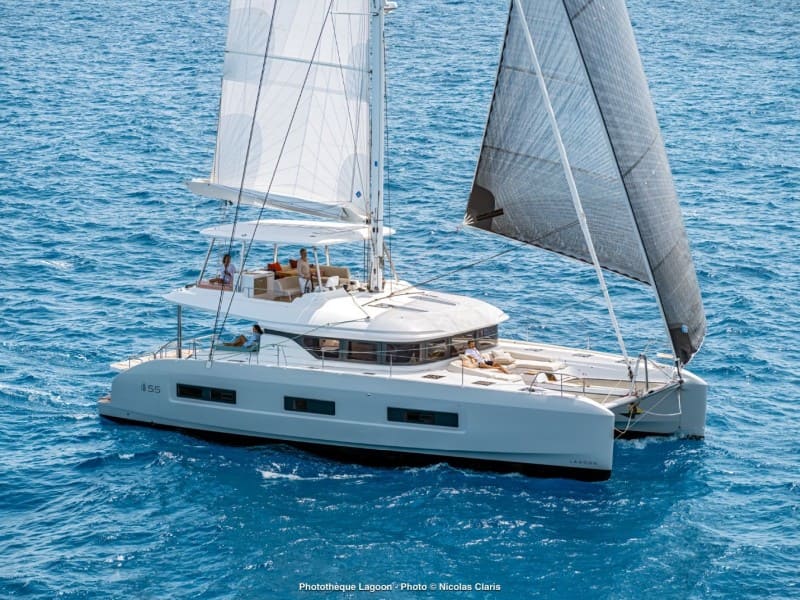 Here she is – the British Yachting Awards 2021 Winner in all her beauty! You can immediately notice, that Patrick le Quément didn't try to go for predatory monohull look with sharp edges and pointy hulls, instead, this catamaran looks quite peaceful and serene, which is exactly the right approach considering the intended target audience – comfort lovers.
This cat is all about incredible for 16.5-meter vessel amount of space and comfort on board and not exactly about beating the racing world records. Even though it has huge 107 m² fully battened mainsail, the job cut out for this mainsail isn't an easy one, since the boat has enough space for 6 cabins in its charter version, tons of storage space, hydraulic aft platform, solid metal railing in many places and a flybridge with hard top, all of which adds up to hefty 27.7 tons of displacement.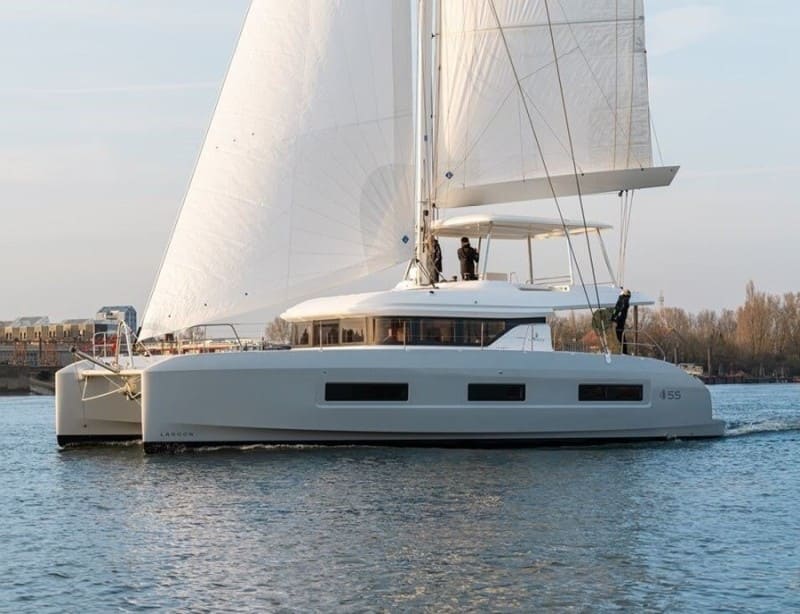 Yet once you get on board you understand exactly why the speed here doesn't matter as much. That's because it's unusual for any real estate to move at all actually – Lagoon 55 feels like a real mini-hotel on the water with full-size lockers everywhere, big hatches inside decks, two tables in the cockpit, three places for cooking and, in owner's version, a separate island bed and a shower for each cabin! And let's not forget the long-lasting 960-liter water tanks and whopping 1100 liters of fuel for long voyages.
You can easily live here for months and since the boat is qualified for ocean crossings, do so while travelling all around the world at the same. But let's get on board and discuss these and many other features in more detail.
Features
Brand:

Lagoon

Hull type:

Catamaran

Overall length, m:

16.56

Width, m:

9

Draft, m:

1.55

Air draft, m:

1.55

Displacement, t:

27.7

Water tanks, l:

960

Exterior design (Architect):

Patrick le Quément

Interior design:

Nauta Design

Mainsail type:

Fully battened

Jib type:

Self-tacking

Mainsail area, m²:

107

Jib area, m²:

74

CE Certification:

Category A

Engines, hp:

2 x 80 / 2 x 115

Fuel tanks, l:

1100
Would you like to buy a boat or get more information, such as delivery dates, safety equipment, registration, and insurance?
Call or Text us, and we will provide actual information ASAP!
Official representatives and service suppliers will provide all data.

English / Hrvatski / Русский
Virtual tour
Review of Lagoon 55 by TopRik Team
Our team got a chance to get on board Lagoon 55 in the end of 2022, when the mass production of the boat didn't even fully begin, but the yachtsmen already ordered shocking 550 models in advance.
When I first saw the yacht live, I immediately thought of something big, happy and tasty, since it kind of looks like a big white wedding cake, with the flybridge being the top layer of it. Overall, this boat just inspires all kinds of honeymoon dreams indeed and makes you think of spending some quality time with your loved ones away from the rest of the world.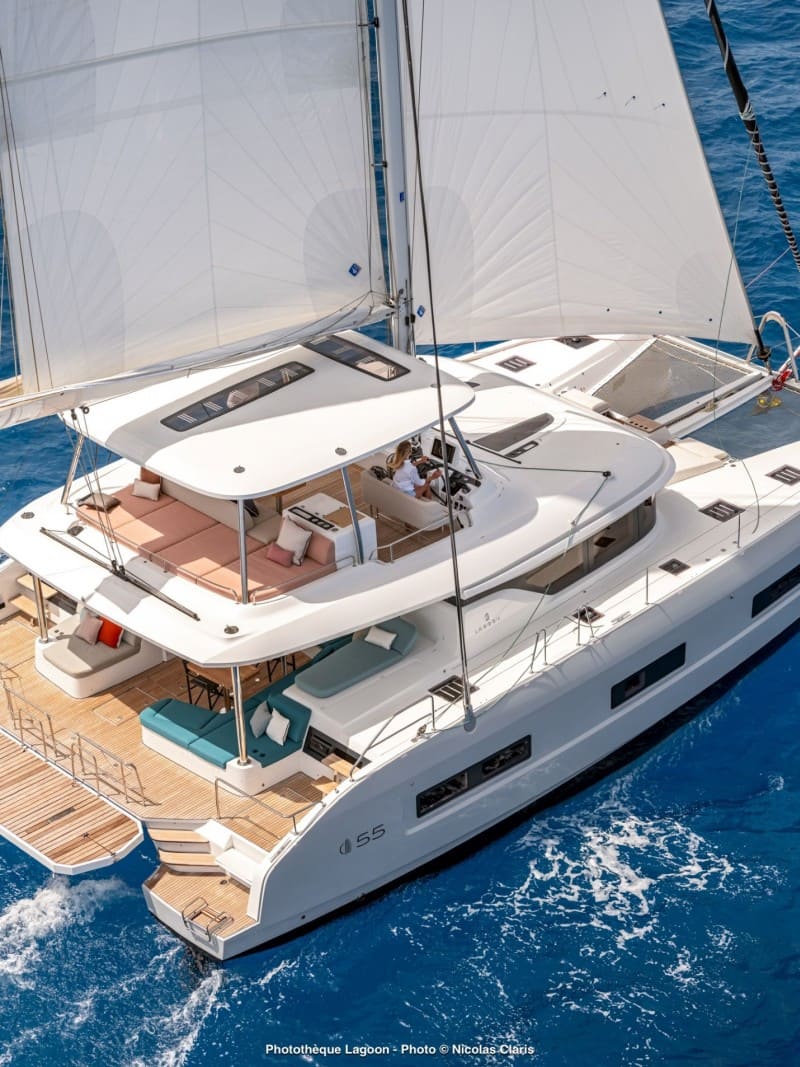 First Stop – The Stern
The transom looks quite Lagoon-esque, as it should – two small platforms for getting on board from the berth, one for each hull, with an enormous hydraulic swimming platform in-between and reliable railing right in front of it (the platform is optional, but highly recommended). Wooden flooring gives you traction and railing to each side of steps leading into cockpit allow you to grab onto something while climbing or hold onto it while you enjoy the views, which is such simple but actually quite rare feature for vessels of this size. As usual, the platform can be used for attaching a dinghy or will become a favorite spot for scuba divers and fishing lovers as is.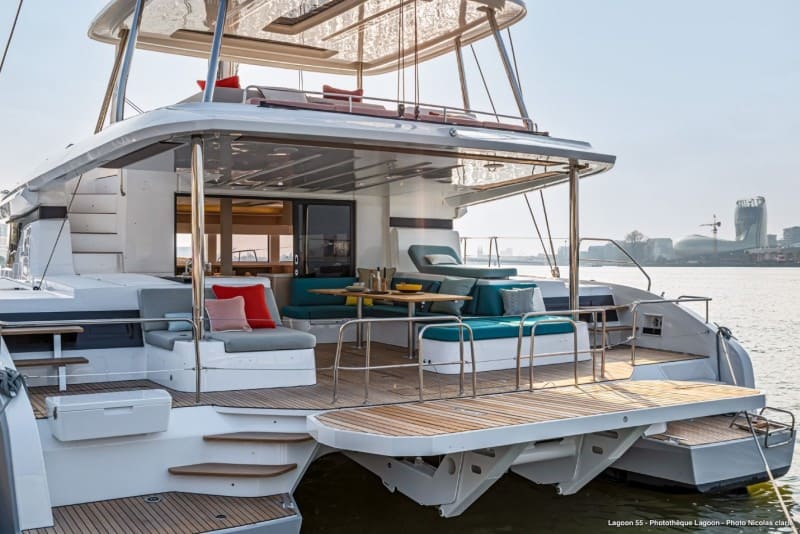 As you can see, the sides are not exactly symmetrical. The swimming ladder on the right and the seat right next to it could be just copied onto the other side, but two ladders at once seemed excessive to the VPLP's design team. Instead, you get that white box on the opposite side as an option – this is a grill, which allows you to quickly cook either something you purchased at a marina or caught yourself using a fishing rod. It's one of the best places for cooking on the entire boat since the smell will be carried away immediately by the wind. Sure, such endeavor will require full stop and anchorage for safety reasons.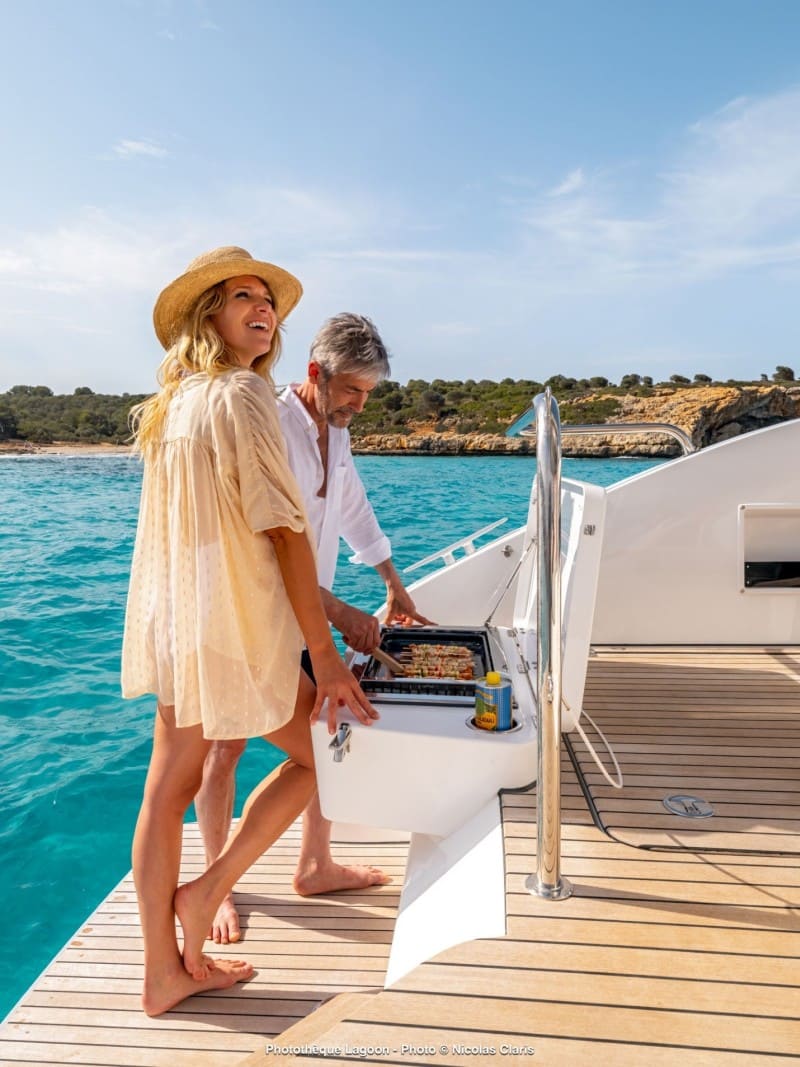 The wide swimming platform can also be used for sunbathing if you bring some additional lounger there. It can be raised/lowered into the water in about 20 seconds while withstanding the weight of multiple passengers at once.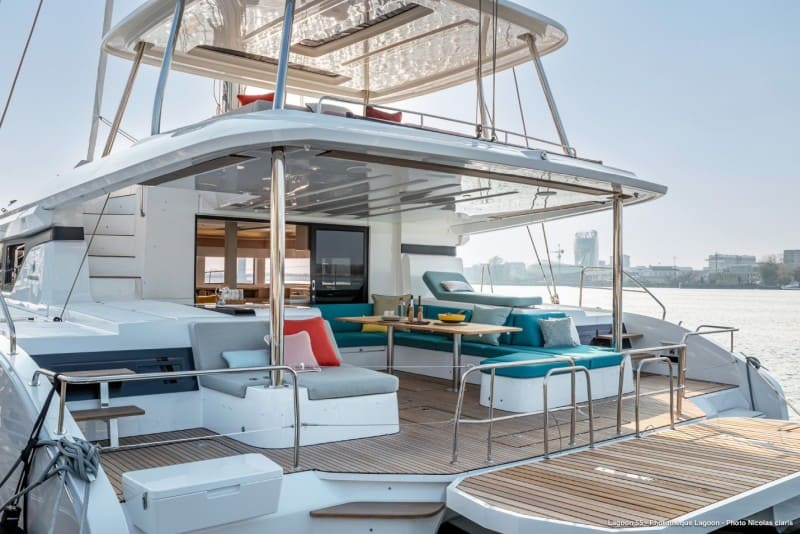 Near the steps you can see the outlines of a hatch – this is how you can access the powerful Yanmar engines – either 2 x 80 hp or 2 x 115 hp (optional). The engines come with so-called common rail, which controls everything that has to do with diesel system with a lot of sensors and indicators. The fresh water pump system is located at the same compartment, which has a lot of space (again) to conduct maintenance.
Well-Designed Cockpit
On the photo above you can already see the inside of the cockpit. And here comes the main superpower of Lagoon 55 – the SPACE. When you think of a boat of this size you don't really expect to have two tables at the cockpit with such a huge C-shaped sofa around it, a sunbathing area next to it and another coach near the deck steps just for fun.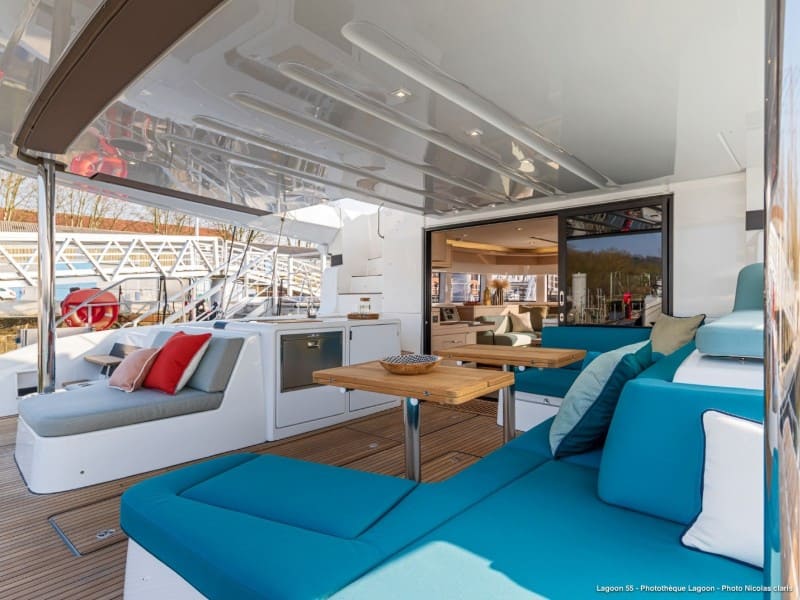 Here's a photo from the starboard – here you can see the comfortable poufs all around, tables that can be connected into a bigger one if needed and all of that is, of course, covered not by a flimsy canopy but by a full-size hard top with reliable beams supporting it. Behind the tables you get an outdoor galley. Yes, another cooking space for those who love to enjoy the fresh air while at it. It comes equipped with a sink, a large cupboard and a freezer.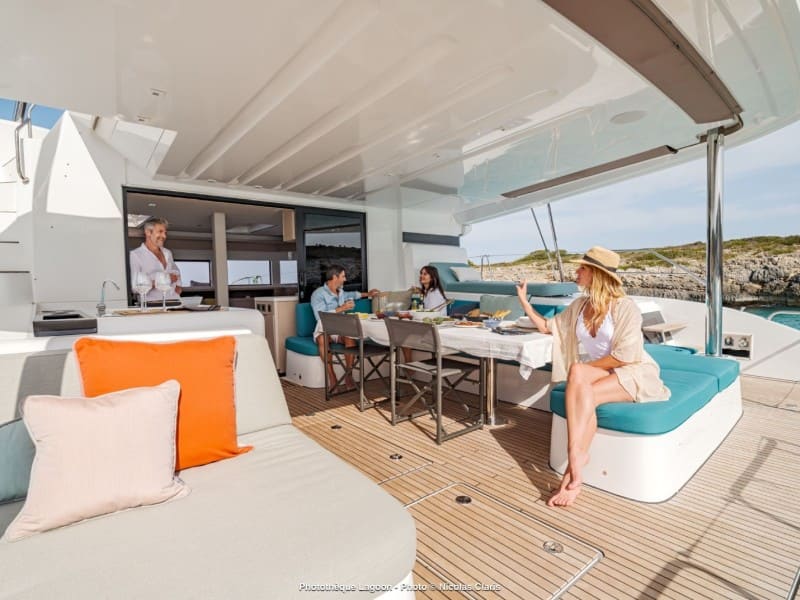 Thanks to our practical knowledge over the years, we know that during rough weather such openness might become a problem as freezing wind and rain will occasionally try and ruin the party – in that case you can transform the cockpit into a huge wind- and waterproof tent by using a hard transparent cover, that goes all around the perimeter.
Around 8 to 10 people can easily accommodate in here at all times. Those seats are not wasted either – under each of them there are big lockers, where you can store fenders, rafts, halyards and spare parts. In the flooring you can see more hatches – these are also for storage, four in total including one near the platform, providing tons of room for various equipment.
On the Top of the World – The Flybridge
Normally we go and visit other areas first, but there are whole two ladders leading to the flybridge from the cockpit and our already experienced skipper wanted to experience even more helm action right away (starboard ladder is an option). So here we are.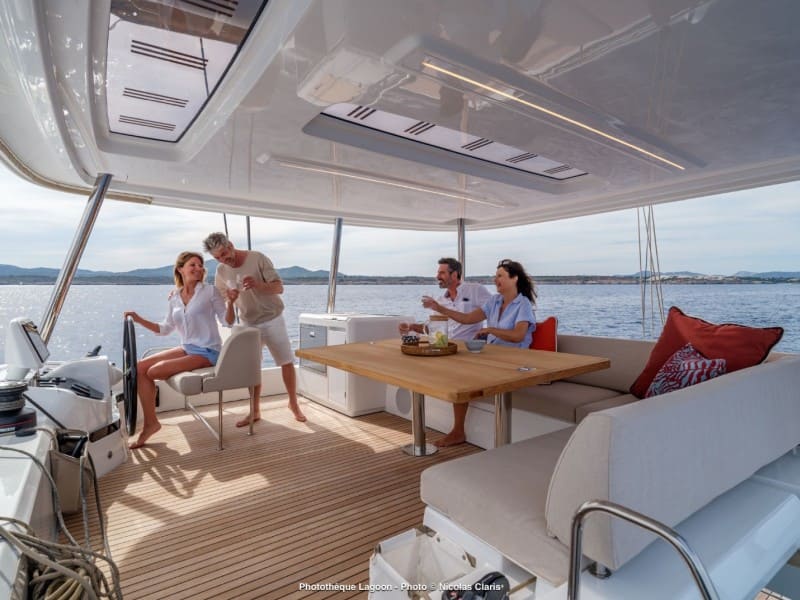 This is how the flybridge of Lagoon 55 looks when you climb it using the portside ladder. On this official photo you can see how easily multiple people can fit in here. We figured that much on our own - our team of six people didn't have any problems at all with finding a seat.
Immediately you can notice a roomy helm station, another huge sofa and a big folding table (unfolded here), helm station and electric winches next to it. It doesn't seem like something unusual immediately, until you remember that it's a boat and not a porch of a villa. It's also the distances between those everyday items that are so surprising. Let's look to our left now.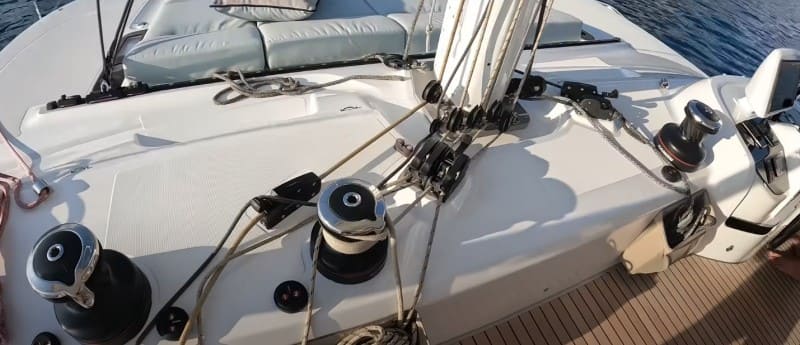 Here you can see the spiderweb of halyards and all the winches, which are electrically driven for your comfort - except for the traveler sail-control lines, but that can be adjusted with continuous-line winch. You have storage compartments for halyards everywhere, even behind you. The total area with code 0 is 266 m² and all of that goodness can be controlled by just one person.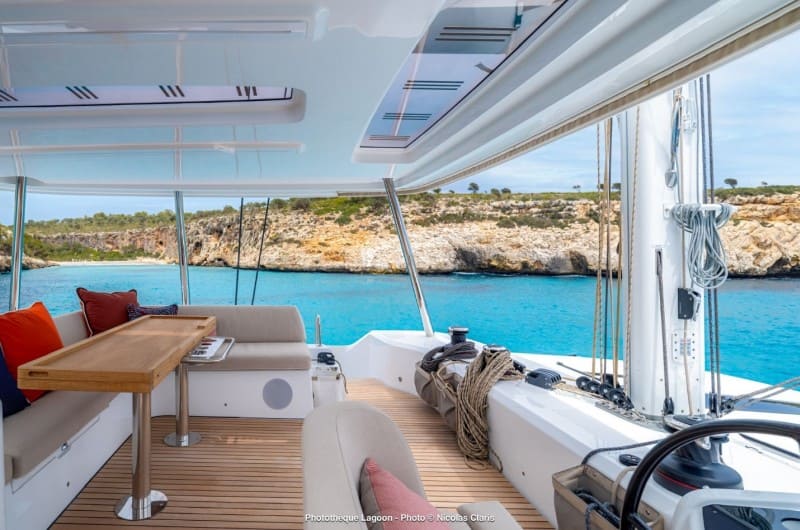 The self-tacking jib is controlled from here by the sheet that is led to a track ahead of the mast – this way the foredeck area isn't filled with lines as much as it would be otherwise. Electric furler for code 0 is right here also. Harken FlatWinder allows you to manage the boat along during maneuvers.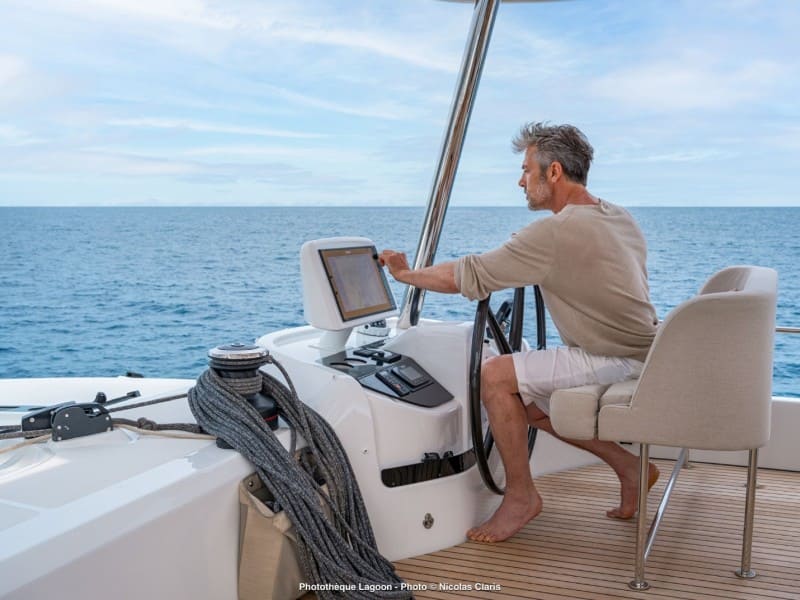 The folding seating area is big enough for two and is just as comfortable as a sofa nearby. Raymarine chartplotter, autopilot, radio and other necessary equipment is under your fingertips, as well as impressive full-size helm instead of a racing steering wheel – nobody is in a hurry when living on board Lagoon 55. Cupholders here are a reminder of that.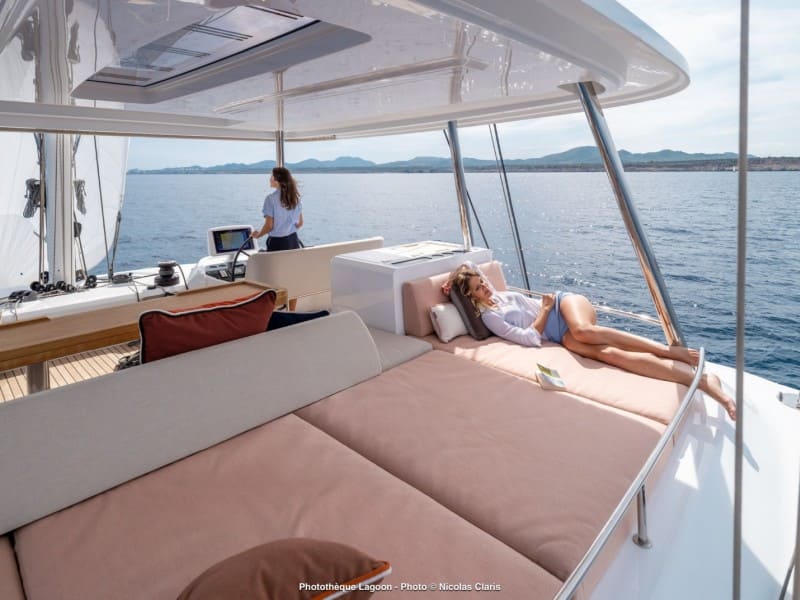 Yes, we are still on the flybridge. This is an aft sunbathing area and unlike some more limited flybridges out there you don't have to look out for a boom hitting you on the head or worry about your safety thanks to even more railing, just high enough to prevent rolling onto the deck. There's enough room for around 5 passengers here and usually on monohull of that size you are lucky to have enough room for a couple. More storages here too – under these comfortable beds there are two more lockers. In front the helm station, behind the mast, there's another similar sunbathing area, so you get two at once, both with conveniently placed cupholders also.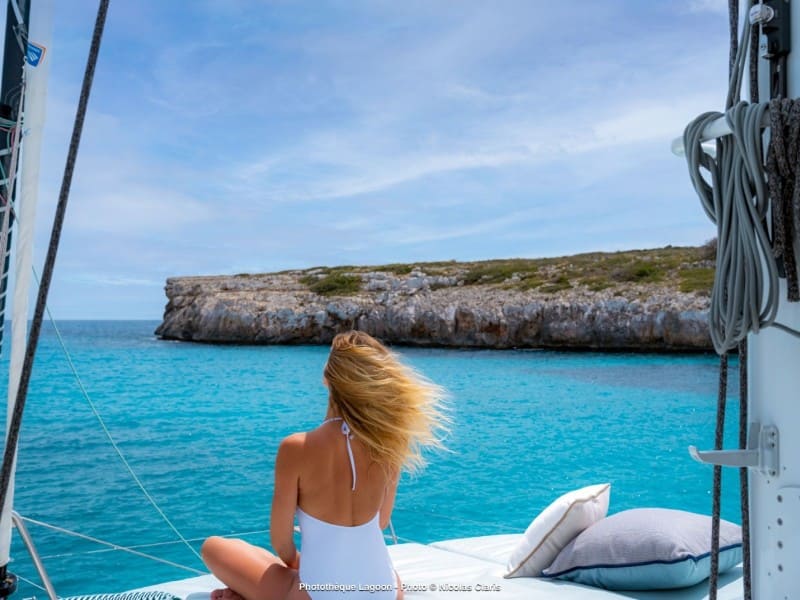 As for the dining area, you might've noticed something familiar to galley into the cockpit next to the table. Yes, this is a third cooking area on the yacht and we didn't even enter the saloon yet. You get the freezer, sink and even more storage. Overall incredible area. Skylights cut into an optional bimini to better see the sails are a nice touch too.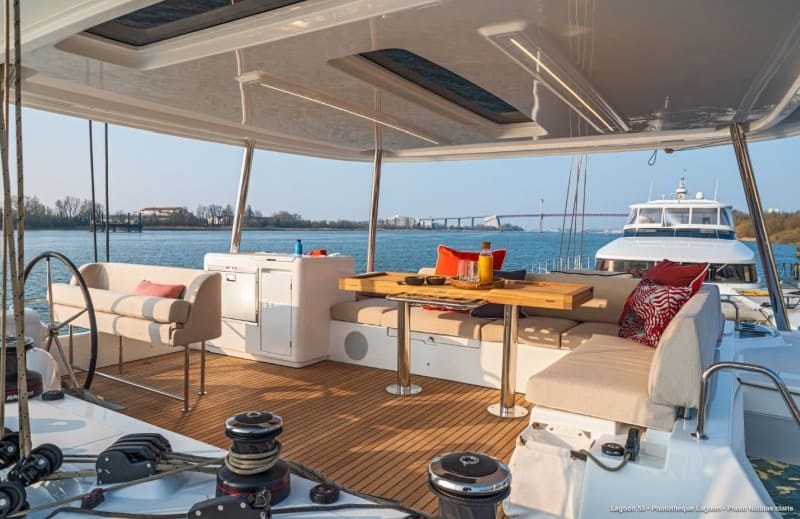 The Decks and the Bow
While we are still in fresh air, let's go visit the bow. We go along the decks which are protected with a certain mix of rails and lifelines (a certain compromise) and arrive at this cozy leisure area.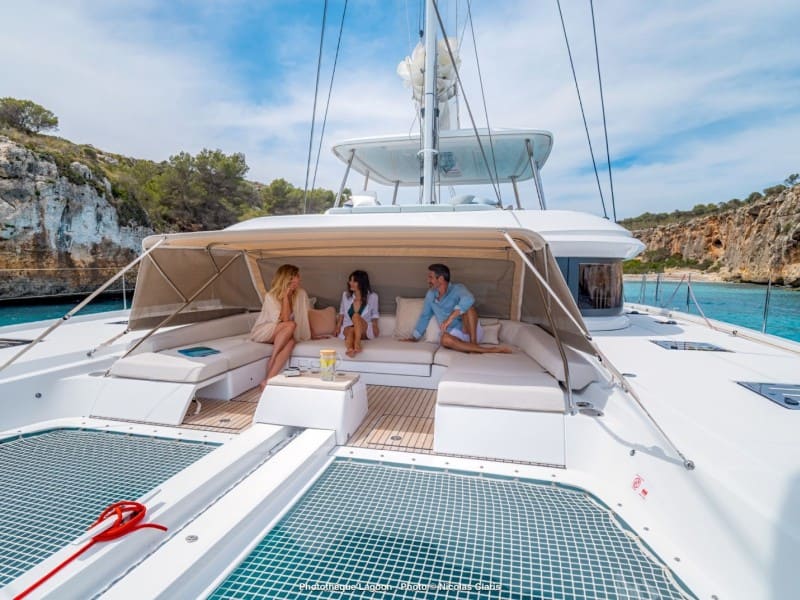 As you can see, you can invest some of your funds into getting a soft unfolding tent to be prepared for scorching summer sun and enjoy a cold drink in the shadow. Another huge C-shaped sofa with a coffee table and, of course, under the seats there's another locker. Here it is without the cover – looks very inviting.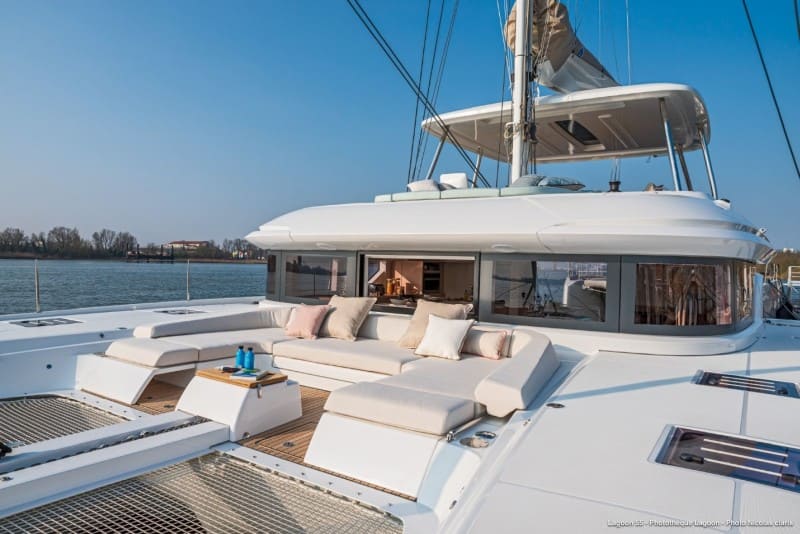 There's more to it though. Various hatches on the bow house a marine generator, which is also very convenient to maintain for a mechanic, more storage and a crew cabin. The crew cabin is very limited in amenities, but has all the necessities, including a sink and a toilet.
The tip of the bow is also well protected, has a usual for Lagoon cats trampoline net and a small seat for each hull for those romantic moments.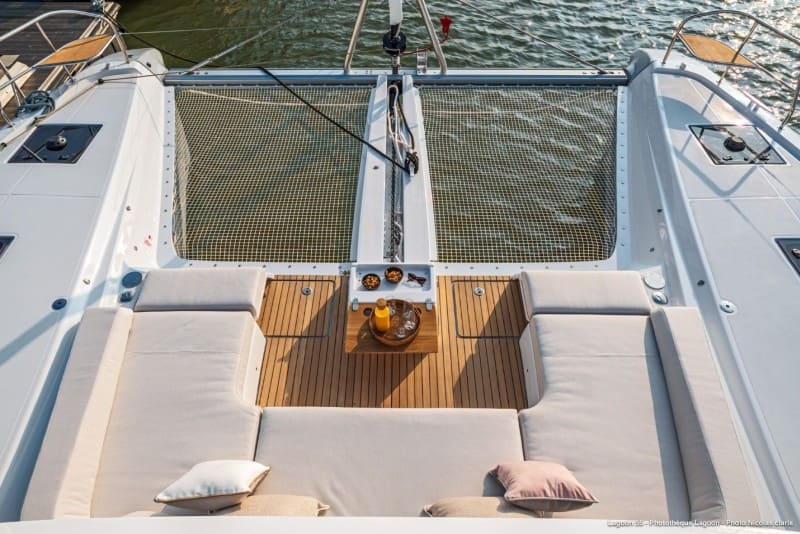 Entering the Saloon
We go all the way back and open the three-part sliding door as we enter the saloon. If Lagoon 55 is a hotel, then this must be its main hall – look the amount of living areas inside, the windows the are actually windows and not hatches, and even the book shelves behind that sofa! Where else would you have enough room for bookshelves?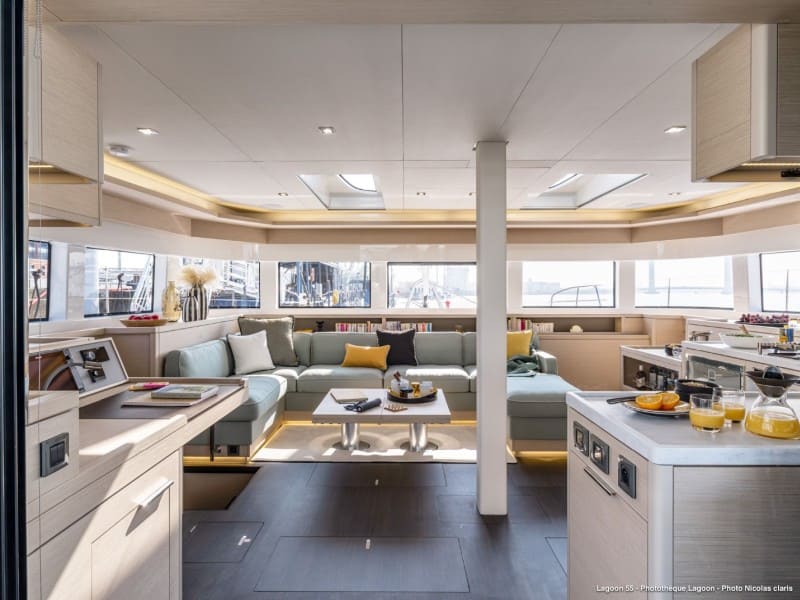 The colors are very welcoming, without minimalistic cold tones and the wooden textures everywhere create a more relaxed mood. Nauta Design, who planned the interiors, made sure to fill the saloon with as much light as possible not only through the windows around, but also through large skylights on top, which can always be covered with blinds. That beam in the center looks a little out of place, but there's no other way to design such a large saloon without it having structural weaknesses other than with a holding beam.
To your left you get the full-size skipper's table with radio, chartplotter and all the necessary switches, good enough to keep the boat steady from here. To the right there's another (fourth!) cooking area, and this time the designers went full out: the fridge, table and sink are larger, there's around ten different lockers around, full-size oven and a microwave are available and the stove looks just like that one at your house. Next to it you have a mini-bar with a couple of electric sockets.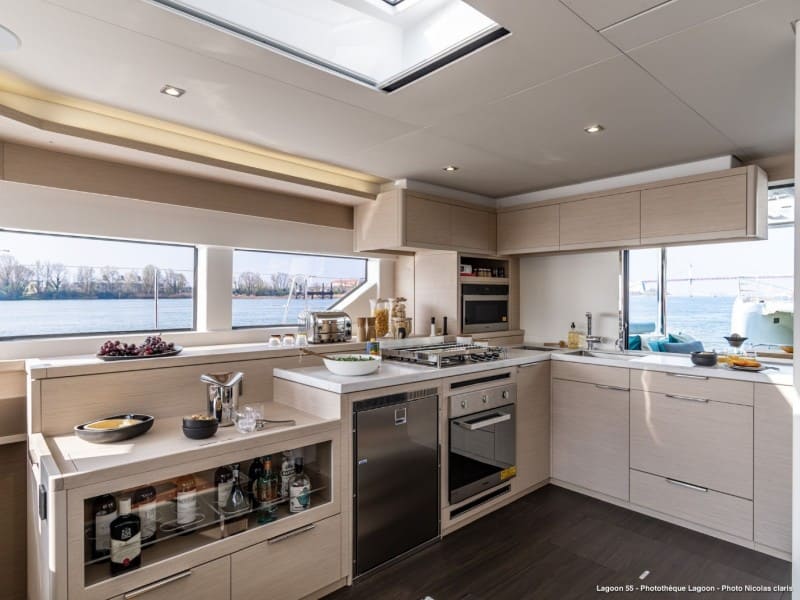 In the middle of the saloon you get a flexible hydraulic table, that can be transformed from a low coffee table into a legitimate dining table, in case you want to dine inside instead of using the one at the cockpit. The TV controls are right near the sofa. If you look closely at the ceiling, you will see it's outline – it comes out of the ceiling through an electric life after you push the button. After that you can adjust and rotate it anyway you want.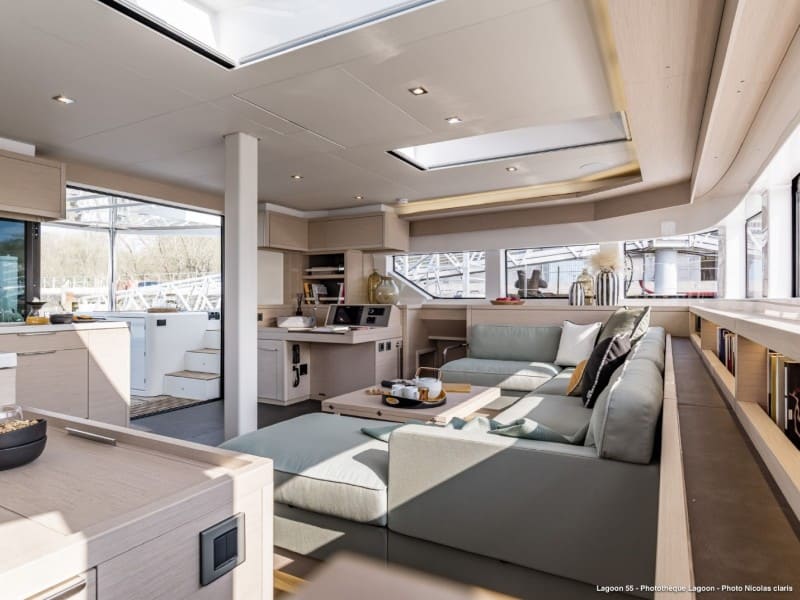 And as if all those lockers are not enough, inside the saloon's floor there 4 more hatches for storing equipment. Underneath sofa there also drawers for clothes and other luggage.
Now let's try and see what's on the other side of that ladder near the skipper's table.
Descending Into the Living Quarters
As we climb down, we immediately bump into a… full-size fridge and a washing machine? Yes, that's what money buys in the case of Lagoon 55 – full home experience on the ocean waves. Of course, the washing machine is optional, but just the idea of being able to add it in here is wild. This way you can have a pantry and a laundry room just near the steps in the corridor.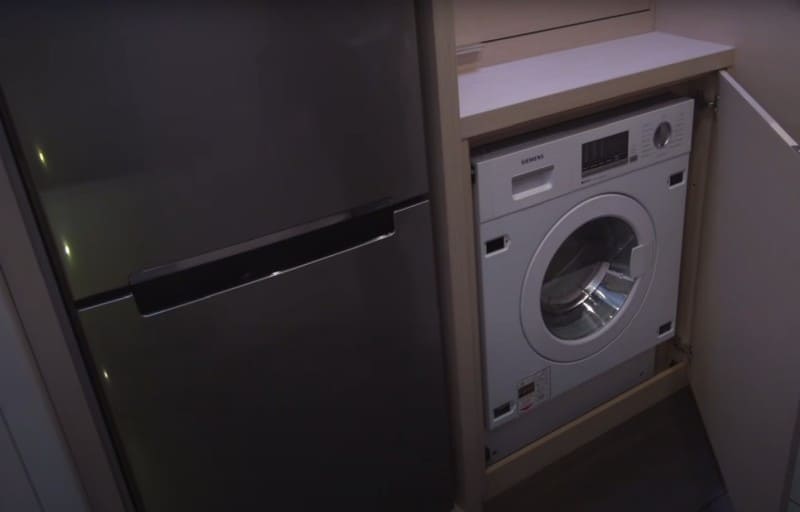 From here we immediately decided to go aft, into the owner's cabin (normally we review the owner versions). Our model had 4 cabins total, but there are also layouts for 5 and 6 cabins.
The VIP cabin has larger bed, three large wardrobes, the desk and a lot of drawers underneath the bed.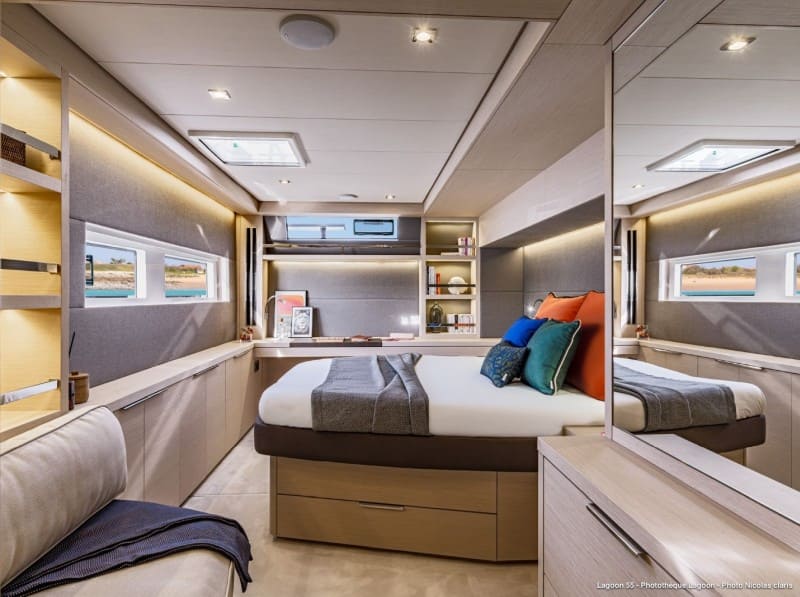 Based on our own experience, we can say that the most defining feature on expensive yachts is the owner's cabin's storage space. Previously we had some complaints regarding this issue on other boats we reviewed, but this time we can't really nitpick at anything. All the luggage, all the suits and shirts you can think of – it will all fit in here easily. The amount of lighting in here is also a sign of luxury – only very high-quality boats can allow such big openings for the hatches in their structure. Of course, a boat with this price tag you have the separate bathroom too with walk-in shower, large sink and mirror.
As for other cabins, they can easily qualify as owner cabin on some more modest yachts and even outshine them in some cases. Here's the forward port cabin, for example. It definitely has more storage space than VIP cabins on monohulls of the same length and also comes with another bathroom. The starboard forward cabin looks similar, but mirrored.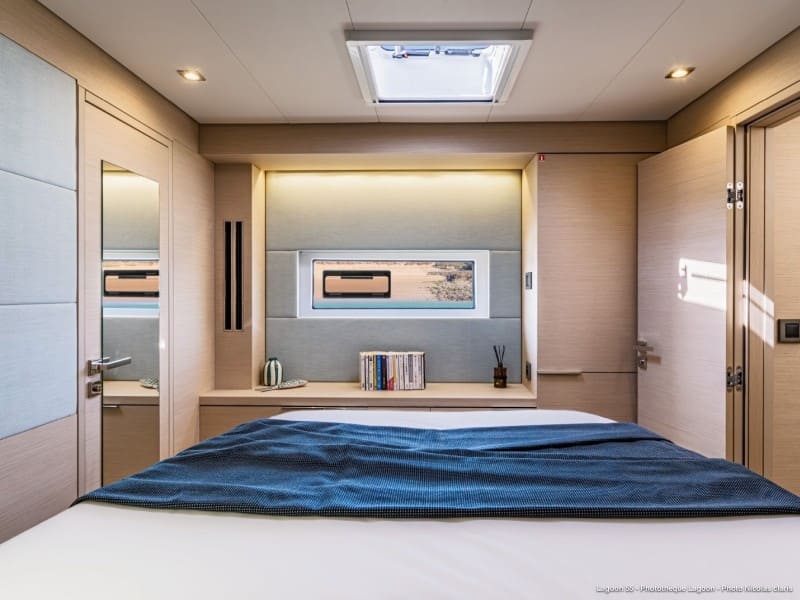 Advantages of Lagoon 55
After finishing our tour, it is time to list what advantages this yacht has over others. Here's what we think.
Space. Multihull World in their review rightfully called Lagoon 55 a "Space Ship" – this is the main feature of the vessel and has very little competitors in this category considering the overall length. The boat is pretty much made of lockers, hatches, drawers and cupboard all with big terraces for a group of friends or a large party.
Easy sails management. Yes, some people might shake their head at all-electric winches, but this yacht is not about showing off your regatta skills exactly. It's is about comfort, including the management – you don't need crewmen helping you with winches sprinkled all over the deck like at some sporty yachts.
Incredible quality of life on board. Teak soles, air conditioning, washer and dryer, full kitchen in the saloon any many other features make you want to live here indefinitely.
Marketability. This yacht, thanks to 6-cabin version, crew cabin and very spacious layout in general, is a perfect fit for any businessman who looks to increase to size of his flotilla for tourism.
As for disadvantages… We thought about it and decided that the main con here for some potential buyers might be the price tag. Like all good things in life, this yacht demands a large investment to enjoy it, especially with recommended packages, effectively putting you into a very small and prestigious circle of yachtsmen as a result.
Reviews of Lagoon 55 from Professionals
As we promised, we provide you the opinions of people who know a thing or two about yachts themselves.
Video Reviews
More reviews from other sources, this time caught on camera.
First, we give the word to Toby Hodges, a true scholar in his field, working for Yachting World:
TMG Yachts continues the streak of amazingly detailed reviews:
A little biased, but high-quality – video from Lagoon Catamarans themselves:
More technical point of view on Lagoon 55 from Salty Mechanics:
Great commentary and demonstration of the boat at Miami Boat Show:
Conclusion
Not all yachts are made the same. This one is definitely built different – built for comfort, for relaxation, for holidays and long ocean crossings without a care in the world. Some will try their best to squeeze out as much as possible knots out of their vessel and some just want to barbecue a steak next to their friends. We can definitely see that lately many manufacturers are definitely turning more towards the latter, including Lagoon.
This boat is made for enjoying life instead of challenging it. It is made to throw a party for your friends or for the entire marina if needed – they can all fit no problem. It is made for a couple who have no problem managing the boat together, just like they manage their family. And during a vacation as a parent, you will not have to worry about children's safety on board the yacht as it is built with that in mind too.
With Lagoon 55, you buy accommodations and comfort instead of speed and manual management. If you are into that, then this yacht is for you – short and simple.
Where to Buy Lagoon 55 at a Bargain Price
Speaking about buying it. If you wish to have a free consultation on the price, shipping costs, additional packages and so on – feel free to send us a message through the website's feedback system or just call us using the phone above. In case you feel like making your own research, go the Lagoon 55 page on our website and use the in-built calculator – it is based on the price-list provided by Lagoon Catamarans and contains precise information on various packages and options with the final price including after you tick the boxes that you need.
If you make a decision to buy from us, our experts will take care of all the documentation, move the yacht to the specified location and also will make it easy for you to add whatever non-standard equipment you need: watermaker, dinghies, sailing equipment, chartplotters etc. All that you can find at our marketplace too if you ever need it.