How to Store a Yacht and Boat in Winter
As the birds begin to make their way south, yacht owners in northern countries turn to the task of getting their boats, yachts and launches out of the water and getting them ready for the winter. This is an inevitable consequence of keeping the boat where the ice can develop to over three feet thick...
Wet and Dry Storage
When considering wet and dry storage, start by calculating costs. How much does it cost to keep a boat in the water all year round versus six months "in" and six months "out"? In addition to being charged for storage, there are other things to consider.
Winterizing "on the hard" might have financial sense in the long run. This is because fiberglass boats stored on land have the ability to dry out, and for this reason produce fewer osmotic bubbles (due to water entering the fiberglass hull) compared to boats stored afloat. Repairs can be costly, so keeping your boat out of the water may be your best bet.
Although there are benefits to storing the boat in the water: wet storage can give you an early start to setting sail on the boat in the spring.
But here's another point to consider: boats on the hard don't sink! In favor of this and the reasons mentioned above, dry winterizing is often the best option, however it is not without its risks, such as insurance claims:
"The vast majority of claims in temperate states involved ships that were stored ashore. Since water retains heat longer than air, yachts surrounded by air are more vulnerable to sudden freezing than boats surrounded by water. Even a little cold storage that only lasts a night or two can cause significant damage."
The bottom line is that if there is any possibility of freeze damage, you need to implement measures to prevent damage when freezing occurs.
Dry Stack Facilities
Rack storage, commonly referred to as dry-stacking, has become an increasingly popular way to dry storage motor launch boats during winter downtime and/or during the season. Originally conceived in the 1950s as a way to store light motorboats, dry-laying has evolved over the years in the complex industry with objects up to 80 feet long!
Now such complexes include mobile autonomous racks using which the vessel can be lifted and moved to various places. These dry racks make them the best choice for boats stored in hurricane-prone areas.
Many storage racks offer various services such as rinsing as well as winterizing and shrink wrapping. But all this is not so cheap, so you should make sure in advance that the financial side of the issue is not very burdensome.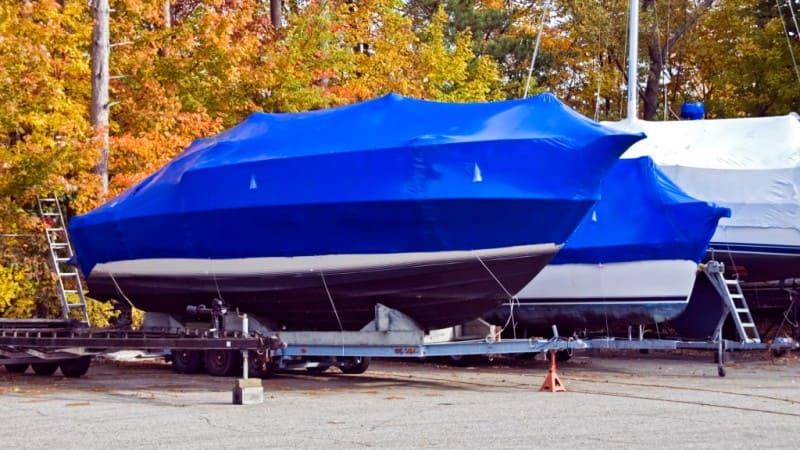 Boat Lifts
Boat lifts offer you the ability to store your boat high and dry and ready to use in minutes. However, according to BoatUS, they are not built in areas prone to hurricanes and strong winds. Wind waves can move the boat, and heavy rains or heavy snow can push the weight to the limit. One way to prevent these problems is to keep your boat on a trailer, but if you choose to keep your boat on a lift, make sure the lift is in good condition, of the correct power, and that the boat is properly covered to keep out rain and snow.
Because ships stored on lifts are surrounded by air, they are more vulnerable to sudden freezing than boats surrounded by water. This means that you will have to implement measures such using an engine room heater in the hold to prevent damage in case freezing occurs.
Keel Blocks
Storing your boat on a custom keel block specifically designed to support structural areas such as the engine, bulkheads and keel will help ensure that the engine stays aligned with the shaft and that the hull doesn't warp over time. Do not store your boat on a keel block designed for a boat other than yours.
Boat Stands
If you decide to store using boathouses, make sure the hull and keel are properly supported, taking into account bearing loads such as engine location, fuel and sanitation tanks. Emptying your boat's water and sanitation tanks while winterizing will help reduce stress in these areas, but the fuel tank must be 95% full to protect against condensation.
The keel must support most of the weight. In this case, the boat racks serve to provide balance, and not to support it. Heavy scaffolding should support the keel. You can use adjustable keel stands. This works well for full keel powerboats and sailboats, but in the case of deep keeled sailboats, sometimes supporting all the weight on the keel causes excessive stress in the area where it joins the hull. Boat racks must be placed at a 90° angle to the hull so that the weight of the boat is directly transferred to the ground.
Shrink Wrap
Boat shrink wrap effectively seals your vessel from mud, debris, rain, snow and animals that would like to call your yacht home. However, shrink wrap also traps all the moisture inside, which can lead to condensation and mold. The best way to prevent this is to dry your yacht completely before installation. Adding plenty of vents to the unit will help keep moisture from collecting inside. Another way to prevent mold is chlorine dioxide technology to reduce the spread of spores and mold. Adding a zippered access door will give you access so you can refinish your boat in the middle of winter. Besides retaining moisture, another disadvantage of shrink wrap is that it can only be installed once and must be disposed of at the beginning of the season. The cost of shrink wrapping depends on the size of the vessel. Usually, it's 12-15 dollars per foot.
Fabric Covers
The covers are expensive, but they can pay for themselves over time compared to the annual cost of shrink wrap. Woven covers provide a certain amount of breathability, which can be increased by adding vents. In addition, they can be raised to access the boat at any time.