Beneteau Swift Trawler 48 Review
A good thing about Beneteau yachts is that there are so many of them to review! This time we talk about one of the most famous models of the shipyard – long-range Swift Trawler 48, optimized for continuous life on board. We try our best to paint the full picture of this yacht and who it is made for, with unbiased third-party opinions, high-quality photos and links to video reviews as well.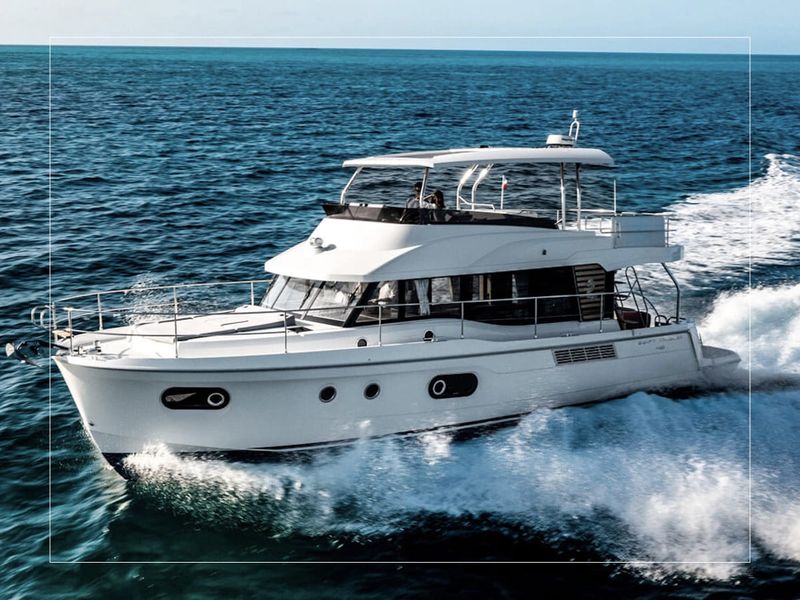 Magnificent, isn't it? The shape of the hull itself is a promise of a reliable home on the water: high-performance models are usually much more nimble and slick - Swift Trawler 48, on the other hand, look like a heavy juggernaut, ready to embark on the longest route around the world. High sides and unusual width mean high ceilings in the cabins and more room inside, the cockpit area is sheltered under the roof to make the yacht more resilient to harsh weather conditions and make it more versatile for all kinds of sailors. At 9 knots it is able to cover 600 nautical miles, which is impressive, considering the luxurious interiors and amenities available.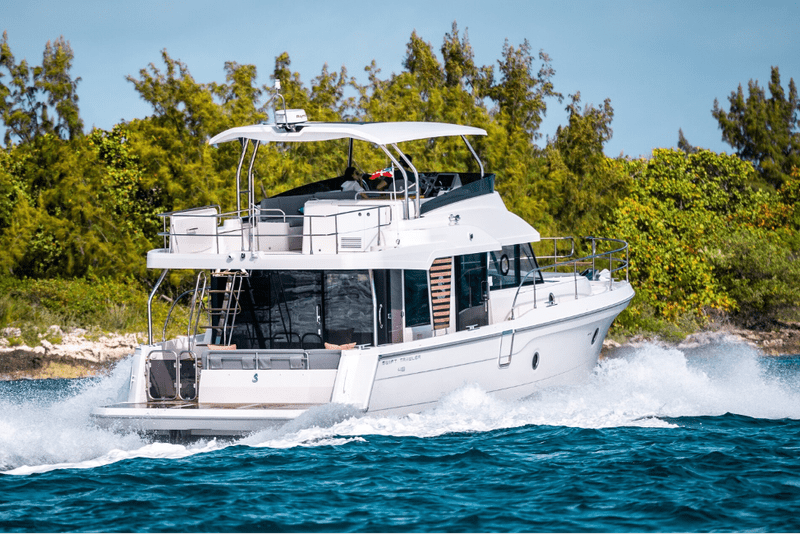 The very first Beneteau Trawler (model 42) was release in year 2003 and immediately conquered the hearts of many people, preferring to use a yacht as their dwelling for long periods of time without overpaying for larger models. Its release started a revolution in the yachting community back then – before, many people didn't even know what a trawler is, and suddenly everybody wanted one for themselves. The new, refreshed and redesigned by legendary Andreani Design, model 48 replaces the very popular 47, but it is still based on same trusted MICAD hull – it is already optimal enough for the yacht's purpose.
What is the yacht's purpose, might you ask? Well, the most logical way to use it would be living on it together with a family or your close friends, while stockpiling bunch of goods on board every time you dock at the marina during a long route. It doesn't really make much sense to buy a long-range vessel (which includes a pricy set of special features) and use it only for short trips. It is built for dreamers, for those who dare to get out of their zone of comfort after becoming restless from their usual lifestyle. And also, for those who are already unhinged and don't allow the fear of the unknown to stop them from taking on a demanding passage.
Alright, but what is so special about this particular yacht and where does it shine compared to other options? Based on what we found out in the testing process, it is all about the combination of features, that are unlikely to fit together on many other monohull yachts. It's almost like this monohull tries its best to turn into a catamaran in terms of comfort, while still keeping the class, speed and aesthetics of a classic trawler.
Let's discuss more in detail what these features are, but before that here's some raw data for you.
Features of Beneteau Swift Trawler 48
Brand:

Beneteau

Hull type:

Monohull

Overall length, m:

14.74

Overall length, ft:

48

Width, m:

4.5

Draft, m:

1.12

Displacement, t:

12.200

Air draft, m:

4.79

Water tanks, l:

640

Exterior design (architect):

MICAD

Interior design:

Adreani Design

CE certification:

B14 / C16 / D16

Engines, hp:

2 x 425

Fuel tanks, l:

1930
Would you like to buy the boat or get more information such as delivery dates, safety equipment, registration and insurance?
Call or Text us, and we will provide up-to-date information ASAP!
We will make sure to get all your requested data directly from official representatives and service suppliers.

English / Hrvatski / Русский
Maximum Speed and Fuel Consumption
| | |
| --- | --- |
| Max speed | Up to 26 knots |
| Cruising speed | Up to 9 knots |
| Fuel consumption | 24 l/h in displacement mode at a speed of 9 knots |
Price calculator
Review of Beneteau Swift Trawler 48 by topRik Team
It always makes sense to start our virtual tours with the transom – it might not be the façade, but it is the largest entrance of this portable house on the water.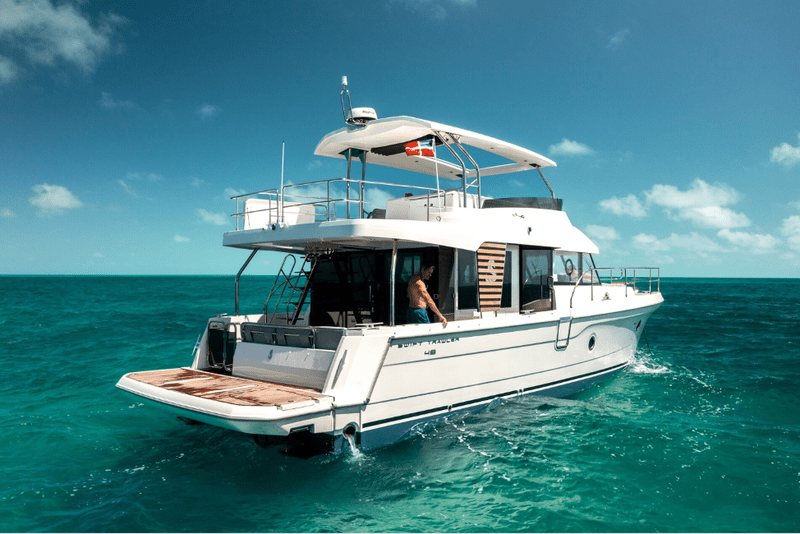 Since this boat is all about practicality, this hydraulic swim platform, capable of withstanding 350 kg, is not as simple as it looks. It hides in itself not one, but two ladders – a simpler one can be pulled from underneath and another one, of larger size, can be unfolded after opening that little door on the right. The second ladder is also more comfortable, with wooden steps attached.
A pair of tender chocks on each side complements the efficient design of the platform, teak flooring is available as an option While the chocks are hidden inside, nothing prevents you from creating you own piece of heaven with a chaise longue, suntan lotion and a cocktail in your hand.
The Cockpit
Speaking of drinks, let's see how easy it is to grab one. To go inside, we pass a sturdy metal gate (both sections are opening), leading into the cockpit. First thing you are going to notice is high bulwarks with even more metal on them – the designer didn't cut the corners when it comes to safety, that's for sure. That's one of the reasons why we recommend this boat for family life – this boat is well protected all around, including the bow.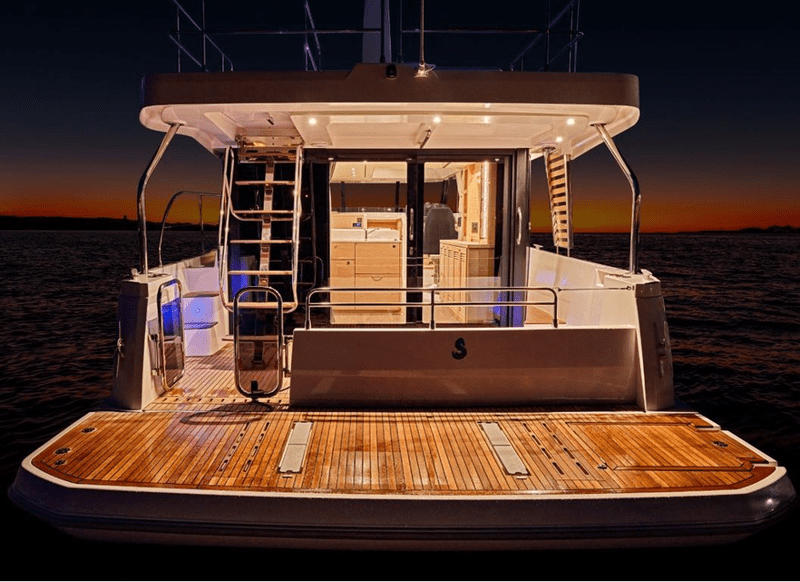 Behind a small door to the right, next to the gate's right section, the shore power system can be accessed, as well as the water inlet for filling the tanks with fresh water. To the left you have a couple of cupholders, cold/hot shower, bilge pump built into the bulwark and a mooring cleat on top of it.
On the opposite side there are more cupholders (can't be too much of those) and a very conveniently placed control panel for the hydraulic platform. Here you can also get rid of the lifeline between bulwark and railing and turn this gap into another small exit – the seats better be removed in that case. Another novelty on Trawler 48 is a door to the right of the sliding doors to the saloon, which can be closed to avoid the wind blowing into your face while you try to relax on the sofa.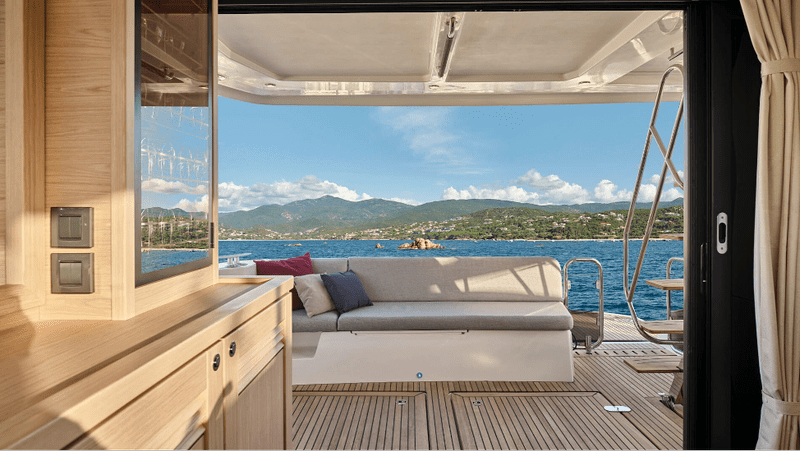 It is quite obvious that the design of the vessel is quite asymmetric – there is a wide sidewalk to starboard, but on the portside the sidewalk is very narrow, as most of the space was given to living areas. The ladder to the flybridge slides back, you can always put it away with a press of the pedal to create more room in the cockpit when needed. Already you can see, how lots of different features are combined in pretty wild ways, all for the sake of minimalism and efficiency of provided space.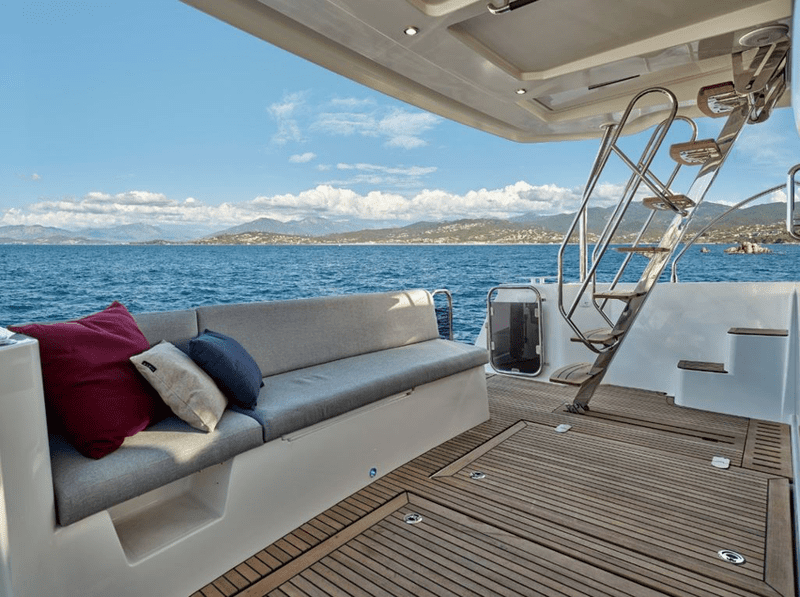 The Saloon
First thing you see after passing through the sliding doors will be the galley. It is quite a change actually – previously, the galley was located at the front, which created some difficulties in delivering the meals to the cockpit zone.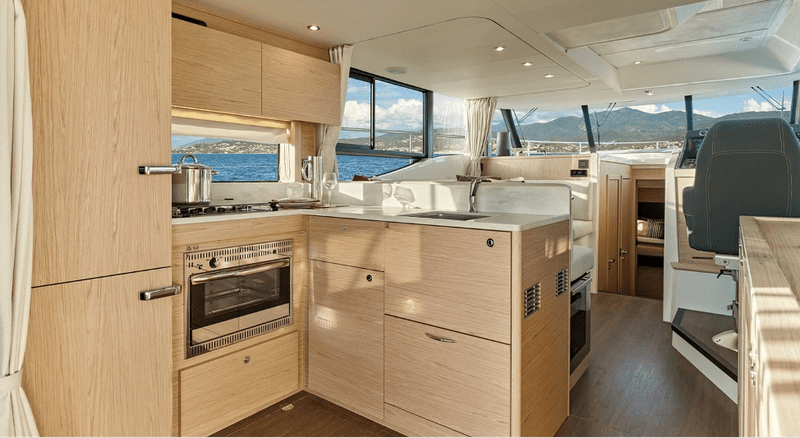 All covered in natural wood, this mini-kitchen has an oven, huge 255-liter fridge-freezer (large doors on the left), sink, stoves, bunch of lockers, optional dishwasher – whatever you need to live and cook on boat for weeks or even months. The cabinets have sliding sections on swivels built in, also to maximize the usefulness of used space.
On the opposite side there are also bunch of lockers with an optional stylish transparent locker for the glasses and an icemaker. Air conditioning components are located inside the last cupboard, which was pretty surprising for us.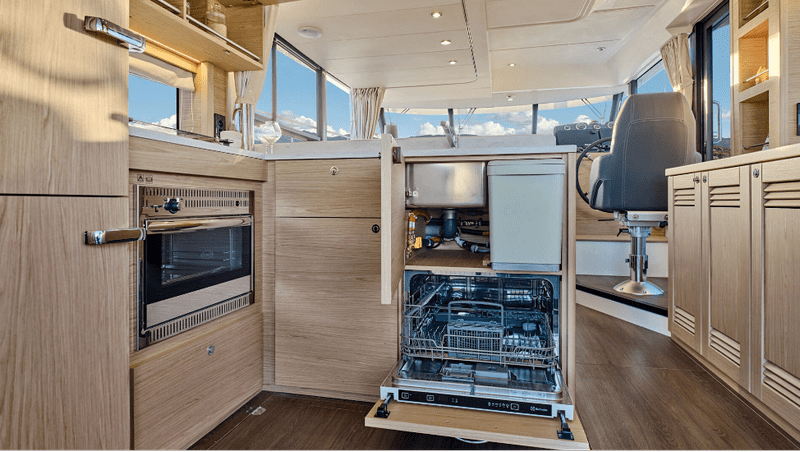 And this is how it looks if you stand in front, facing the doors to the cockpit. As we enter the saloon of Beneteau Trawler 48, there's not much places where you can stay in the shadow, unless you use the curtains, since the sunlight enters from all possible directions through large windows, some of which are sliding. All the yacht (including the saloon) is covered with hybrid AC + USB sockets for charging any devices you might have.
If you are attentive, you noticed that railing on the ceiling near the entrance – not often we see something to rely on while the boat rolls during large waves. Even the table surfaces are very easy to grab onto in case you are losing the balance – nice touch.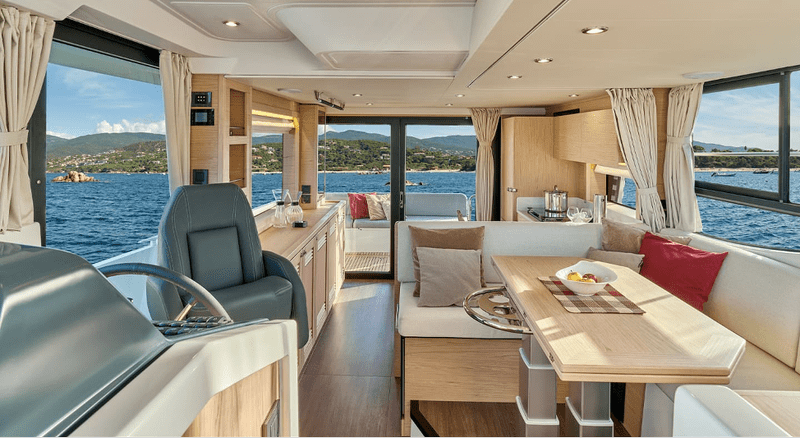 The adjustable and foldable saloon table, surrounded with comfortable seats designed for 8 people. It can also be turned into a berth for two people.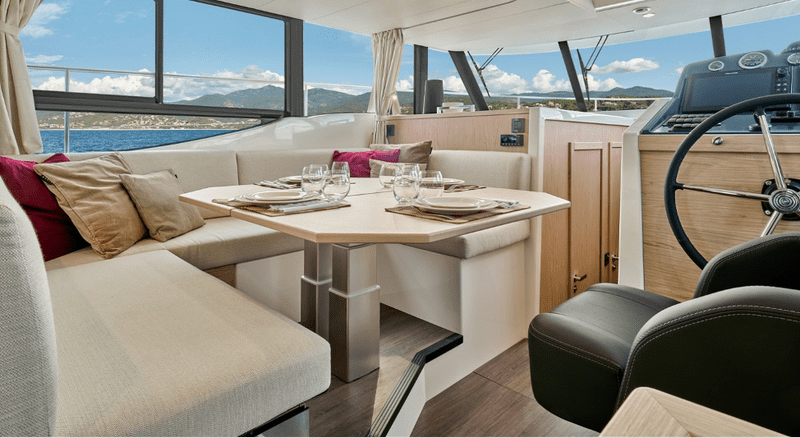 Another feature that we never saw from other manufacturers: the chair used by skipper is turned directly towards the unfolded table, the height is adjusted and this way you can easily interrupt driving the yacht in the most pleasant way without even standing up. After "resupply" you just turn it back towards the helm and continue the yacht management. On a special occasion, you can grab one of the bottles from the wine fridge underneath the sofa.
To the left of the stairs there's a slot for a TV: you can lift the upper part of the structure next to sofa, revealing the device, and hide it when you are done watching – the door has a big handle for that.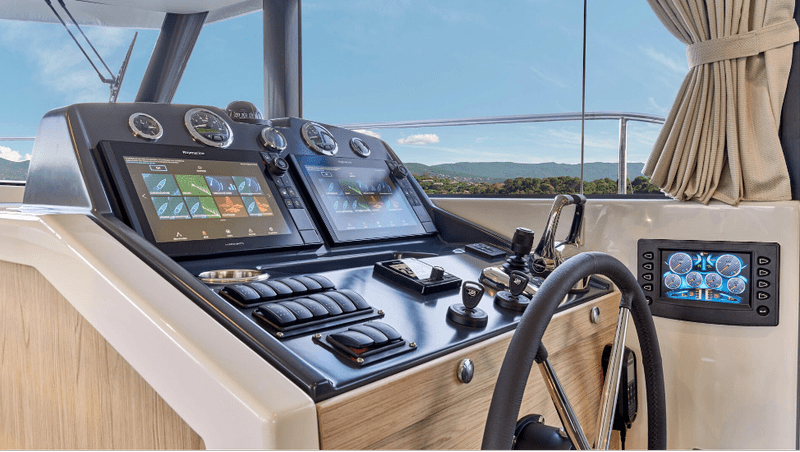 And when it comes to control, Beneteau never disappoints. Everything is at your fingertips: autopilot, water pump control, horn, defroster, VHF radio, ignition and many more controls - all indicators are clear and precise and the helm is of classical shape instead of looking like the racing car wheel. Bow and stern thrusters are always a lifesaver when it comes to mooring and here you have a joystick for both of them. Two Raymarine displays will help you to understand exactly where you are and where you should be going. Display on the right gives you access to all the data you might need on powerful Cummins engines in real time.
One of the best things about this control panel is actually a door to the right, leading directly to the starboard sidewalk. And from there you can even step onto the pier through a small door built into the bulwark.
The Cabins
Time to visit the lower deck. We ended up testing the most well-rounded 3-cabin layout (you can check out other options on our sale page):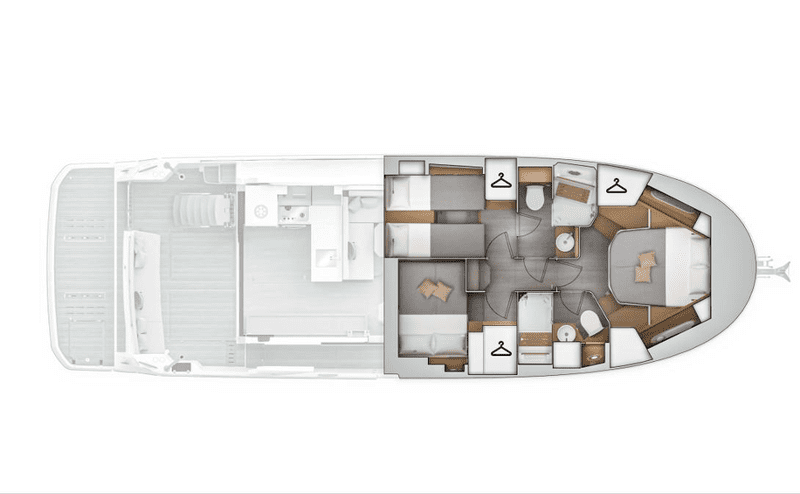 We climb down the stairs and immediately end up in the bow owners' cabin – both windows have opening ports, there are lights on both sides of king-size bed, plenty of shelves and lockers. Above us there is a large hatch, which completely solves the problem of lighting or air ventilation. Additional to lockers, the bed lifts up, providing you with a lot of extra storage. Door to the left leads to a separate bathroom with shower cabin and a small wooden seat inside it.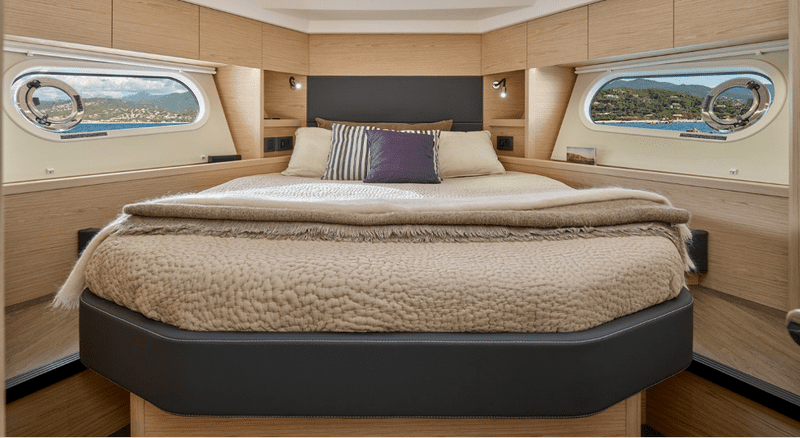 As for other cabins, these two portside berths will be perfectly fine for those who don't need something extra. In case extra is a must for you, you can install a double bed here. Also, you have spacious lockers and a bigger bathroom compared to model 47.
Another cabin features a double bed by default, has a compartment with AC and inverter control panels. In both cabins there's no lack of lighting as well.
The Bow and Flybridge
For some reason, this time our tour turned out to be pretty chaotic – there's just too much things to check out on Beneteau Trawler 48, so you want to be everywhere at once. We decided to check out the bow next. Imagine you go through the saloon exit right to the starboard sidewalk (which, surprisingly has a water outlet built into the steps), then onto the bow and look back.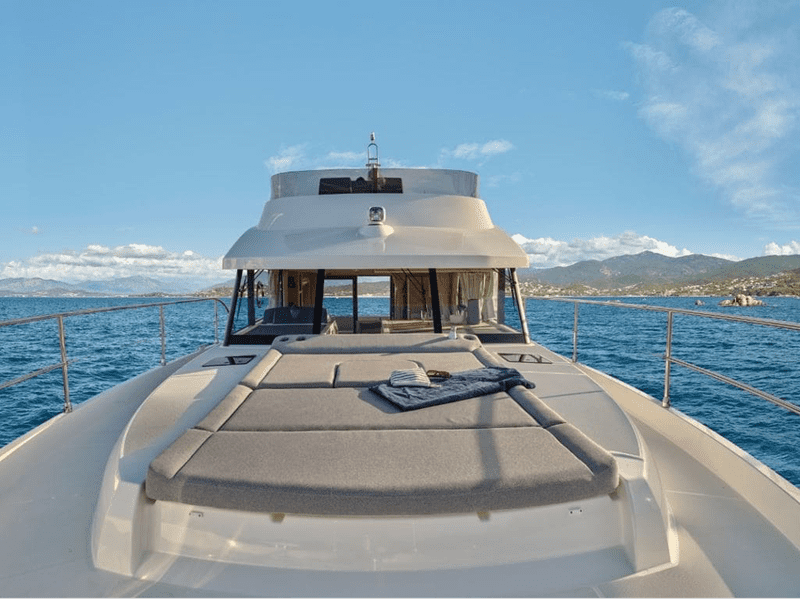 The space here is impressive – the bow is unusually wide for a monohull, so there's more room for the sunbathing area with flipped-out seats. Here we also find the Delta anchor on an electric windlass with a starboard locker for the anchor chain. There is another locker for marine equipment and nice big cleats near the anchor to make the mooring process easier.
Now let's get back to the cockpit and climb that ladder.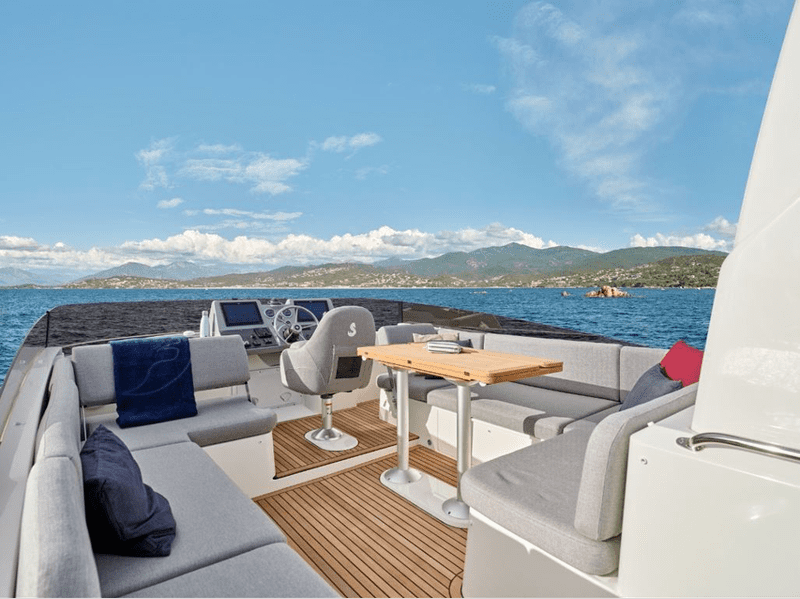 Where's the hardtop – you might ask? Well, the hardtop is optional, so these pictures show the flybridge without it. We think it is well worth buying in most circumstances, as well as the radar on top of it, if you can handle the price tag.
The table and sofas are a must on a flybridge, but not every flybridge provides a full version of the navigation station – all the controls are duplicated here, with some additional buttons for controlling the hardtop sliding roof. Lots of cupholders, can't go wrong with that.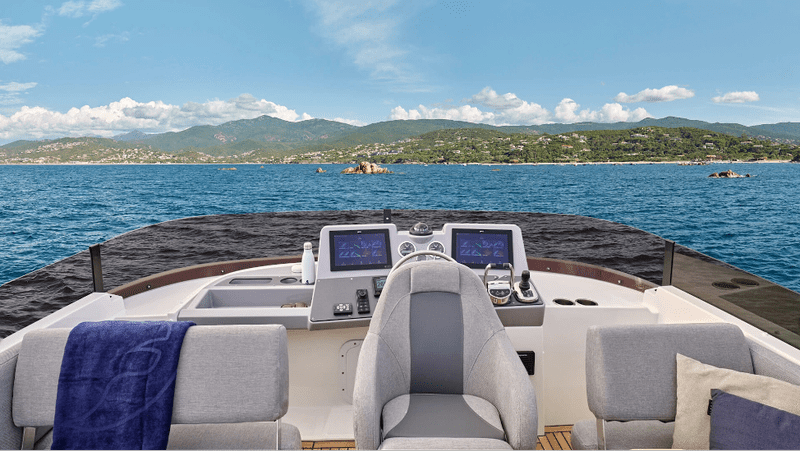 Sliding table allows for handy adjustments depending on the situation. Sofas are also not as simple as they look: the backs are regulated, so you can either go for a large dining area after unfolding the table (leaning them toward the station) or join the skipper by flipping the backs in the opposite direction – this way you create 3 additional seats at the front.
At starboard we have a separate galley with a grill, sink and lockers containing the fridge and a trash bin. Opposite the galley there is some free space, which you can use to keep a life raft or put some folding chairs to enjoy the meal right at the galley.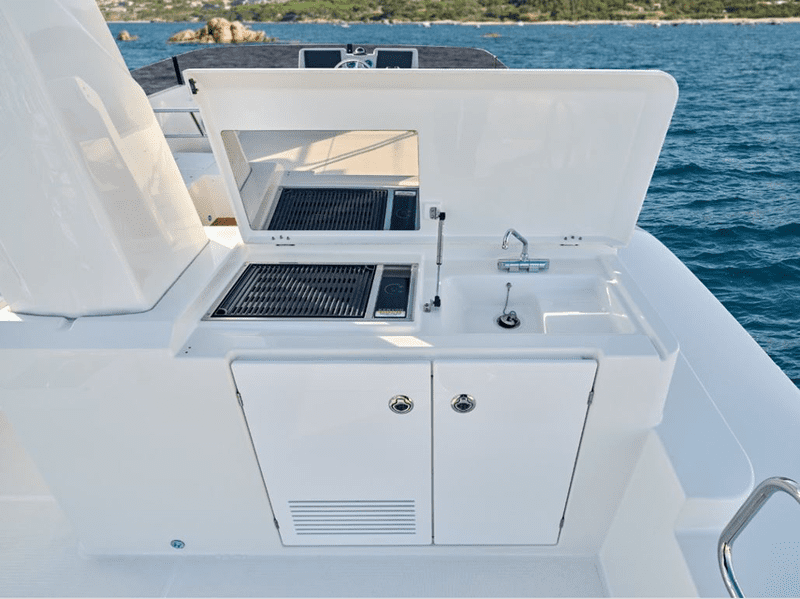 Engines and Performance
Remember those hatches in the flooring of the cockpit and saloon? Time to open them! Here's the galley one, showcasing the heart of the vessel: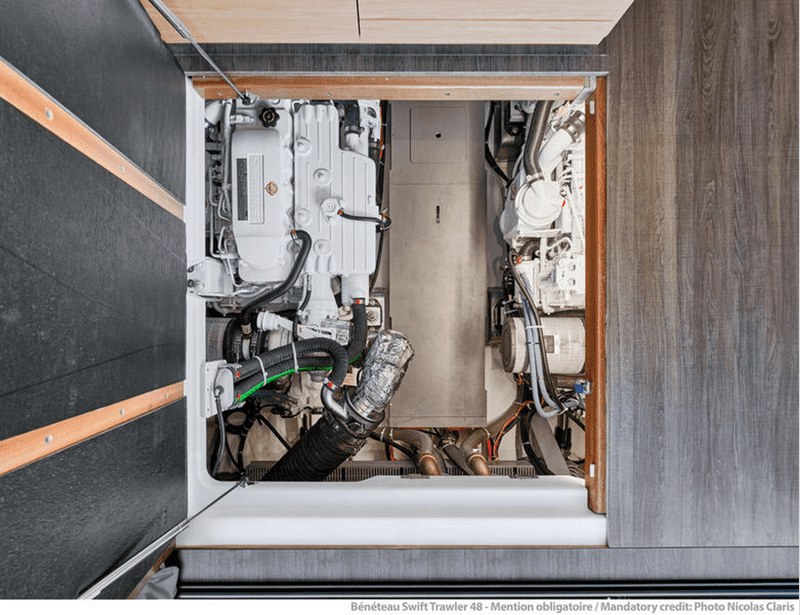 On our model we had a pair of proven 425 HP 6.7L QSB Cummins engines on shafts, which you can easily maintain by climbing down a small aluminum ladder. Behind the ladder you will find raw water sea strainers and filters. Any technician will be more then comfortable doing his job in these conditions, and if you are a handyman yourself, you will appreciate the simplicity of this compartment, even though it's not the roomiest one.
The cockpit floor hatches give you access to the generator, battery and steering gear, with a lot of additional storage space.
While 9 knots (1500 RPM) cruising speed allows for 600 miles range, crank it up to 18 knots and the range is cut in half. And while the boat is capable of reaching 26 knots, based on our experience, you better drive at that speed only if absolutely necessary. So, you have a choice at all times – more range, or more speed. You can actually drop all the way down to 5 knots per hour and get an incredible 2000 miles range! Flexibility is what Beneteau Trawler 48 is all about.
When it comes to maneuverability, that's where this yacht wins over catamarans of the same length – since it is a monohull, you will have no problems when it comes to turning the boat even in rough seas.
Typical monohull rolling might be a problem for some - extra stabilizers will fix this issue. Although, most yachtsmen who go for a boat like this one, are little bit more experienced, so they are not usually troubled by the sea sickness.
This concludes our review of the boat. Now let's list its main benefits.
Advantages of Beneteau Swift Trawler 48
After taking our sweet time with this yacht, we can point out the following pros:
surprising amount of space for a monohull: wide deck areas, lockers everywhere, double beds and lots of storage, roomy flybridge with its own galley and relaxation space in front of it;
safety – this is one of the most reliable boats we saw, perfect for even the most zoomy little fellas on board during a family vacation;
flexibility – you control the balance between range and speed, amount of space and functionality; you decide as well whether you should settle for a more basic version of get more advanced features for extra price;
overall practicality and robustness of the boat: nothing is flimsy, nothing is installed to just tick a certain checkbox, all the elements are designed to last.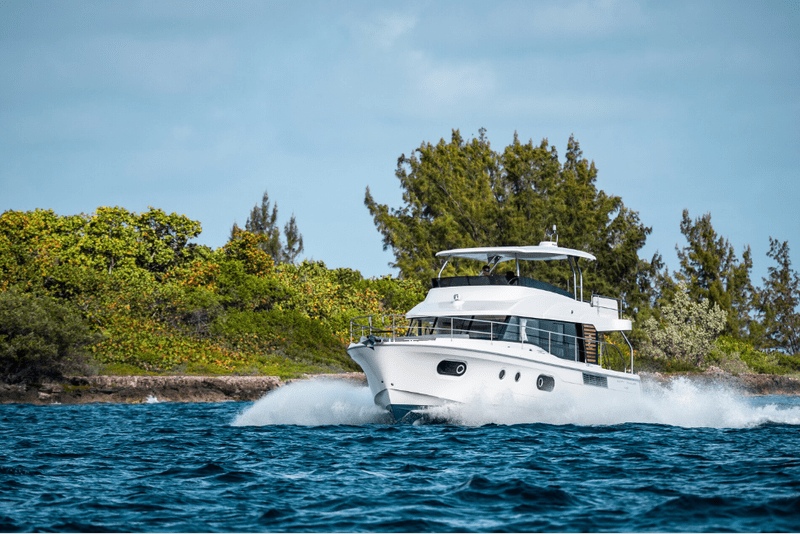 As for the shortcomings, we didn't find much of them: engine compartment might be a little bit cramped and the engines could appear to be too loud for some. Of course, the price of the boat might also be a turnoff, but in our opinion, you get what you pay for and in case of Trawler 48 it is well justified.
Reviews of Beneteau Swift Trawler 48 from Professionals
To fully understand something, you better look at it from different angles. To complement our own walkthrough of the boat with some details we didn't mention, we provide the summaries of various articles, written by leading yachting journalists, with links to their full reviews included.
Video Reviews of Beneteau Swift Trawler 48
Some footage so you could understand what this yacht is capable of.
Let's start with the Beneteau's own walkthrough:
And this is the Boat Show's quick review of Trawler 48, summarizing all the main features:
More information and more features showcased:
Aquaholic never disappoints with energetic and fun reviews:
Silent, but informative walkthrough:
Conclusion
It's been quite a journey. This yacht surprised us in many ways, but the most of all, it proved to us that a monohull can still be a viable option during the invasion of catamarans on trimarans on the market.
The feel of a classic monohull trawler can't be compared with anything else – this boat is as reliable and sturdy as they get, built for experienced yachtsmen who know exactly what they need on board. The simpler the system, the less parts can break, and the architects of Trawler 48 surely kept that in mind. And even if many years later something needs maintenance, thanks to well-thought-out layouts fixing process will be a breeze.
More than anything, we see this boat as the memory creation tool for the family or a group of close friends – it looks like something from the old postcard thanks to its classic style. Sure, some charter companies will try to take advantage of this beast for commercial purposes, but mainly this yacht is made for owners, who consider the sea to be their one true home.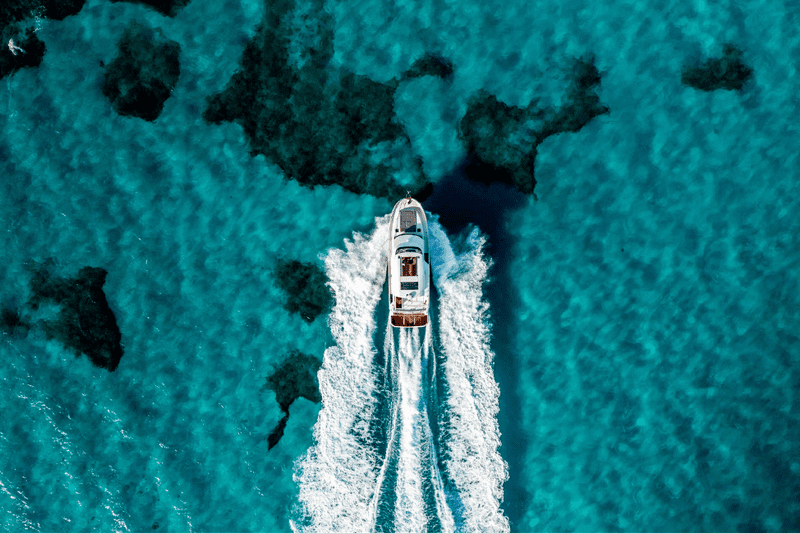 Where to Buy Beneteau Swift Trawler 48 at a Bargain Price
Here at topRik we always try to find the best deal for every customer. We will also take care of all the documentation, law issues and problems with surveying or maintenance related issues. You can always use our built-in price calculator on the sales page to estimate the price tag with all the optional features and consult with our team in the process in case you are confused about some options.
Of course, you can just use the marketplace to get all the additional equipment, not included in the boat's price list: fenders, batteries, watermaker, you name it. All good come with warranty and will be shipped to your specified location. Hauling the Trawler 48 is also available as a service – we have a lot of experience hauling the yachts over the years and will try our best to organize the safest and fastest delivery to your berth.
Some people like to get things done with their own pair of hands, but if you need to get rid of osmosis, replace the antifouling coating or repair the engines, make sure to come by at our SimpleSail facilities: we are engaged in all possible maintenance services, including preparation of the yacht for the season.
If you have any questions regard the yacht or our services, feel free to send us an e-mail at [email protected] or call the phone number at the top of the page. You can also go to Contacts section and use the feedback form. Good luck!