Lagoon 78 Review
Here you will find the most detailed review of the magnificent motor catamaran Lagoon SEVENTY 8. Experts from the topRik team, who have tested the possibilities of this cat in practice, will share their impressions. We also provide reviews of famous yachtsmen-journalists, posted in the leading yachting media. As always - a lot of photos and videos so that you can fully imagine all the splendor of this grand hotel on the water.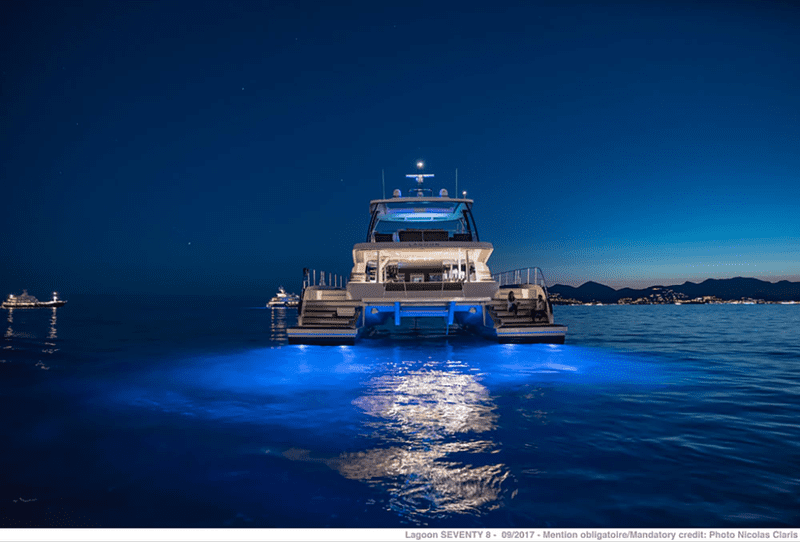 Did you notice that even in the short paragraph of the introduction, we already complimented it twice? Well, even though we try to be unbiased here, get used to it. After all, we are not talking about the usual cat, but about a three-story comfortable cottage or hotel on the water. This is the idea behind Lagoon 78's design by the famous VPLP naval architects led by Marc Van Peteghem and Vincent Lauriot-Prévost – developers of Lagoon vessels since 1984. No less famous designer Patrick Le Quément, who, in addition to Renault cars, also came up with dozens of superyachts, worked on the exterior of the Lagoon 78. The interior of the catamaran was created by Nauta Design. As you can see, the shipyard has put together an all-stars team to create a masterpiece in the world of motor cruising multihull yachts.
Look carefully at the photo below - what do you see? Cottage balcony with sea view? The 5-star hotel terrace? Dance floor during the calm of the day?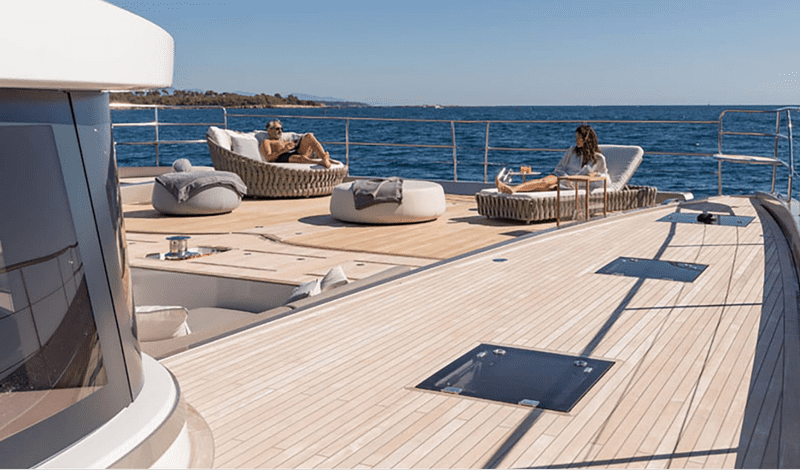 We'll tell you all about it further on. But before that, we advise you to familiarize yourself with the technical characteristics of this catamaran. They are impressive even compared to the Lagoon sailboat SEVENTY 7, although it was its hull that was taken as the basis for the 78 - however, it was extended by half a meter, or a whole foot. As Chris Caswell rightly noted in his review, now the Lagoon catamaran is larger than a doubles tennis court.
Features of Lagoon 78
Brand:

Lagoon

Hull type:

catamaran

Overall length, m:

23.8

Overall length, ft:

78

Width, m:

11

Draft, m:

1.27

Displacement, t:

61.66

Air draft, m:

8.95

Water tanks, l:

2 x 800

Exterior design (Architect):

Patrick le Quément

Interior design:

Nauta Design

CE Certification:

A:14 - B:18 - C:24 - D:40

Engines, hp:

2 x 510

Option engines, hp:

2 x 580

Fuel tanks, l:

8500
Would you like to buy the boat or get more information such as delivery dates, safety equipment, registration and insurance?
Call or Text us, and we will provide up-to-date information ASAP!
We will make sure to get all your requested data directly from official representatives and service suppliers.

English / Hrvatski / Русский
Price calculator
Review of Lagoon SEVENTY 8 by topRik Team
Without beating around the bush, here's that cozy "terrace", which we talked about above. This is how the topRik team saw the bow of this yacht, standing at its flybridge during the world premiere of Lagoon 78 in Cannes.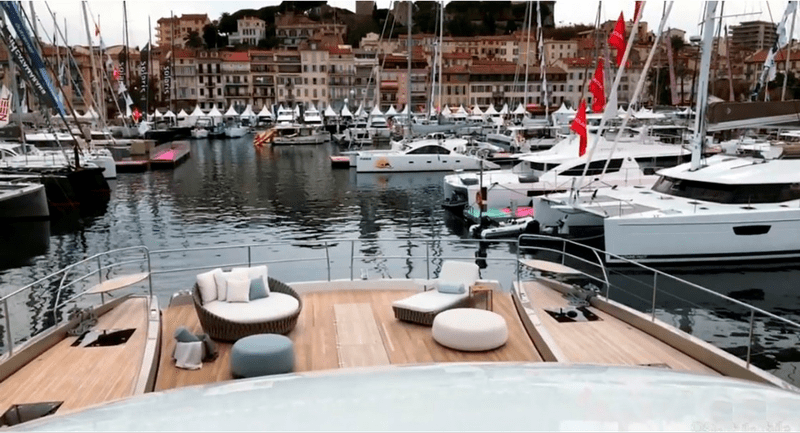 If your head doesn't spin from this height, then this catamaran is just made for you. We invite you to walk along its ladders and decks, experience three beach platforms, descend into the cabins and engine compartment, climb to the helm station on the flybridge and relax (or maybe even dance) on the luxurious bow deck.
First Look
Lagoon 78 is stunning not only at first sight and not only for its size. A fully solid bow of 30 m² is quite unusual for a catamaran - it is more common for us to see nets (trampolines) that connect the hulls. Of course, we already understand that a boat of such dimensions is not for gliding, but we did not expect to see a double-hull vessel that reminds us of a trawler.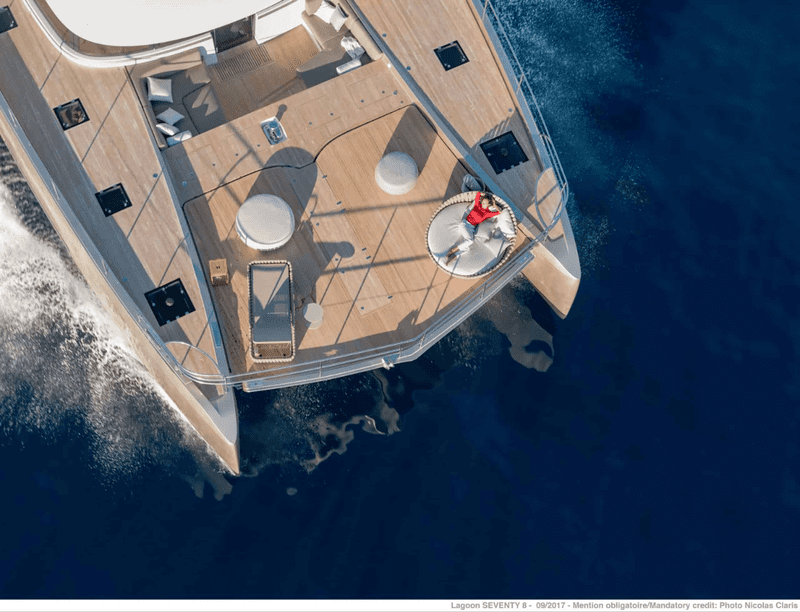 Notice how small the person on the lounger seems compared to the dimensions of the boat? And the bird's eye view is even better:
If you caught your breath - not our fault, we gradually prepared you for this. Check out these wide side decks and the number of hatches that provide natural light and air below deck. Two of them open the entrance to the forepeak, where you can store, for example, fenders or prepare cabins for hired crew.
And finally, in the photo below you can see the Lagoon 78 in all its glory from the transom to the foredeck and forepeak. By the way, you can go through all of them directly – you can get to the cockpit and to the foredeck right from the saloon, without the need to go around it along the sidedecks.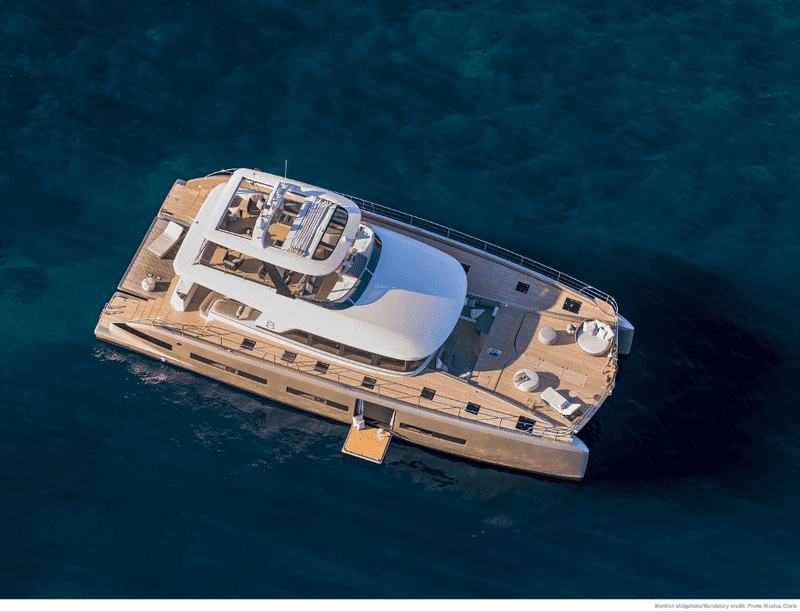 And yes, this is one of two possible beach platforms. How do you get there? Well, that's another mystery we will discover later.
Right now, looking at this colossus, some might begin to doubt its declared performance, but the predatory and dynamic profile of this catamaran alone doesn't give the impression of a slow clumsy trawler. Sure, this is not a planing boat, but it delivers 20 knots per hour on standard 510 hp engines - the topRik team has tested this in practice.
Yet the normal, fuel-efficient cruising speed at which we traveled during testing, is 9-10 knots per hour. Stick to it if you want to cover a distance of 7000 kilometers in one crossing without replenishing fuel tanks. Of course, if you opt for the optional 580 hp John Deeres, then the range will be reduced because the more powerful engines will use more fuel per unit time, but your cruising speed will be up to 12 knots per hour. You can, of course, reduce the speed of movement, but why would you need this option then...
After we've admired the Seventy 8 Powercat in two main views and discussed its speed characteristics, it's time to climb on board and take a close, even meticulous look around. As you can see, we have to explore this cat on three levels, the lowest of which has five versions - let's not waste time.
At the Transom
The hydraulic platform here can be used as a garage for RIBs, canoes or surfboards, or you can place pouffes, tables and sunbeds here. For swimming, the lower huge steps of the ladder are quite enough – it's better to equip them with swimming ladders though.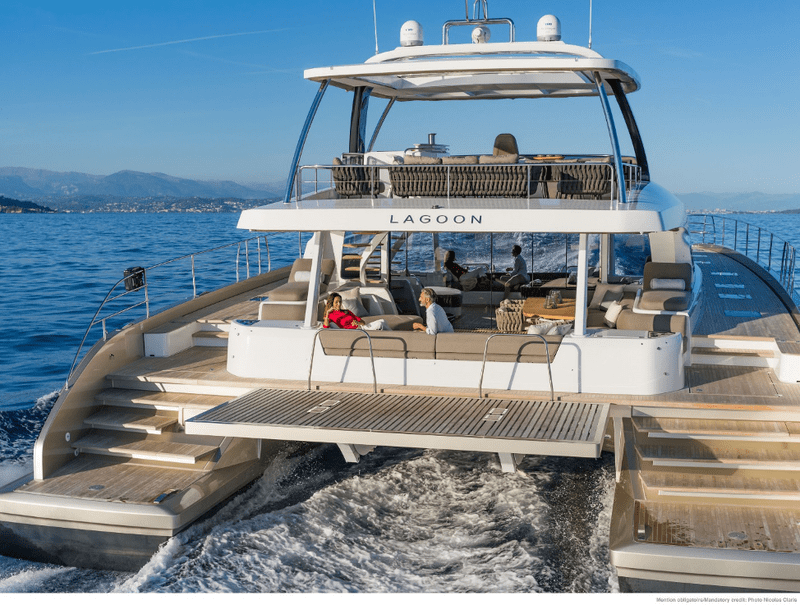 The ladder steps are covered with natural teak to prevent slipping. On the platform there is a device for fixing the motor boat. Steps can be enhanced with lights to prevent falling at dusk or at night.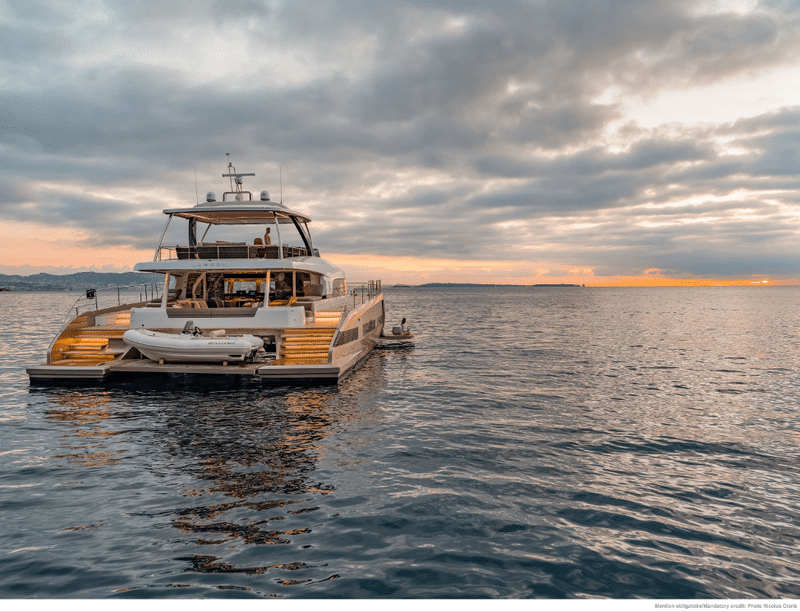 You can climb into the cockpit using the stairs located on both sides, and if you do it immediately after swimming, it is convenient to use the fresh water transom shower.
In the Cockpit
Another word that will often appear in our review is huge. It applies both to the cockpit itself and to a straight sofa that acts as a transom wall. The corner sofa goes around the dining table for 8-10 people.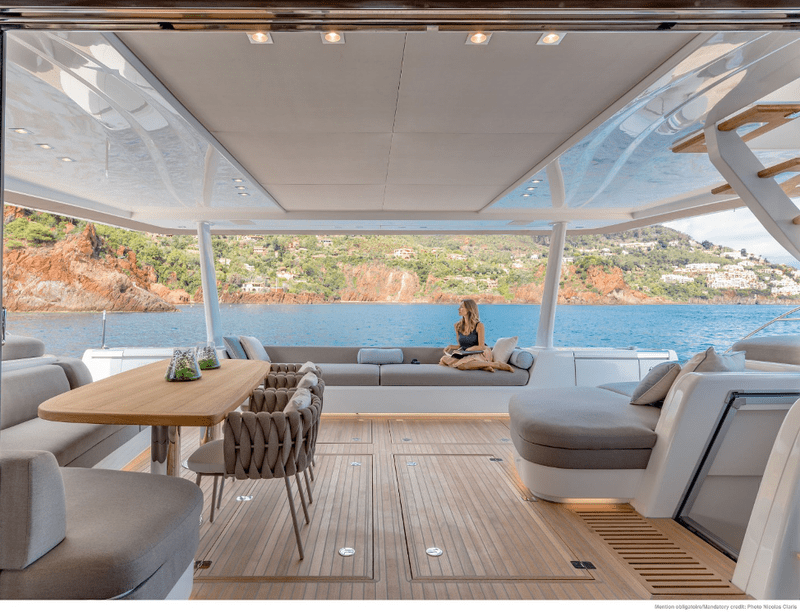 A great place for outdoor dining, for relaxing with the whole family or for fun parties in a friendly company. There is quite some seating space additional to the already mentioned furniture. On both sides there are comfortable sofas with soft sunbeds above them.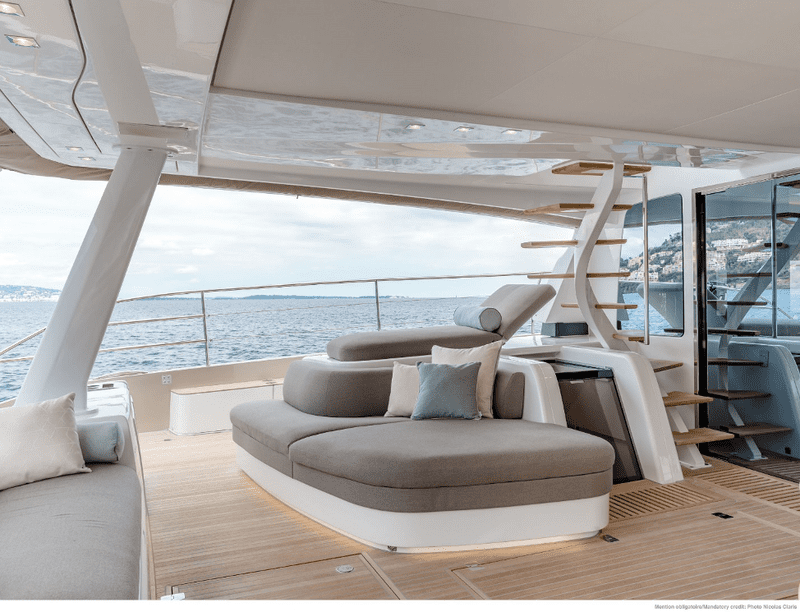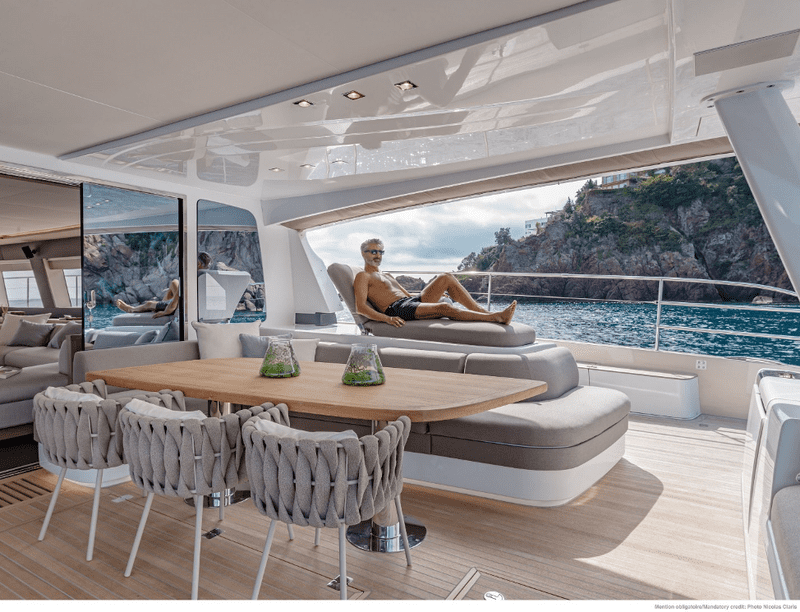 You can install an optional grill or plancha so that you can cook outdoors without going down to the galley.
Almost the entire cockpit is covered with a canopy, with the exception of sunbathing areas, which will save from direct sunlight and rain, but provide a constant supply of fresh air.
Engine compartments are hidden under large hatches to accommodate equipment that makes life on board easier. As you can see, there is enough space for all the equipment to fit comfortably, and the mechanic does not have to perform acrobatic stunts to carry out routine inspections and repairs.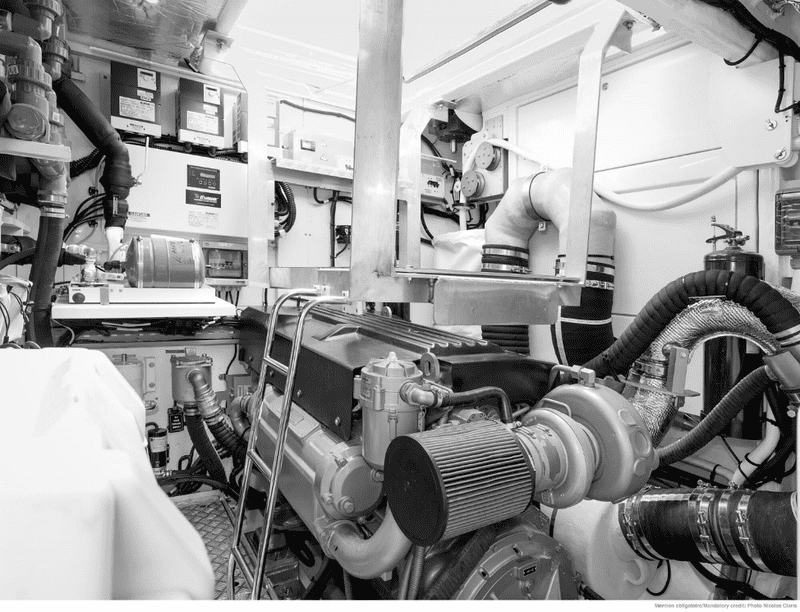 And now let's go into the saloon through this sliding transparent door, which have long been a part of Lagoon's DNA. When the door is open, these two spaces are united into a single huge social area, where you can have a party for passengers and guests, but you can also go for a cozy family atmosphere, or even have it all to yourselves if there are only two of you on the yacht.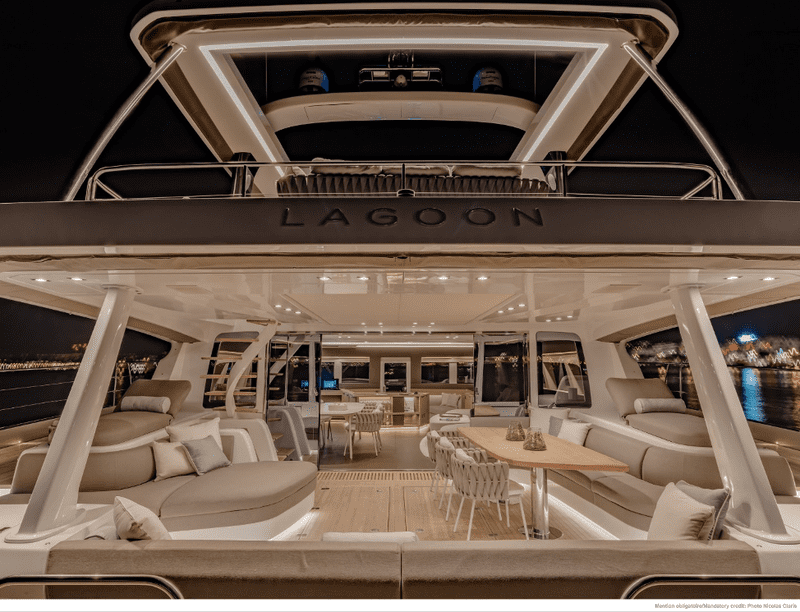 In the Cabin
At the photo above you can see the interior of the saloon from the cockpit. And in the picture below - the view from the inside, with cockpit in frame. Furniture and design executed in the same style further unite them into one common space.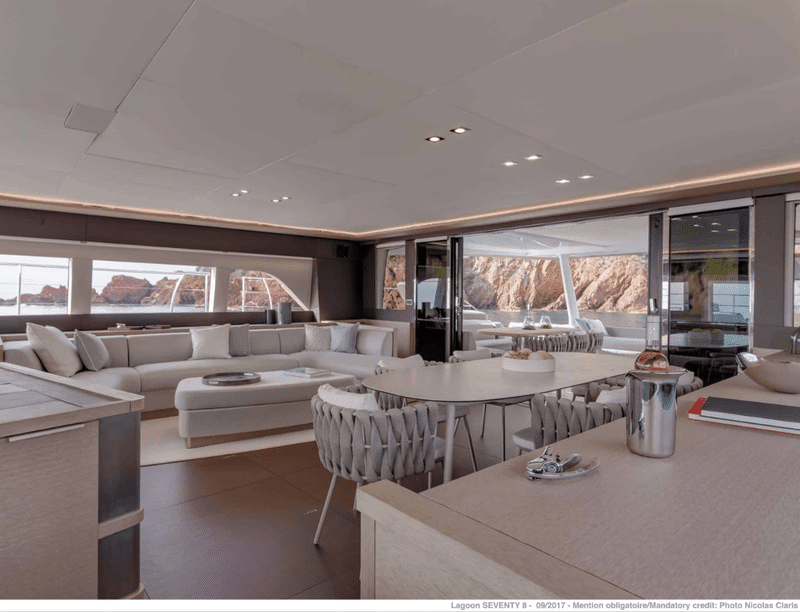 And below you can see the saloon from a different angle, so that you can appreciate its real size, capacity and the possibility of access to the foredeck.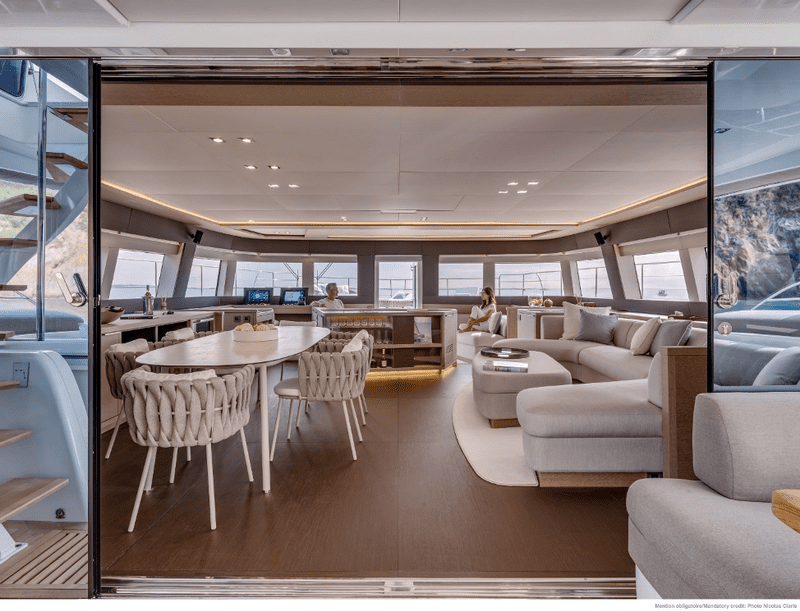 A dining table and a table for drinks, as well as a bar counter provide great opportunities to organize a high-status official reception or a frivolous party up to a Halloween masquerade in here.
On the left side there is a full-fledged chart table with a navigation station. Chartplotters, compass, autopilot, thruster and, of course, controls are all installed here, as well as sensors reflecting the operation of all equipment and systems of the catamaran.
Plenty of seating - very comfortable chairs around the dining table and a sumptuous horseshoe sofa around the cocktail table. It is pleasant to spend time here: with the company, alone or with your special other.
The presence of a flybridge excludes skylights, but panoramic windows provide the cabin with excellent natural light. A continuous flow of fresh air is provided by a large opening from the cockpit and a door leading to the foredeck. As you can see, from the first step of the transom ladder, you can reach the forepeak without using the side decks. By the way, there is a seat for especially romantic moments near the bow railing.
At the Flybridge
To get to the flybridge, we return to the cockpit and climb to the third "floor" of this floating grand hotel. This space is also divided into various zones. You can distinguish between working, dining, relaxing and cooking spaces.
Let's start with the last one – it has a small galley and a breakfast bar. The refrigerator and freezer are filled with drinks and ice cream, quick snacks can be cooked on the grill, and a large company of 8-10 people can comfortably sit around the table. With another sofa and armchairs there are enough places to relax.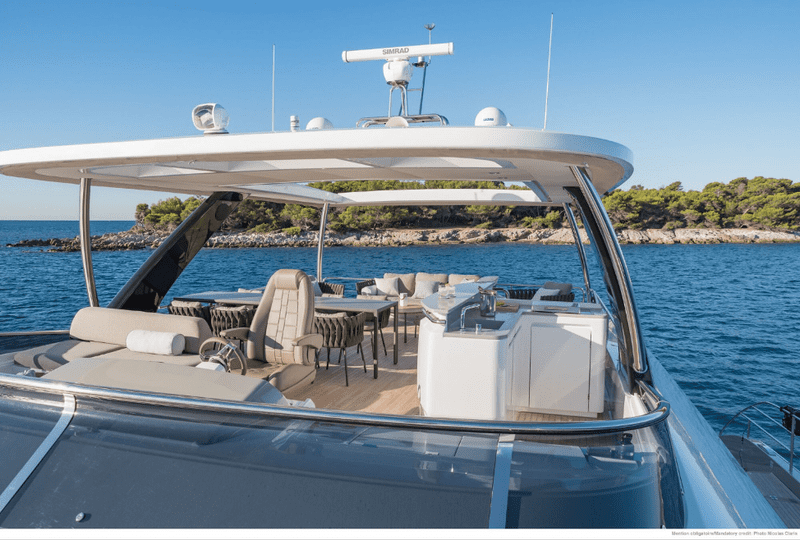 The working area is the control station located in front. To the right of the skipper's seat, there is an impressive lounger, where you can always take some rest, giving the reins of control to the autopilot. It's a good place for curious children to watch the actions of the helmsman and not allow him to get bored.
You get a very comfortable ergonomic chair in front of the helm, which looks more like a steering wheel. Behind the helm there is a panel that copies the set of navigation instruments and sensors located at the control station in the cabin.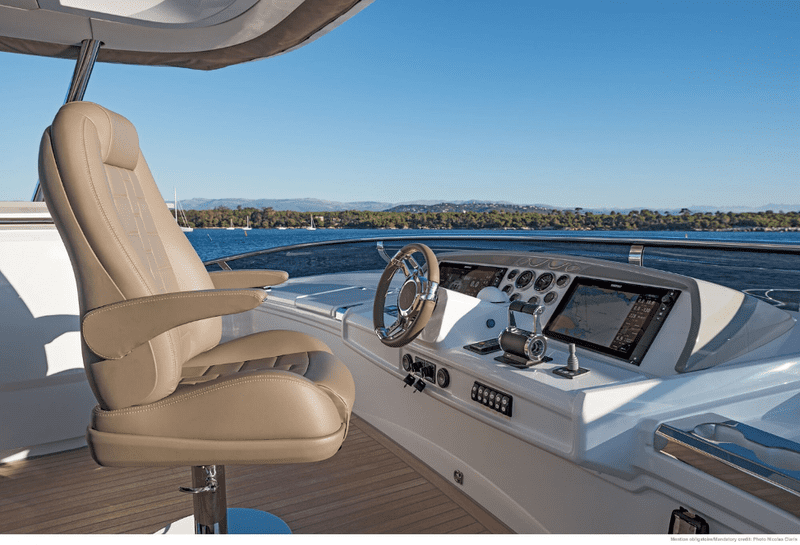 The skipper's place is located at a distance from the usual guest routes, so that they will not bump into each other. At the same time, the helm station is not far from the dining table and bar, so the helmsman will not have to wait for a long time for a treat or a drink.
It would seem that everything is already familiar to Lagoon's fans, but the shipyard knows how to surprise. Here are two of the 4 flybridge layouts offered by the manufacturer. We do not show everything, as three of them are related to the redesign of the seating area. In the top layout there is an empty space that can be filled with sofas or tatami mats or a couple of exercise machines, and in the bottom one… a jacuzzi inside? After this the jacuzzi on the upper deck is not surprising at all!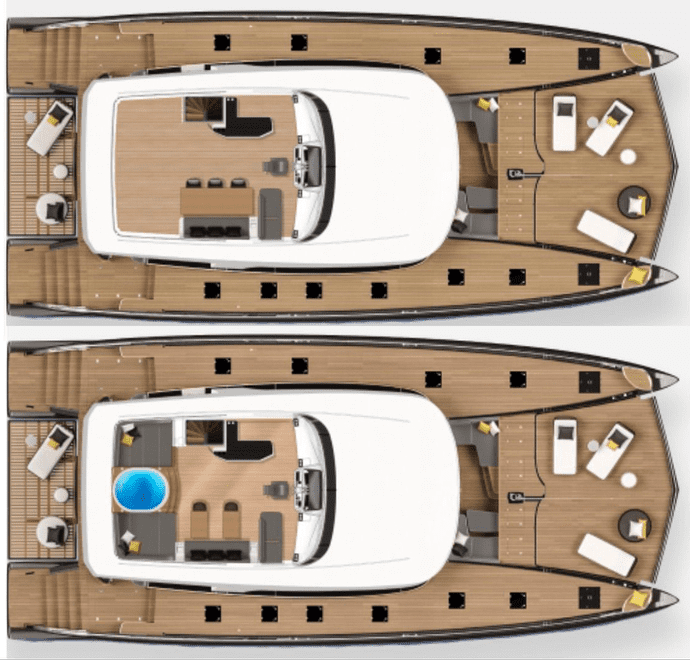 In the Cabins
After swimming, sunbathing, partying and jacuzzi, a complete rest is required, which only a deep sleep in a comfortable bed can provide. Where to? If you are the owner of this wonderful hotel, your rightful place is the master suite, which takes up most of the starboard hull. There is enough space for a king-size double island bed, with easy access from three sides.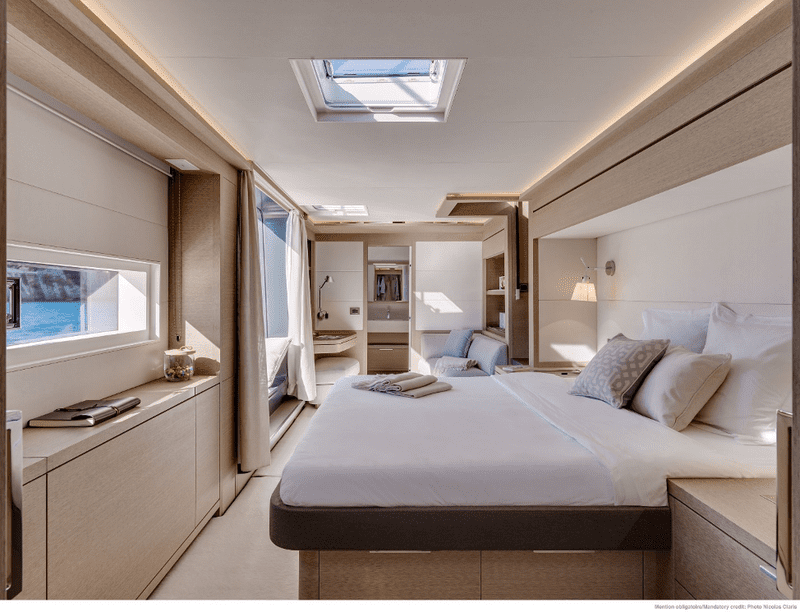 A separate dressing room, wardrobes and shelves, several tables, a sofa, a large bathroom with an isolated shower – just like a suite in a first-class hotel.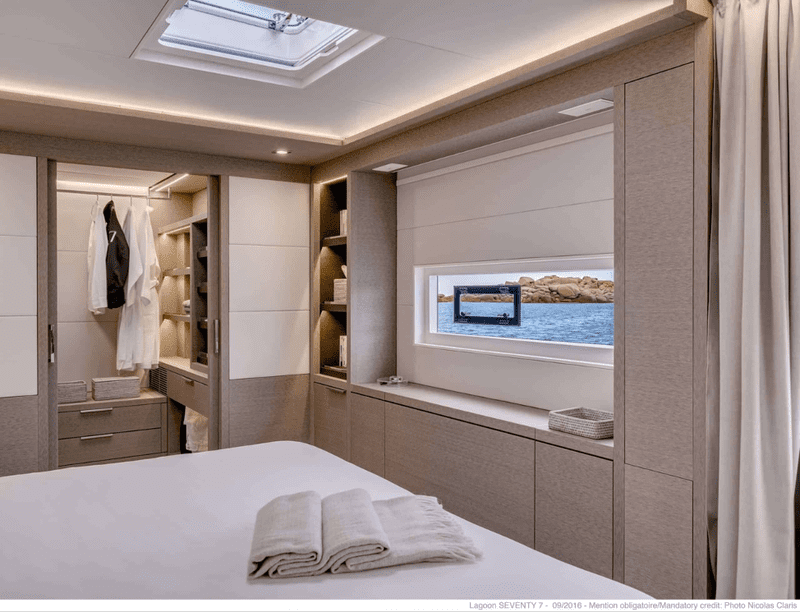 The photo above is the dressing room, and the photo below is the bathroom in the master cabin and other guest cabins, if we are talking about 3-4 cabins configuration.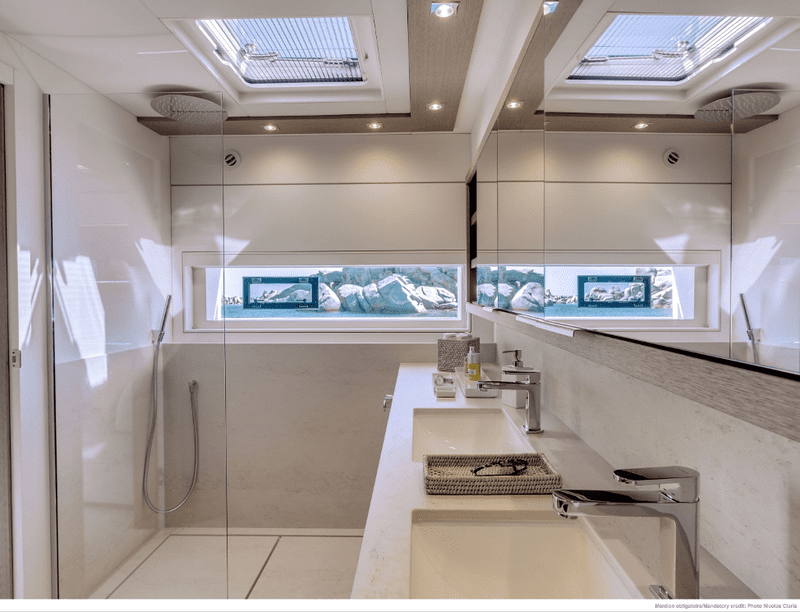 But in any of the best hotels you will not be able to swim in the open sea without even leaving your room. This is your personal beach, on which none of the guests will set foot without your permission. And you must admit, this one continues to amaze, although we have already seen this option with its predecessor - the sailing catamaran Lagoon 77.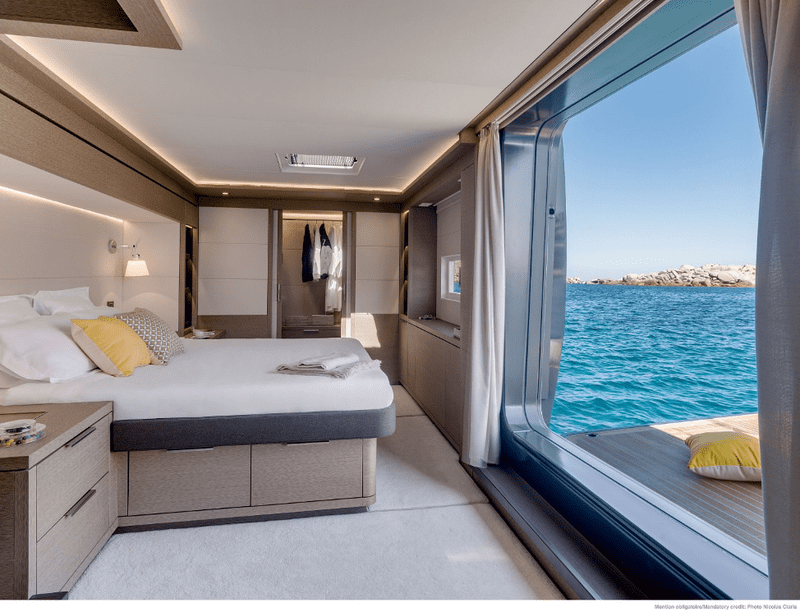 The layouts below show several more versions of the cabins, which provide guest cabins and places for the crew or children.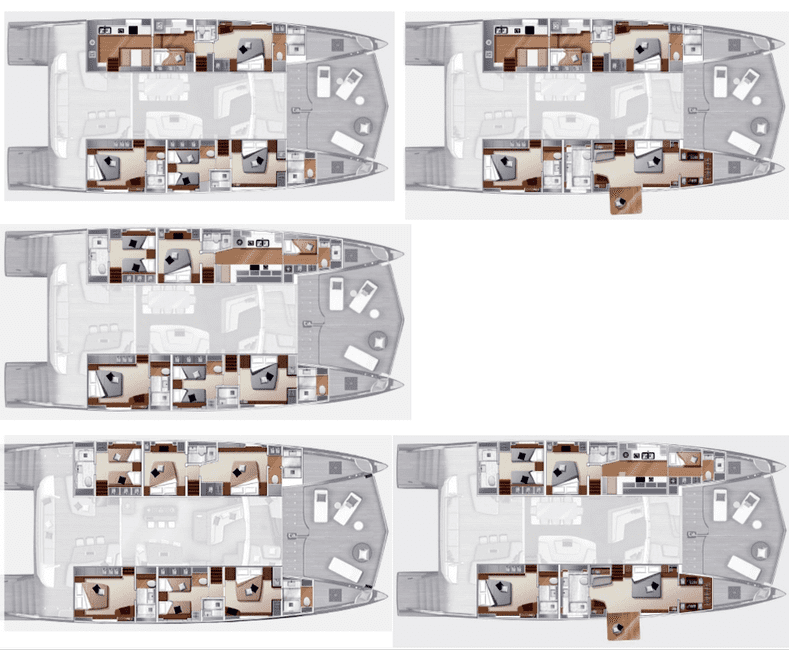 It can be both ordinary single beds and bunk beds. "Children's room" can be combined with the owner's cabin through a common door.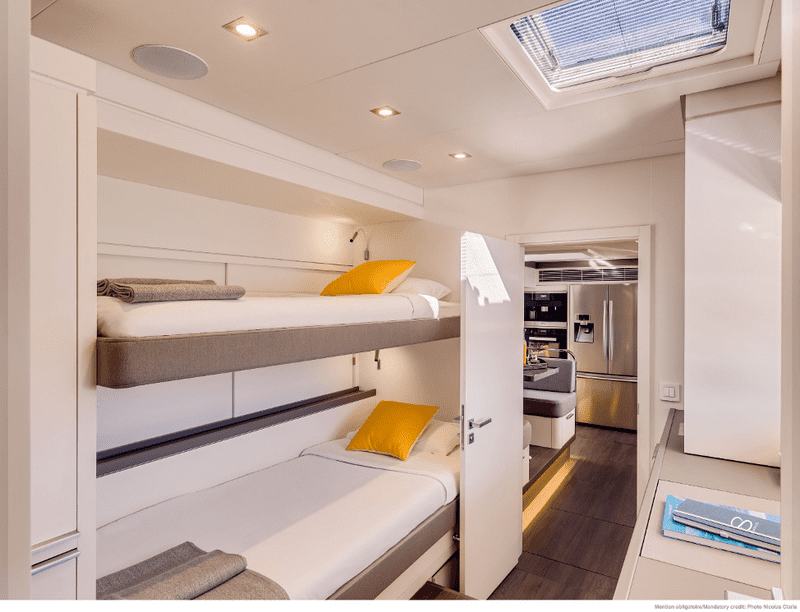 Galley
We allocate a separate section to this room, since it is a full-fledged kitchen, which occupies a separate compartment on the Lagoon 78 catamaran. In different versions, the galley can be located in the aft or central part of the left hull. In addition to the cooking area, there is dining and food storage area.
The dining area of the galley is not designed for a large company – it is made to have a quick bite, drink a cup of coffee, looking at the chartplotter installed here to control the route. This is if we are talking about the skippers who ended up in here, while leaving control on the autopilot.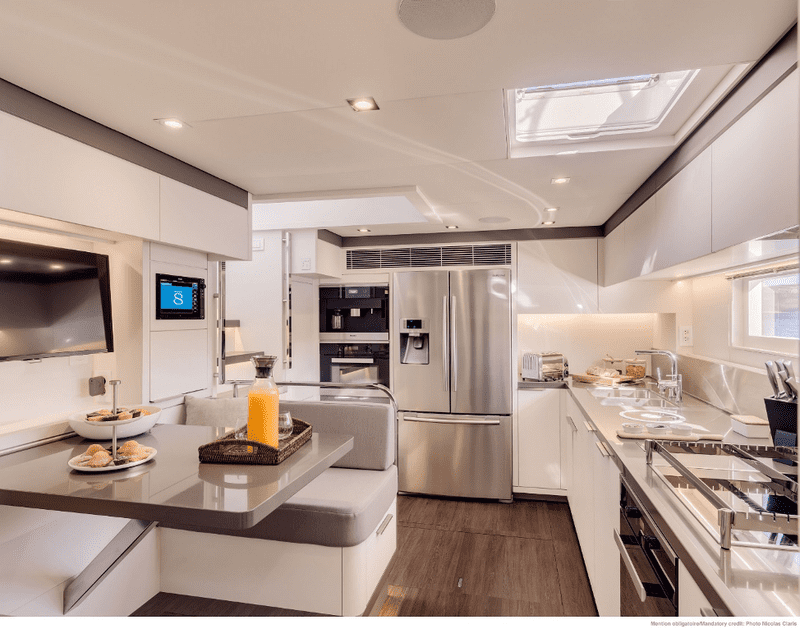 But for a couple of friends, one of whom is busy cooking, there is enough space to help each other out or just have a chat.
The cooking area is well equipped - from the stove to the dishwasher. All kitchen utensils, dishes and non-perishable products can be placed on hanging shelves with doors and in cabinets.
For perishable products there is a huge refrigerator and freezer. Do not forget that you can also install this equipment in the cockpit and on the flybridge.
Overall, Lagoon 78 is a cruising catamaran in the "everything is taken into account" category.
Advantages of Lagoon 78
The main advantage of this yacht, like with any motorized cat, is a high level of safety even in strong waves – such large and balanced models are particularly stable in waves. Its hull is made using the latest innovative vacuum infusion technology. The solid bow also provides the yacht with additional rigidity.
Children and the elderly will feel safe here, not to mention the energetic youth and people of a more mature age.
The manufacturer offers more than a dozen different layouts for this huge configurable space, which is a unique opportunity to create your own version of Lagoon Seventy 8.
This versatile boat can be used as a family weekender for coastal sailing or as a reliable yacht for transatlantic crossings, which in turn opens up great opportunities for rental and charter businesses.
The highest comfort in all aspects of life on board is perhaps its main advantage. It is well suited for both passengers and crew. It is comfortable to live and move here, the boat is easy and simple to manage.
Large spaces allow for organizing crowded events, but also provide enough secluded places for privacy.
Plenty of storage space allows you to take everything you need for your personal comfort on a cruise, including a folding bike to ride through marinas and ports.
Reviews of Lagoon 78 from Professionals
Here we provide the summaries of Lagoon 78 reviews written by experienced yachtsmen and well-known journalists for the leading yachting media.
Video Reviews of Lagoon 78
The video reviews always help to get a better idea of the yacht's capabilities and to imagine yourself on her decks and indoors.
Lagoon Catamarans YouTube channel is a great place to start – this walkthrough goes through the yacht's main features:
Very inspiring teaser – magnificence of Lagoon 78 well captured on camera:
Another fast walkthrough from TMG Yachts:
10-minute-long review of Lagoon 78 with the interiors explored thoroughly
Speaking of thorough – it doesn't get more detailed than a 50-minute extensive review with Q&A included:
Conclusion
Super comfortable cruising yacht Lagoon 78 is a reliable catamaran with luxurious design and convenient intuitive controls. That's why it is in demand among various categories of sailors, including:
gentlemen who love comfortable boat trips and long autonomous journeys in the company of trusted friends, with family or with a loved one;
yachtsmen who want to take a break from sailing, but cannot imagine life without the ocean;
lovers of long-distance autonomous transitions and offshore travelers;
lovers of maximum comfort in sea voyages who want to provide the same comfort to their family and guests;
supporters of safe transatlantic crossings and coastal navigation along a long route.
This is a great option for businessmen who organize charters and rent yachts. This is supported by the spaciousness of Lagoon 78, a huge amount of storage space, the ability to stock up on a large amount of food and drinking water.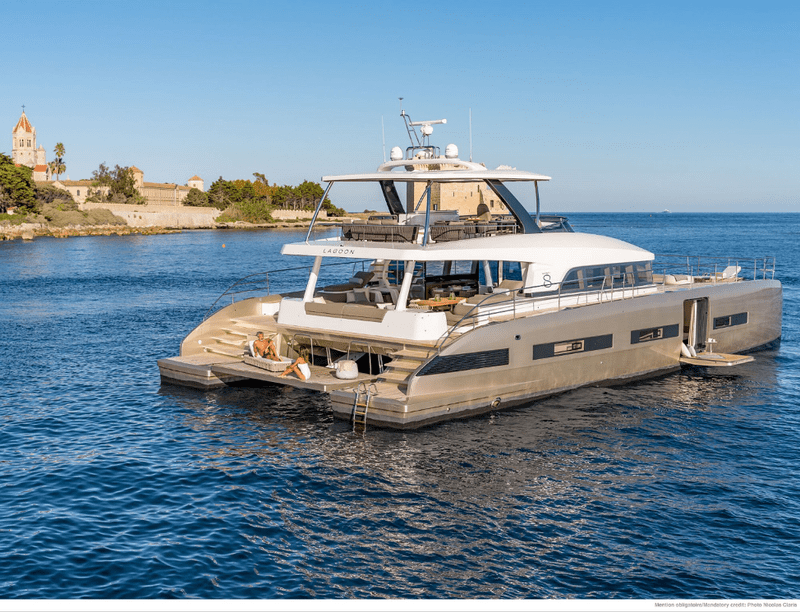 Where to Buy Lagoon 78 at a Bargain Price
If you have read the article up to this section, then you already know where to buy Lagoon 78 at a bargain price. topRik marketplace experts will select the catamaran of your dreams on favorable terms for you, and will also take care of all the hassle associated with processing the deal and delivering the yacht to your pier.
You will receive all preliminary consultations free of charge. Each model page has a built-in calculator that you can use free of charge to build your preferred catamaran version.
After completing the application, our experts, together with you or by proxy, will take care of:
selection of the most suitable option for you;
negotiations with a dealer or manufacturer;
registration of all types of documentation accompanying the transaction and the transfer of the yacht;
control of the equipment of the catamaran in accordance with your requirements;
yacht delivery.
Contact our employees at the specified phone number above, through the feedback form or send a request to [email protected].