Review Dufour 470 - Cruising Yacht of the Year 2021
In this article we explain why Dufour 470 is worth buying, providing information about various advantages, characteristics, and a lot of new features compared to predecessor. We attach helpful photos, layout schematics and videos reviews and, as always, provide well-known professional reviews to make sure that the whole picture is clear.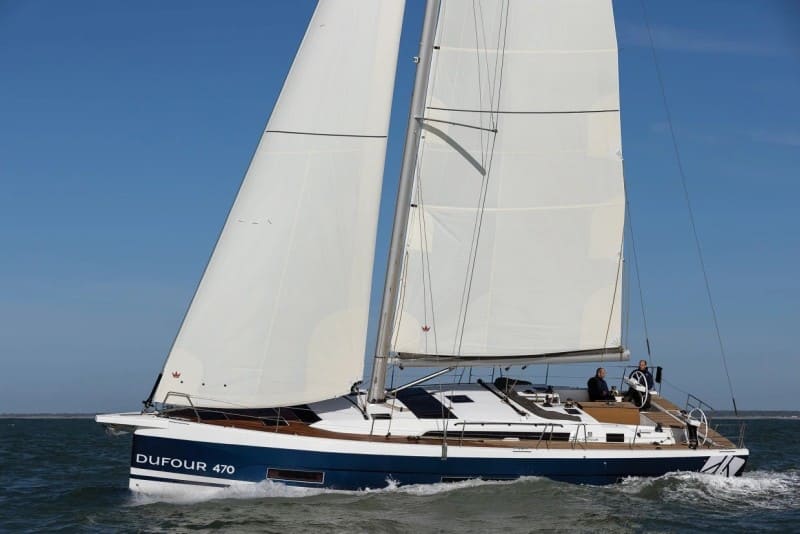 This time Dufour shipyard tried to marry sportiness of a racer boat with some necessary comfort that is expected in this price segment. Sure, some thrill seekers might scoff at something like an electric winch, yet the goal wasn't to create the ultimate racing yacht – even though the design screams performance, some comfort is sprinkled here and there so you could also have some quality time with your friends or family on board. This monohull was recognized as Cruising Yacht of the Year 2021 at The British Yachting Awards, which celebrates the quality of the equipment used and the ingenuity of Dufour Yachts and Felci Yacht Design, who worked on the Dufour 470.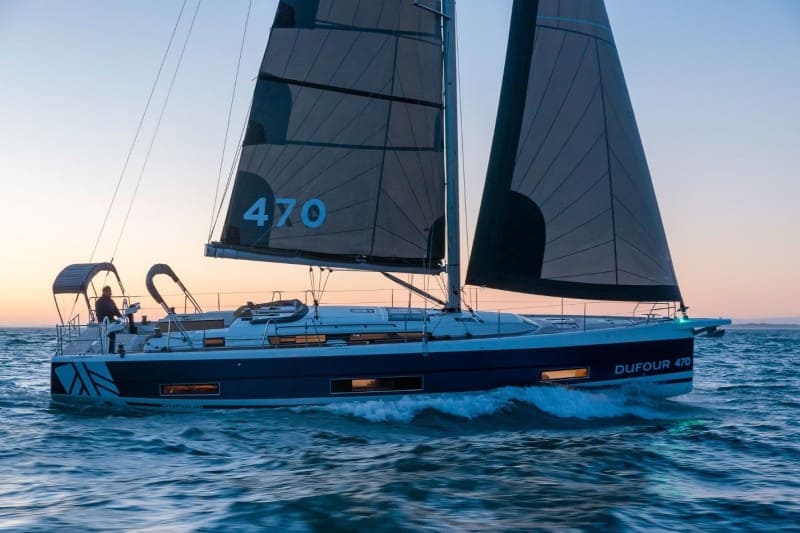 What about the design though? Well, since the shipyard makes all these lovely Dufour yachts at the same factory, controlling the whole process without middlemen, they can always charge less than some other manufacturers for the same features. That's why for this particular price it's difficult to find an almost 15-meter boat with PVC foam infused hull and also vacuum infused cored deck, that provides so much comfort on board in any of three possible packages.
But let's actually get personal with this new addition to Dufour family.
Features of Dufour 470
Brand:

Dufour Yachts

Hull type:

sailing yacht

Overall length, m:

14.85

Width, m:

4.74

Draft, m:

2.25

Displacement, t:

13.2

Keel weight, t:

3.7

Water tanks, l:

530

Exterior design (architect):

Felci Yacht Design

Interior design:

Felci Yacht Design

CE Certification:

A

Mainsail type:

Fully battened

Jib type:

Furling genoa

Mainsail area, m²:

57

Jib area, m²:

50

Engine, hp:

60

Fuel tanks, l:

250
Max speed Dufour 470
The maximum speed of the Dufour 470 depends on various factors such as wind conditions, sea state, and sail configuration. However, the manufacturer states that the Dufour 470 has a maximum speed of approximately 10 knots (11.5 mph or 18.5 km/h) under ideal conditions.
It's worth noting that cruising sailboats like the Dufour 470 are designed for comfort and ease of handling, rather than speed, so their top speeds are usually lower than those of racing sailboats.
Dufour 470 Review by TopRik Team
As we approach the yacht, I think to myself: this boat looks really out of place at anchorage. With such sleek chines, narrow hull and sharp bow, it seems restless, eager to unmoor itself and go out at sea to fly on top of the water surface, catching the wind with its sporty sails, fighting the nature itself – that's exactly what it was made for.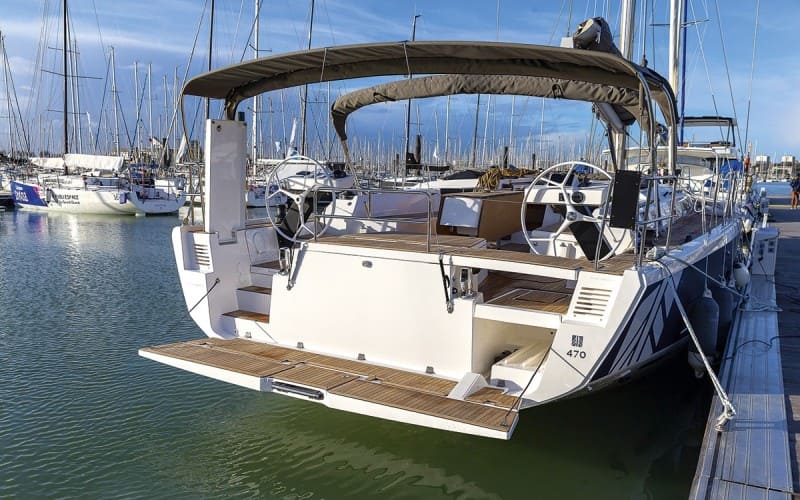 Instead, we approach the boat from its least poetic side, the stern. It is simple, yet elegant – double bimini of the cockpit, natural wood stripes on swim platform, compact set of stairs and two inviting large helms. The size of the platform is rather impressive, consider the dimensions of the boat, and it is extremely useful when climbing out of water.
You immediately see the plancha on the transom, which reveals stove and sink when you open it – on new Dufours it has become quite a tradition already to add an outside galley to the stern. The stove can be used for barbeque on fresh air and you also get some counter space for your cooking needs. Right away we simulated a situation of two people cooking together - both of our crewmen standing at the platform confirmed that it's quite doable, as long as the seas are not too rough and the boat goes steady. There's also a small locker for storing utensils.
When the platform is raised, the stern looks much more minimalistic and you get additional sitting place that goes over the transom steps.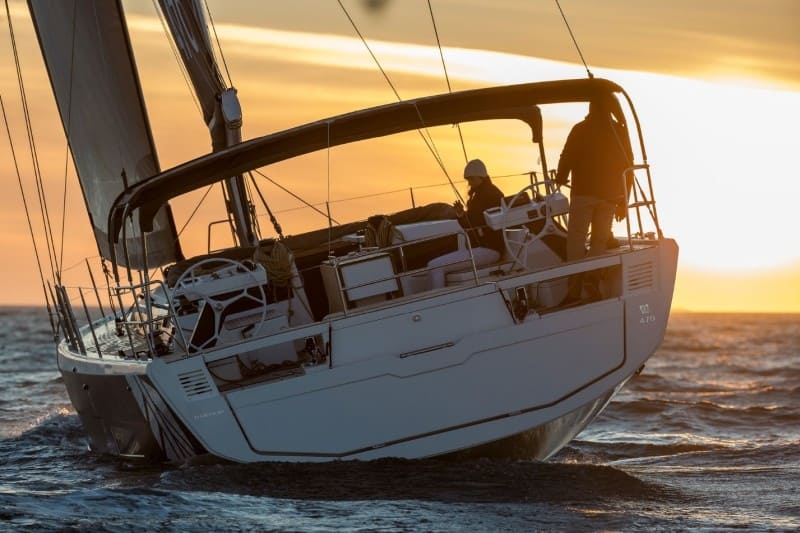 Moving on now – we have a lot to cover.
The Cockpit
As you climb the stairs, the first main feature jumps at you – even more steps, but leading to the decks. This innovation is indeed very welcome, since getting to side decks was a problem in the past, and it is now much safer and more convenient. The upper part of these steps can be lifted so they also serve as lockers for halyards.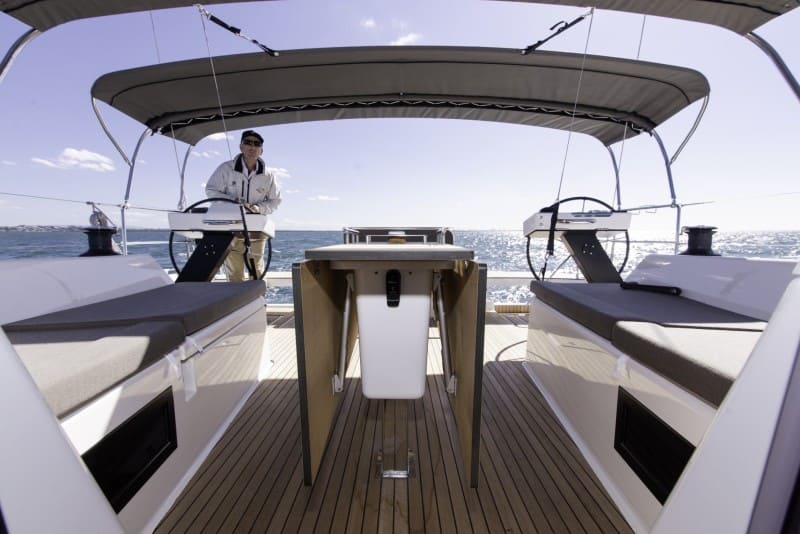 Right between the helms you get a good location for a Raymarine chartplotter – accessible and unlikely to get splashed by water during waves. The helms are set pretty low and each one has a control panel with necessary equipment – compass, autopilot, monitoring etc. We really like the actual metal railing opposite the helms, even if mostly you get a simple lifeline along the overall perimeter. Multiple halyard winches are accessible from the sides of the cockpit, making it easy to handle the sails.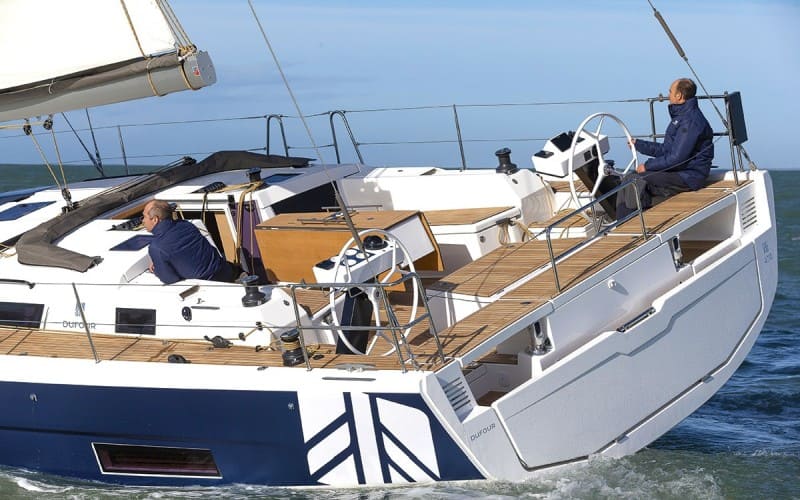 Dufour 470 has enough place to allow a small group of friends to surround the hardworking skipper, relaxing and taking a drink on comfortable mats and optional sunbed at the stern and, undoubtedly, tease the owner's sailing skills while at it. The spaciousness of the cockpit, however, is no joke – rarely you feel such freedom on a 47-foot vessel. Two biminis, however, might not provide the full protection against rain or wind, so better plan for bad weather when packing your clothes for the next trip.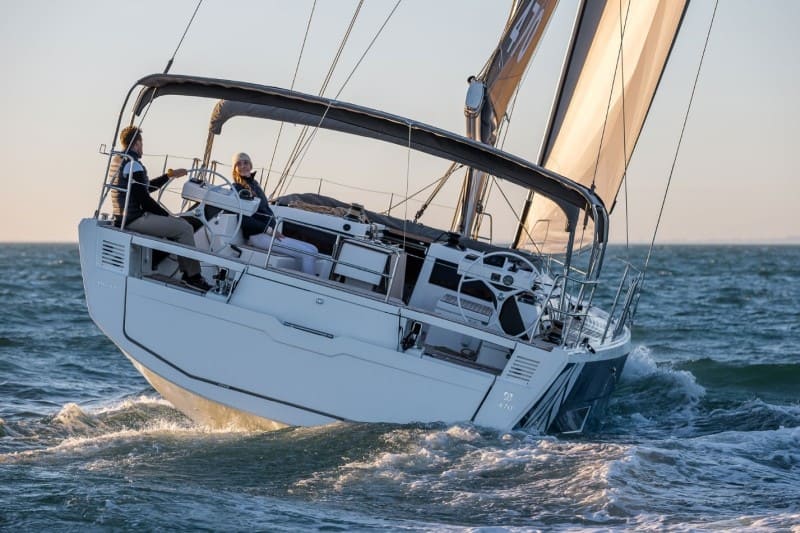 The table in folded state is almost unnoticeable, but when unfolded it can easily be used by 10 people if you don't mind sharing some personal space. All that tasty barbeque can be served right there and then – this way the skipper can enjoy a quick lunch on his territory and terms. Keep in mind, that both biminis and the table will be gone if you choose the Performance version of the yacht, since the main sheet traveler takes quite some space in this package.
The Side Decks and the Foredeck
The decks are as narrow as you would expect on the yacht of this size – not exactly a highroad. The lifeline is attached to sturdy metal railings and is barely enough to keep you safe. Moving toward the bow through the side deck you pass the entrance into the saloon covered by sprayhood, flat coach roof with mast and boom sheet.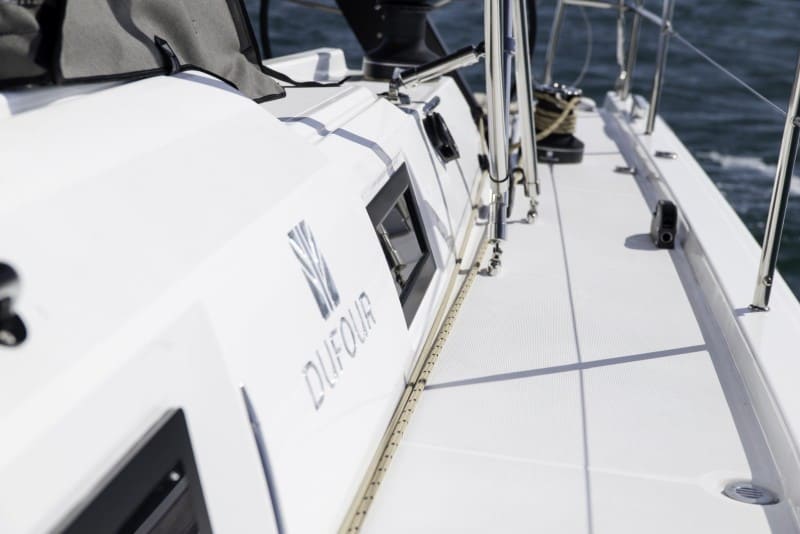 The boom sheet is one of the main innovations on Dufour 470. It starts quite low and goes up towards the cockpit like a branch of a tree. The reasoning is that this way it is easier to work on the mainsail and handle the lazy bag. We tried it and it seems to work very well actually, even though nowadays some boats take the opposite approach and lifting the boom very high. Things like this are usually up to personal preference. There is some choice regarding sailing rigging too – you can use either self-tacking jib or genoa.
Passing the boom, we get to foredeck – more spacious area with three hatches, which provide natural light to living space below. Here we also have two mooring cleats and an anchor winch. Not much to see here, so let's go back and check out the saloon.
The Saloon
As we descend into the saloon, we are pleasantly surprised with high-quality beige wooden finish and soft furniture colors being generously lit by the sun through multiple hatches. Immediately you can see the table with seating for 8 people with comfortable sofas to your right. On the left side there's all you need to keep the boat on course: control panel, radio and autopilot. The whole saloon is filled with various drawers and electric lights.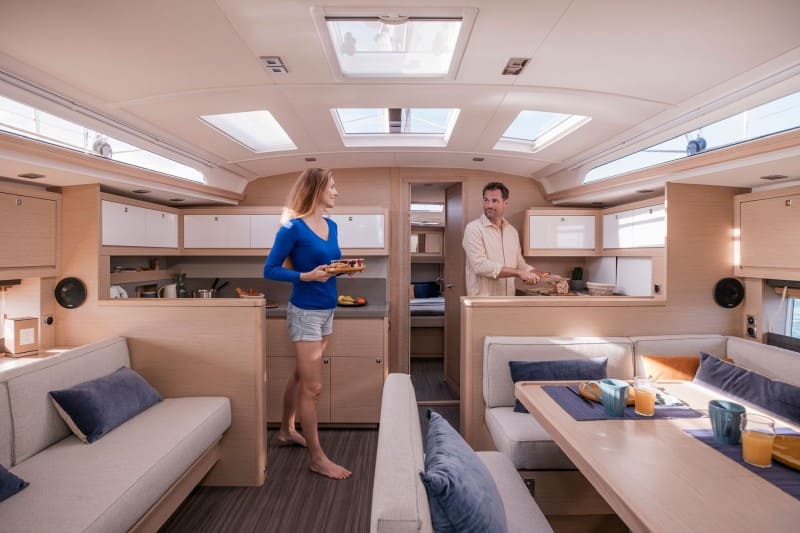 Right behind the control panel and the sofa next to it we have another galley with Corian® benchtops, two burner gas stove and oven. You also can use a table with inbuilt sink and a pretty large Isoterm fridge when cooking.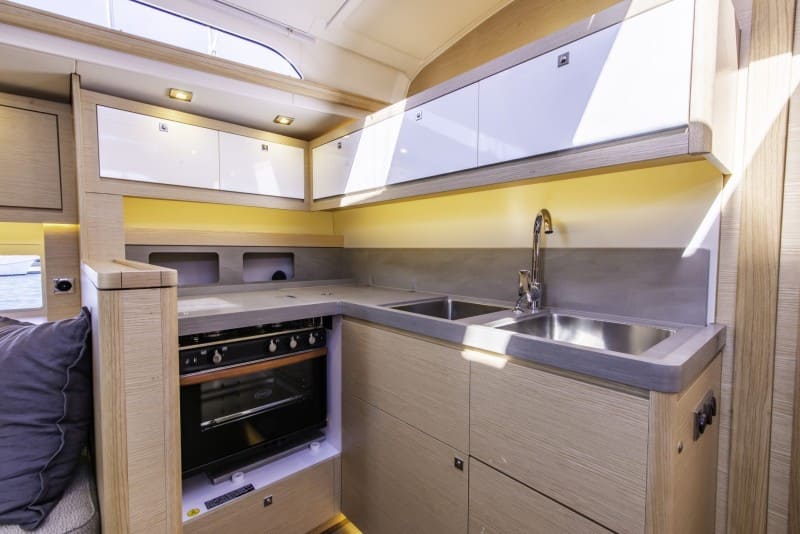 The table in the saloon is thoughtfully surrounded by a little wooden border so the cups wouldn't slide off the table. We made some tests with the stove and prepared a large meal after getting tired from this whole reviewing activity – six of us didn't feel cramped at all sitting around the table, and although the cockpit table definitely was larger, the sofas here are more comfortable.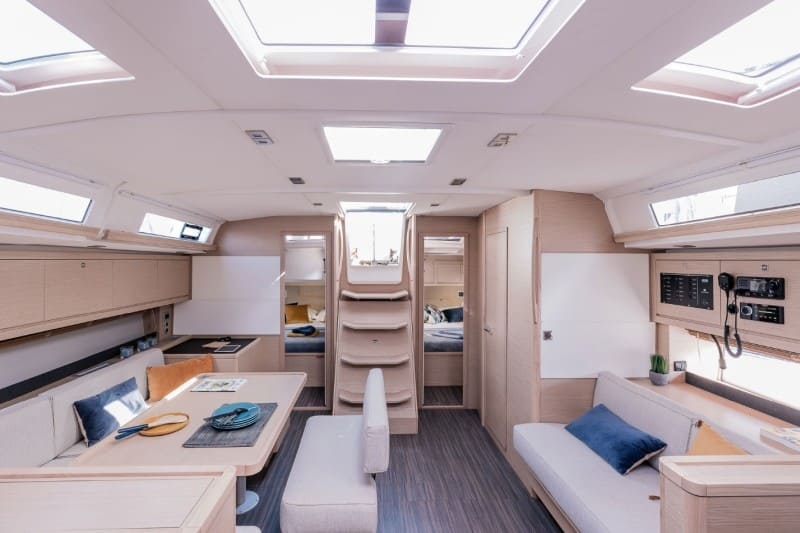 The Cabins
We reviewed the Ocean version of the boat with 6 berths, 3 cabins and 2 heads, so we got to enjoy seeing how well the owner will be accommodated. The skipper's cabin in the bow looks gorgeous. You get 4 hatches for lighting during the day, double island king-size bed and a surprising number of drawers with mirrors above your head. If there's too much sun for your taste, you can always use the blinds on hatches to the sides.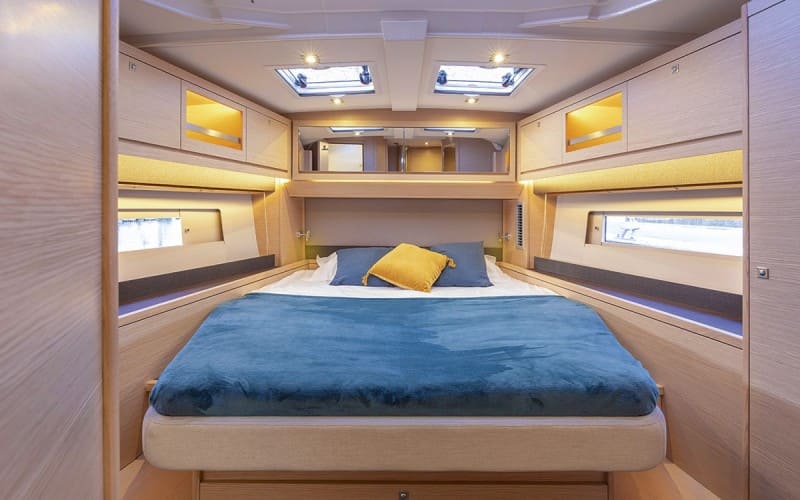 Surely, regular cabins are a little bit more modest in terms of space, but much more unusual in their shape: Felci Yacht Design created a certain modern art installation when trying to merge the cabin space and the sporty feel of the yacht together. Such interesting "stairs" on top allow the structure to gain additional rigidity and also provide a lot of sunlight.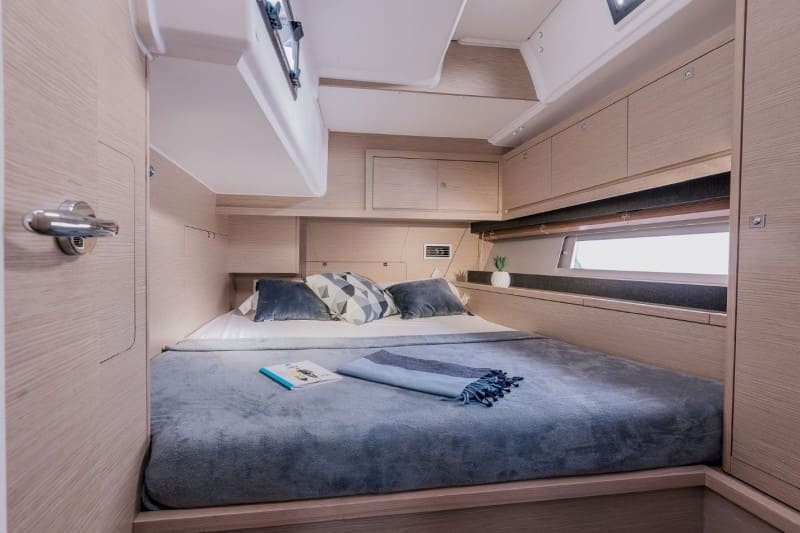 The bathroom has a separate shower, minimalistic sink and toilet. There's nothing to complain about, other than understandably limited space on a 47-foot boat, but that's just this overall market segment's problem.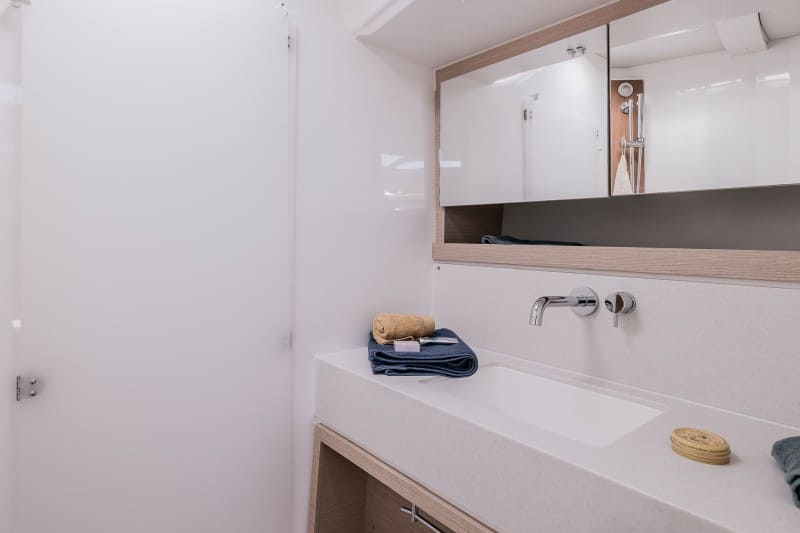 The Layouts
It is helpful to understand the differences between three possible layouts of the boat. Here is the version that we covered so far: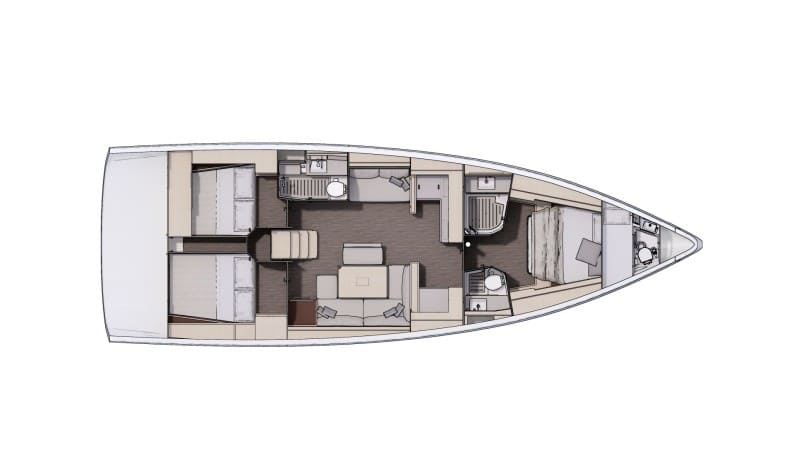 Next, you can get the layout with 10 berths, 3 cabins and 2 heads while keeping the skipper's cabin and getting a pullman cabin too. For this you will have to pay with the front galley, which turns into longitudinal kitchen: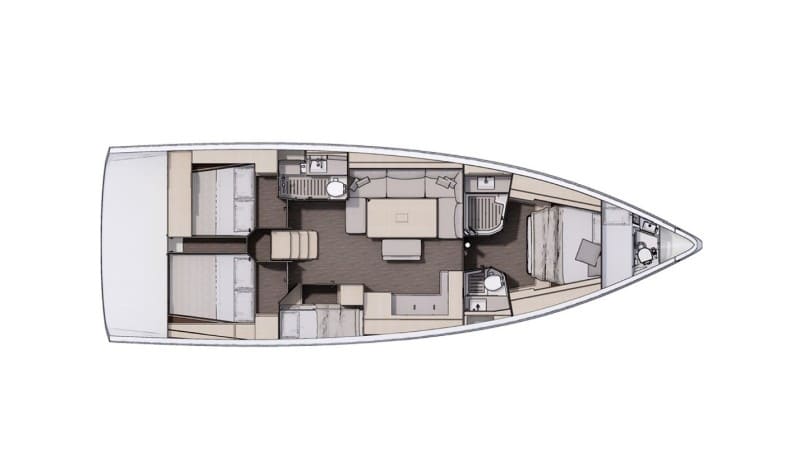 The third version is more aimed at commercial use, since you get whopping 12 berths, 4 cabins and 3 heads, yet the kitchen is longitudinal and the skipper's cabin has to go too with the bow split into two cabins. The pullman cabin remains.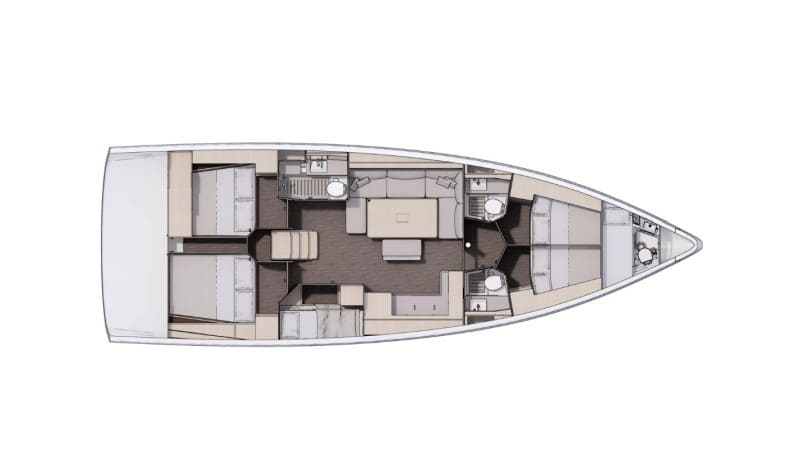 Advantages of Dufour 470
After thorough (sometimes too thorough) examination of the boat, we were able to pinpoint what exactly impressed us this time:
Price: it's a fraction of the cost of some fancy catamaran, yet provides amazing sailing and cruising experience.
Speed: you can count on average speed of 10 knots with some okay wind and up to 13 knots if the wind is perfect.
Minimalism: it's difficult to find anything that this boat shouldn't have, there's nothing excessive at all on board;
Choice: it's up to you how difficult the boat will be to manage – it depends on the version you choose.
Surely, there have to be some cons. And we think that the main problem probably has to do with the safety – lifelines don't seem very high to us and one should really be careful, when using the outside transom galley – these wood planks can get slippery very fast. Thankfully, the skipper is always near the transom and can avoid making sudden moves and maneuvers as long as cooking takes place. So, nothing too worrying after all.
Reviews of Dufour 470 from Professionals
Now it's time to take a listen to experienced journalists and yachtsmen who reviewed this interesting vessel, evaluated its characteristics and tested it at the sea.
Video Reviews of Dufour 470
As always, here are some videos of Dufour 470 in action and also its interior.
Surprisingly informative teaser from the manufacturer itself – a lot of features showcased and the performance of the yacht at the sea is demonstrated:
Traditionally high-quality review by the Yachting World:
Great review by Yacht Sales Co. – soothing voice of Bob Vinks provides insightful commentary:
No voice this time, yet a lot of interior footage:
Tour of Dufour 470 at Cannes Yachting Festival 2022:
There's no such thing as too much interior footage:
Conclusion
This beautiful boat doesn't need to be defined in strict terms thanks to three possible routes you can take with it.
If you are looking for simplicity and comfort, you should go for Easy version. If you are looking for little more work with halyard and mainsail traveller closer to the helm station, opt for Ocean version. And in case you want to feel like a professional regatta sailor and don't mind sacrificing some comfort, choose Performance version – traveller goes into the bottom of the cockpit and you get 6 high quality winches at your disposal for pure racing experience.
In the end of the day, shipyard tried their best to make Dufour 470 appealing to different kinds of people:
thrill seekers, who are always dreaming of reaching more knots in strong wind;
owners, looking to impress their friends with a sleek and sporty look of the vessel while still providing necessary comfort;
minimalists, who want the get the most out of money spent on a boat;
yachtsmen upgrading from their first boat to something more serious;
business owners, who are looking for a robust and reliable vessel to rent out.
There's something magical about a boat that doesn't try hard to be posh and luxurious - nothing extra, nothing mind-blowing in particular, but everything feels just right. If you really fell in love with sailing process itself some time ago, you might not need jacuzzi, trampolines and flybridges. Optimal equipment for optimal price – if that's what you are looking for, then this yacht will serve you well.
Where to Buy Dufour 470 at a Bargain Price
Here! You buy it here.
Our consultants at topRik will make sure that you know exactly what you purchase according to provided price list – there are no hidden fees and we will not try to upsell. You can check out our price calculators or download price lists themselves before you make up your mind.
We have a lot of experienced people at our marketplace, who will not be confused by tough questions that you might have for us. Purchasing a new boat is a big decision and you don't have to take it alone.
After all the choices are made, we provide warranty and guarantee safe delivery to your specified location. We only sell new yachts directly from the manufacturer and will provide all the necessary documents proving that.
You can contact us using the phone number above, sending a message on the website or by e-mail. We are looking forward to working with you.
Thanks for reading - see you in the next review!