Review eFoil Voyager & Volt 4
We are talking about relatively new water toys - surfboards with an independent power source for an electric motor, which are also called marine electric scooters. Indeed, there are many similarities between these devices.
Today, manufacturers of such boards for small and large yachts offer two types of surfboards, powered by an electric motor, with their own power source. Both options allow you to not depend on the catching the right waves and experience the unforgettable sensations of this exciting water activity even in the nearest lake. But, of course, it feels even better when you slice the water surface in the middle of the sea on such a board. If, of course, you have a couple of these boards with you on the yacht. You didn't? Then we present to you SurfBoard and Efoil models – available at our marketplace.
Each of these types of surfboards have a number of features that can be crucial when trying to make a choice. Electric SurfBoard is the more traditional type of this device, while Efoil is also known as electrofoil or electrohydrofoil.
The main difference of both types from the classic surfboard is the presence of an electric motor and a battery pack, otherwise the surfing principle is the same. The hydrofoil electric board is driven by a propeller-type motor. Water jets are often installed on motorcycle boards without hydrofoil: jet-type thrust allows you to achieve higher speeds.
And now - more about each type, about the features of both of them and a comparison of these features to make it easier for you to choose.
What Is Electric Surfboard
Electric surfboard looks similar to regular surfboards, but you don't have to row by hand or use your legs to glide through the waves thanks to the silent motor.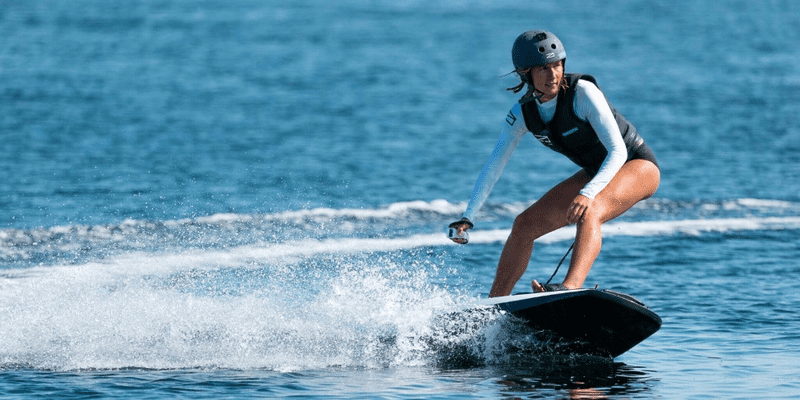 In this case, the surfer is in contact with the water, directly feeling the maneuverability, power and speed of the board with his feet.
A wireless remote control is usually used to manage the speed. Electric SurfBoard requires some balancing, but is generally quite stable and surprisingly easy to ride. This can be done not only while standing, but also sitting or lying down.
What Is Efoil
This kind of electric board opens up new opportunities for surfers. It's all about the presence of a hydrofoil, which is fixed on a mast ("leg") up to 95 cm long and carries an electric motor. When the Efoil picks up speed, this wing provides hydrodynamic force and works to lift the board, allowing it to float above the water. The result is a smoother and more relaxed ride.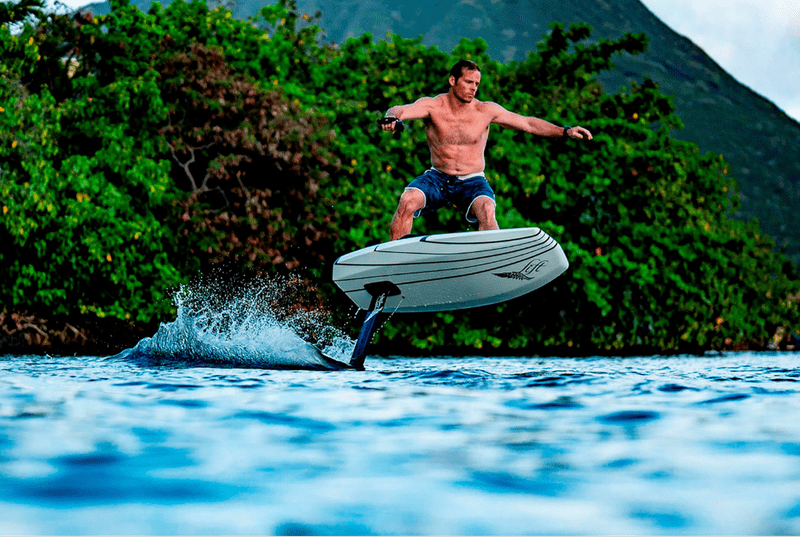 Efoil is capable of providing a flight sensation no worse than hydrofoil, which is installed on a regular board. But at the same time, Efoil is completely autonomous - it does not need a boat, wind, or waves. Control is also carried out via a wireless waterproof controller. The device is easy to disassemble and assemble, so it can be considered much more portable and easier to transport than other electric boards.
Electric SurfBoard vs Efoil – Making a Choice
Both options are good in their own way. To make your final choice, simply decide what exactly you expect from an electric surfboard. In addition to the obvious fact that one type will glide along the surface of the sea, and the second will allow you to soar above it, it is worth considering a number of other indicators.
Speed. Maximum performance will depend on the specifications of the specific model. Electric SurfBoard is worth considering for surfers who prefer adrenaline and fast riding. The board can accelerate to 60 km/h, whereas the speed of most Efoils is around 45 km/h. But falling from the former will be more dangerous and painful due to the additional height.
Duration of riding without recharging. Efoils have a relatively long power reserve, ranging from 60 to 120 minutes. Immediately after takeoff, energy consumption decreases by up to 70%. Accordingly, even with the same power, the battery can last longer than that of an electric SurfBoard, which needs to compensate for the resistance of the water surface, and therefore the riding time without recharging is reduced from 60 to 40 minutes.
Weight. The smaller the board , the easier it is to transport and maintain. Relatively light (just over 20 kg) models are found in both categories. But in general, Efoils usually weigh less (about 30 kg), which is largely due to the smaller size and weight of the battery. Electric SurfBoard often weighs 45-50 kg or more.
Usage options. Both types of boards do not depend on the presence and size of waves, wind and other weather factors. But Efoils have a minimum depth of around 1.5 m, so they are not suitable for riding in shallow waters or waters with sandbanks. Otherwise, there is a risk of hitting the bottom, which could result in an accident and possibly damage to the hydrofoil. In addition, they will not be the best option for bodysurfing - due to the lifting mechanism, it is more difficult to lie down on the board with your whole body.
Riding level. At first glance, it may seem that hydroelectrofoil is more difficult to master, and there is some truth in this. It is sensitive to weight shifts during lifting, so it is important to have a good sense of balance. If you walk on the surface without taking off, the wing provides additional stability. Overall, Efoil is a little more complex, but can be mastered within an hour if you have experience in water sports.
Dimensions of rider. This is exactly the case when size matters - we are talking about the mass of the athlete, since the choice of Efoil's wing size depends on it.
The best way to make the right purchasing decision is to use electric surfboard rental services and test the capabilities of each type for yourself.
Choice of surfboards for sale on topRik marketplace takes into account both the interests of riders who prefer to glide along the surface of the waves, and those who seek to soar above them – we provide new generation electric boards from the American manufacturer of marine equipment Manta Foils.
Review Volt 4 Efoil
Surfboard Volt 4 was originally developed in several modifications for riders with different body weights and levels of training, so there are following options offered:
DISCOVERY for beginners (board volume – 150 liters);
EXPLORE for mid-level (100 liters)
ELITE for upper intermediate level (75 liters)
ABSOLUTE for experts (50 liters).
The Volt 4 Efoil is also differentiated by mast length and lifting wing size.
The 65 cm long mast is ideal for most riders, including beginners, suitable for use in calm waters, and suitable for heavy riders.
The 85 cm long mast for intermediate and advanced riders provides stability in turns, high speeds and choppy waters.
MantaFoils doesn't stop there - you are also asked to evaluate your driving level and, taking into account your body weight, choose a lifting wing from those offered by the manufacturer.
Race Wing with wing surface area of 800 cm² is recommended for experienced riders who prefer aggressive carving and high speeds.
Glider Wing, 1350 cm², will not please the fans of fast turns, but will provide an increase in flight range and maximum speed.
Freeride Wing, 1600 cm² - the choice of the majority, suitable for heavyweights, ensures stable flight at low and medium speeds, smooth turns and increases the range.
Lifter Wing with wing surface area 2150 cm² is chosen by riders weighing more than 100 kg. Guaranteed smooth turns and stability at low speed, long range.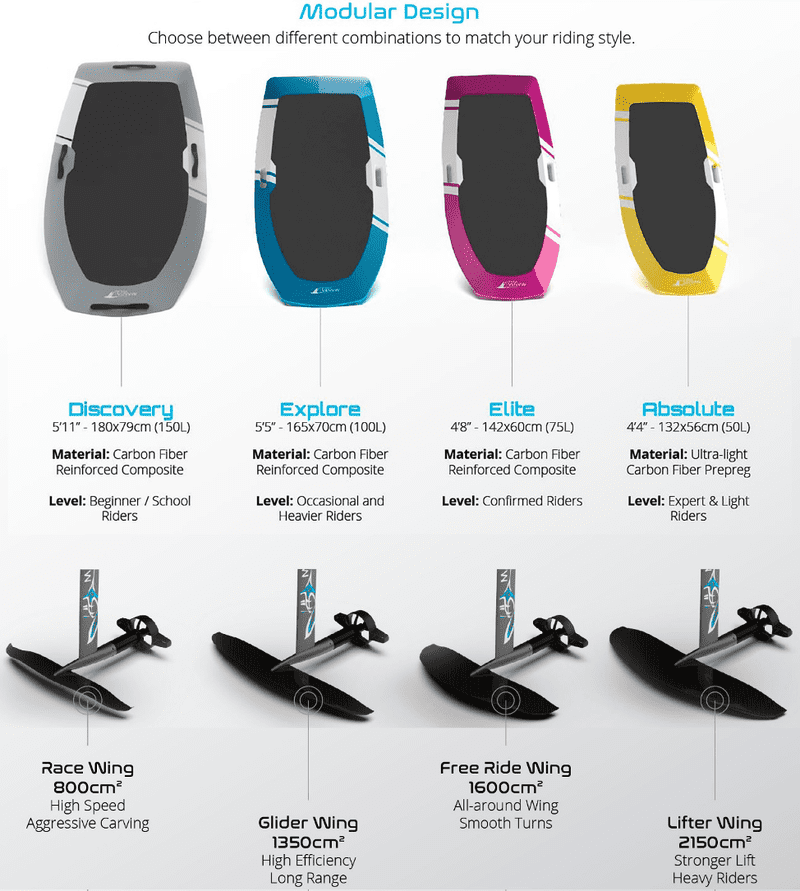 Battery of Volt 4 Efoil with a capacity of 2.6 kWh and 50 Ah provides a driving time of 140 minutes and a range of 45 km at a maximum speed of 45 km/h.
The water-cooled Electronic Speed Controller (ESC) found on the Volt 4 ensures reliable operation of Efoil during long trips. Ball valves mounted on the mast head make it easy to drain the naturally circulating water while driving.
The remote control with a fairly large display supports wireless charging and displays various data: current and maximum speed, estimated distance, battery charge status, updates electronic readings in real time (power, engine efficiency, temperature, etc.)
And look how easily the Volt 4 folds up, it can also be transported even under its own power. Volt 4 Efoil can be easily disassembled and in this form can be placed on the roof or trunk of a car, as well as in the luggage compartment of an airplane, in a garage or locker of a yacht, and can also be transported on the roof of a wheelhouse, hydraulic or mechanical platform.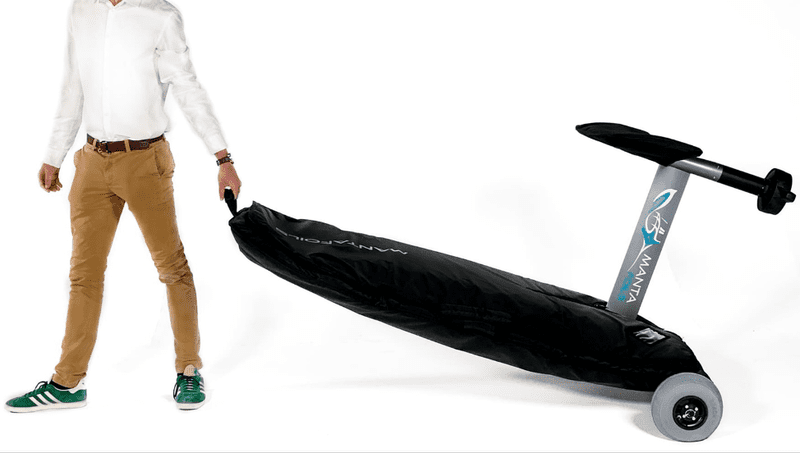 Review Electric Surfboards Voyager Efoil
At first glance it is clear that Voyager Efoil is a close relative of the Volt 4, which was taken as a basis. The model has a removable steering wheel, which provides it with special stability when driving. This is an ideal option for beginners, as well as a happy purchase for the whole family, since all its parameters work for the safety of rider.
The only volume available for a board is a 150-liter, designed just for calm waters. It will also withstand heavy riders who do not intend to perform acrobatic stunts. In this case, users have a significant power reserve - almost 3 hours of continuous driving, which is provided by a 50 Ah battery.
Voyager Efoil is equipped with a timer, which allows you to control the time spent in the water area. The magnetic activation switch enhances safety as well as the confidence of the inexperienced rider by providing incredible stability and effortless balancing.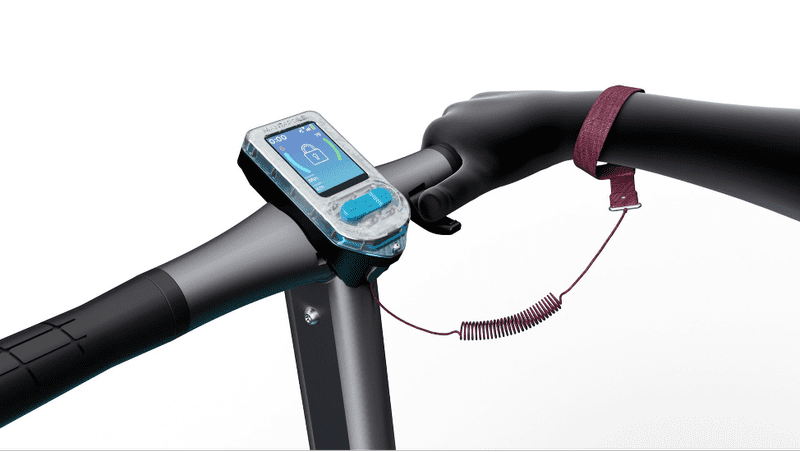 But if you are not satisfied with the status of a beginner, and you aspire to more, we advise you to pay attention to the versions of the lifting wing depending on their area:
Lifter Wing with wing surface area of 2150 cm² - for riders weighing over 100 kg who prefer smooth turns and stability without high speeds, but with a long riding range.
Freeride Wing - 1600 cm² - suitable for a wide range of surfers, including beginners and heavier users, as it provides smooth turns, stability and range at low to medium speeds.
Glider Wing - 1350 cm² - maximum driving range at maximum speed, but not for fans of sharp maneuvers.
As you can see, there is no 800 cm² version for advanced riders, unlike with Volt 4. But this does not prevent you from quickly switching between Voyager and Volt 4 modes, which increases the thrill.
The board is made of carbon-reinforced fiber, and with this in mind, the manufacturer provides a 2-year warranty on Voyager. In addition to durability and strength, this material facilitates construction. See how easy it is to carry with the practical strap handles.
Voyager vs Volt 4
We gathered the data on MantaFoils into a small table for greater clarity. Study, compare, evaluate, choose.
Characteristics
Volt 4 Efoil
Voyager Efoil
Board volume
150 l, 100 l, 75 l, 50 l
150 l
Wing area
800 cm², 1350 cm²
1600 cm², 2150 cm²
1350 cm², 1600 cm², 2150 cm²
Battery capacity
2.6 kWh, 50 Ah
50 Ah
Battery charging time
4 h – Standard 15 A
2 h – Fast 25 A
4 h – Standard 15 A
2 h – Fast 25 A
Ride time
140 min
180 min
Mast length
65 cm, 85 cm
65 cm
Top speed
45 km/h
45 km/h
Max load
100 kg
100 kg
Advantages of Surfboards with Electric Motor
No matter what kind, brand or model of electric surfboard you choose, you win anyway: motorsurfing is absolute freedom and independence. The problem with classic surfing is that it requires waves - and also a plane ticket to Hawaii, which is not an easy purchase for many. Other types of surfing also require either special weather conditions or additional equipment. Windsurfing and kiteboarding require wind; wakesurfing does not depend on the weather, but here you cannot do without a towing boat. And, of course, the learning curve for traditional surfing is rather steep – that's why there so many surfing schools out there.
But you can get involved into motor surfing anywhere, anytime. Almost any place with sufficiently deep water is suitable for this type of surfing: from a small lake to the ocean. Motor surfers are mobile enough to travel with them and discover new spots, test the board both on smooth water and on sea waves. You can go with it anywhere in the world, since the board is allowed to be transported on an airplane.
Motor surfing with an electric motor is also environmentally friendly, which is more and more important for everybody who cares about our planet.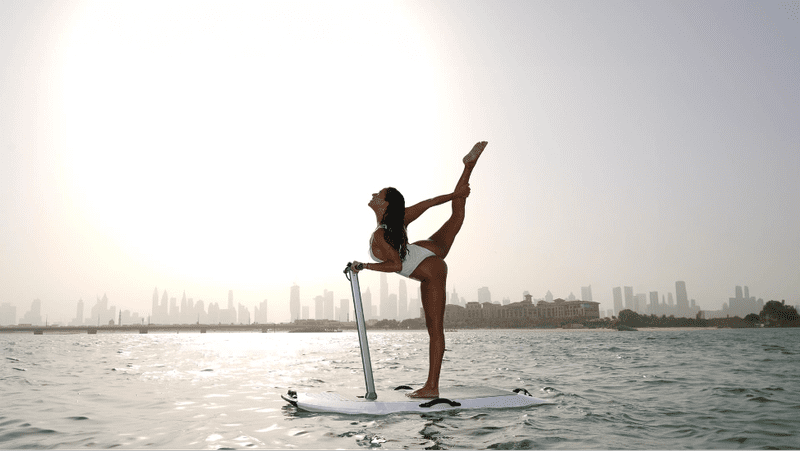 Where to Buy Surfboards with an Electric Motor at a Bargain Price
Efoils from MantaFoils, which are offered by the topRik marketplace, are available for purchase right now at the most affordable price we could negotiate. To consult our team (completely for free), just use any contacts: call, send a message to [email protected] or use the feedback form.
We take care of the entire process if decide to choose our platform for purchase: from negotiations with the manufacturer on the most favorable conditions for you to paperwork and delivery to the specified address with any issues resolved in timely manner.
Please note that at any time you can contact us for spare parts and accessories for Voyager and Volt 4 in the future. Happy surfing!