Beneteau Gran Turismo 45 Review
topRik team could not remain indifferent to the magnificent Gran Turismo series from the Beneteau shipyard. This particular review is about 15-meter powerboat Beneteau Gran Turismo 45 - a completely redesigned hardtop sports cruiser.
In addition to the review from our experts who tested the boat thoroughly, we have collected a lot of other information for you: a lot of photos, diagrams and videos, as well as summaries of the reviews of famous yachtsmen, which are posted in the leading yachting media with the original links provided.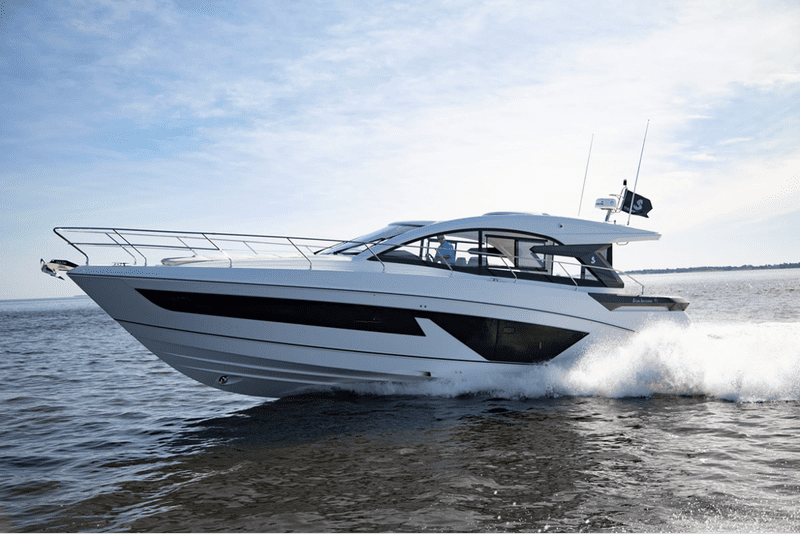 The segment of sports cruisers or express cruisers - the sporty boats with outboard or inboard engines and open wheelhouses at the stern - is one of the main markets in the field of powerboats, where the Beneteau brand has built a reputation over the years with GT series.
In 2021 a new flagship of this series arrived - Beneteau Gran Turismo 45, which complements the GT 32, GT 36 and GT 40.
Replacing GT 46, Gran Turismo 45 features a significant styling evolution thanks to Italian designer Pierangelo Andreani: the roof with new side windows is much larger than before, a front windshield is framed by two pillars integrated into the roof, which completely changes the look of the boat, and the hull windows are noticeably enlarged.
In our opinion, the Gran Turismo 45 turned it up when it comes to elegance and simplicity. Of particular note is the bevel on the upper part of the sides, which adds to overall dynamism.
In terms of deck layout, the naval architects have done a good job to ensure the most comfortable movement on board: redesigned cockpit, huge bathing platform, an off-center helm on the starboard side that frees up space on the port side, allowing easier access from the bathing platform to the living areas (galley, saloon and cabins), an expansive sunbathing area on the starboard side, under which, for the first time on a 45-foot express cruiser, you get... actually, let's end it on a cliffhanger for now – we will talk about it in the following virtual tour, in which we will try to understand why the comfortable, sporty and safe Beneteau Gran Turismo 45 managed to get Best of Boats Award 2022 in the category "Best for family".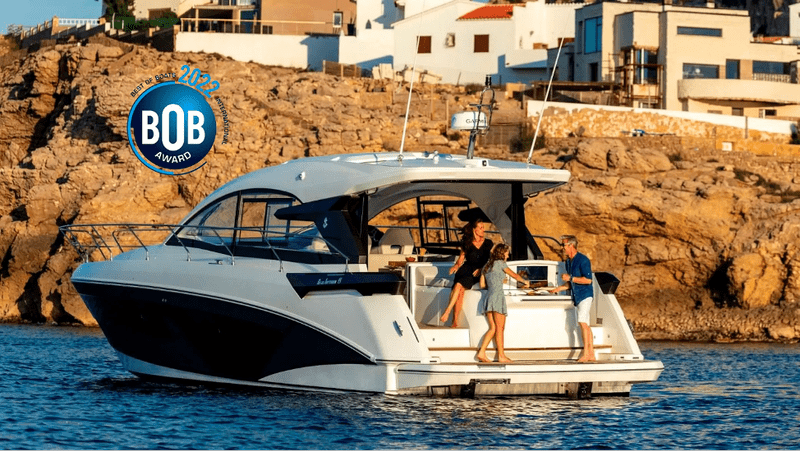 Features
Brand:

Beneteau

Hull type:

Monohull

Overall length, m:

14.78

Overall length, ft:

48

Width, m:

4.2

Draft, m:

1.2

Displacement, t:

11.241

Air draft, m:

4.59

Water tanks, l:

2 x 200

Exterior design (architect):

Beneteau Powerboats & MICAD

Interior design:

Adreani Design

CE Certification:

C12 / D12

Engines, hp:

2 x 440

Fuel tanks, l:

2 x 450
Would you like to buy the boat or get more information such as delivery dates, safety equipment, registration and insurance?
Call or Text us, and we will provide up-to-date information ASAP!
We will make sure to get all your requested data directly from official representatives and service suppliers.

English / Hrvatski / Русский
Maximum Speed and Fuel Consumption
| | |
| --- | --- |
| Max speed | Up to 30 knots |
| Cruising speed | Up to 9-10 knots |
| Fuel consumption | 40 l/h when planning at a speed of 9.5 knots |
Price calculator
Review of Beneteau GT 45 by topRik Team
This yacht was especially rigorously tested by our team, since a significant part of our SimpleSail fleet consists of sailboats and powerboats from Beneteau and sporty vessels from this shipyard take a special place in our hearts.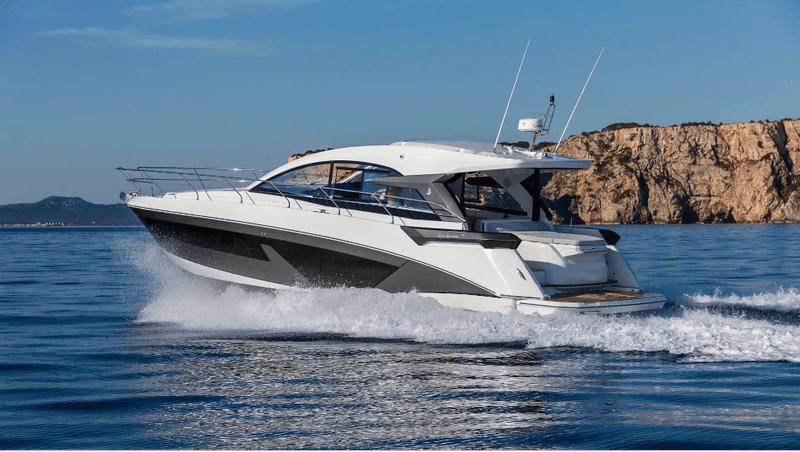 View from the Pier
To be honest, we were perplexed at the dimensions of the new at that time flagship of the GT line from Beneteau - after all, they were almost identical to the already well-known Gran Turismo 46. But when we approached the new docked Beneteau express cruiser, we immediately knew that we were in for a lot of surprises, since this is a completely new design, just with the same length and width.
It was a significant risk to replace the popular GT 46 with a boat of the same size and claim it was a completely new concept. But this is what Beneteau does – it takes risks in order to score a win later: all the improvements resulted in dozens of orders for Gran Turismo 45 on the day of the world premiere.
Let's start with some demo pictures to appreciate the refined contours, balanced parameters and color options.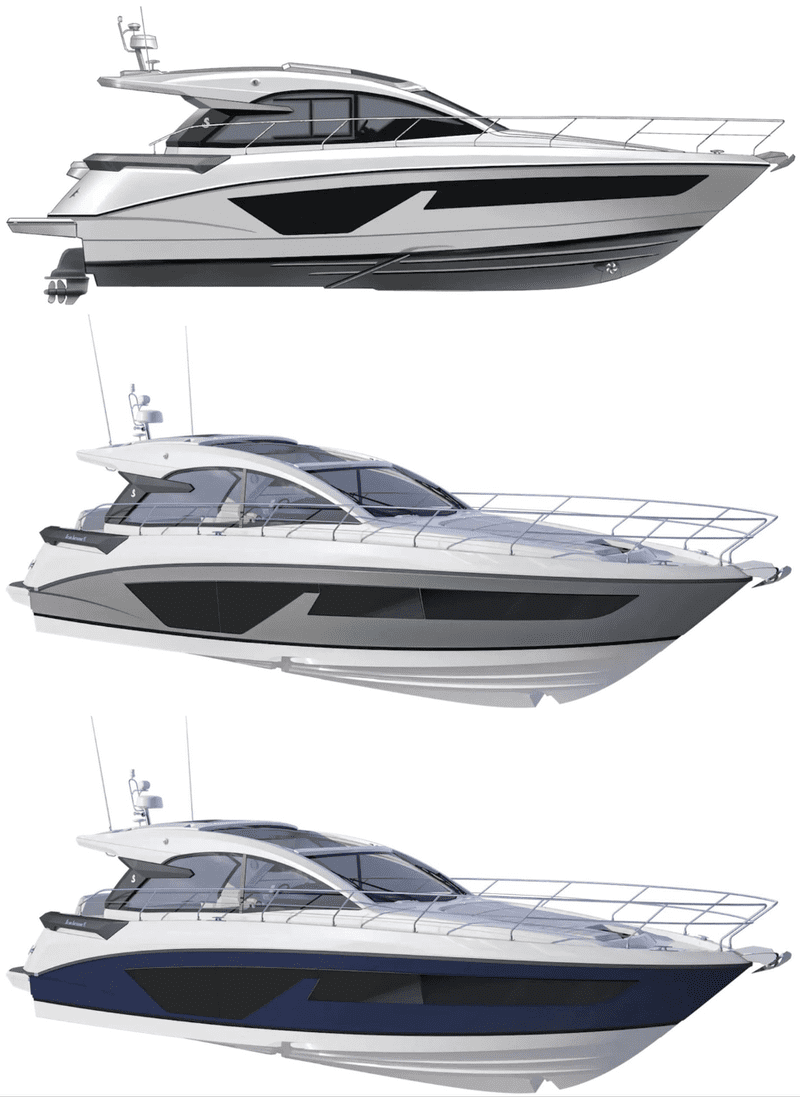 Since the exterior changes are also related to improvements to the space of the main deck, it is useful to keep the layout of this main deck in mind, both with and without a hardtop, so that you can appreciate how much the pathways were improved in various areas of this level. As you can see, there are several recreation areas on this deck, as well as work areas, which include the helm station and galleys (note the plural of this noun).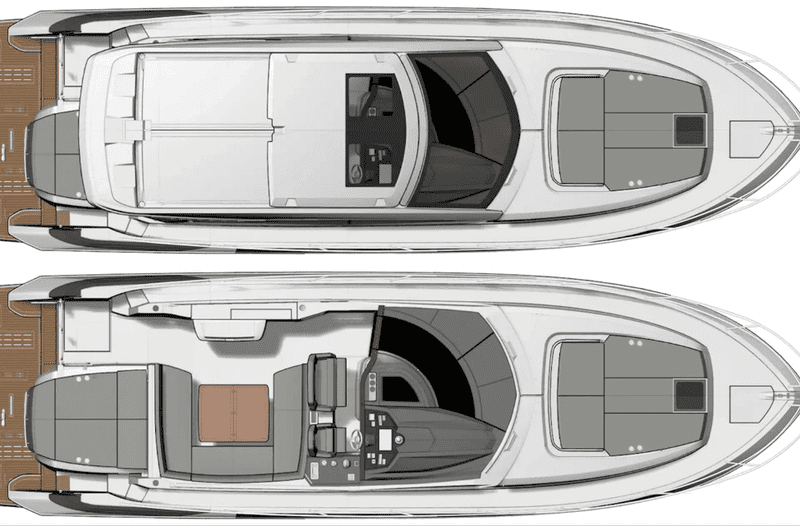 Now let's climb on board with the topRik team, traditionally beginning from the transom.
Transom
The ladder to the main deck is located on the port side of the Gran Turismo 45, and the role of the transom wall is performed by a powerful base of a sunbathing lounger facing the hydraulic platform.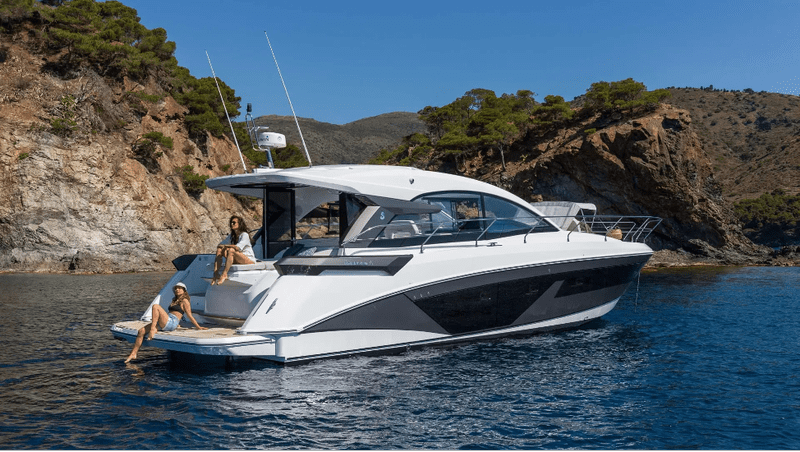 Of course, this is an impressive lounger, but you clearly think that so much space under it can be used much more rationally.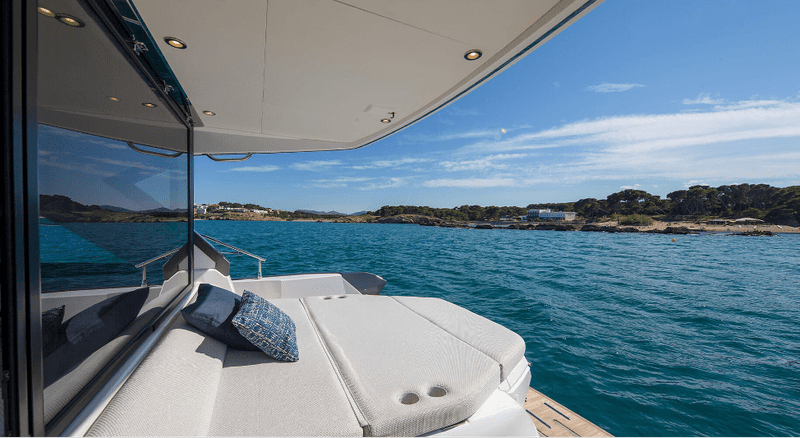 And you are absolutely right! Moreover, the naval architects who designed this motor yacht also considered the same: under this sunbed there is a garage for a dinghy. See how large of an RIB can fit here if you want to free up a hydraulic bathing platform. By the way, through controlling this platform, the tender can be easily lowered into the water.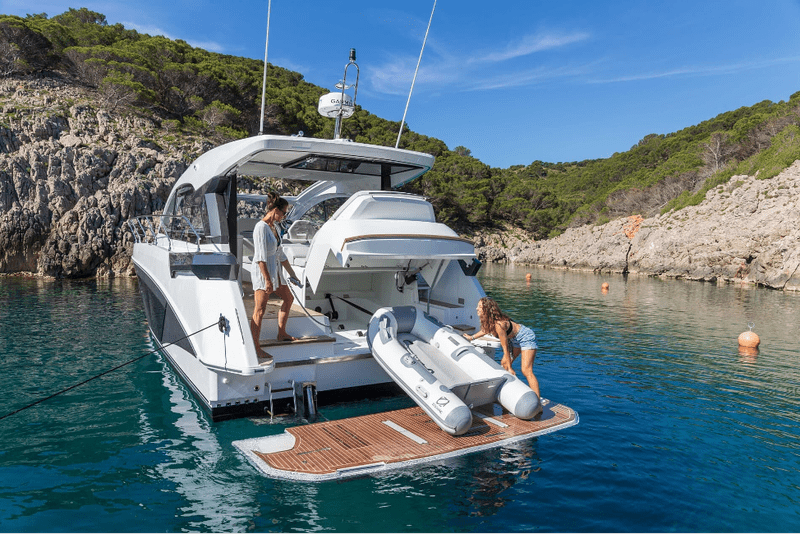 The platform, huge sun lounger and steps of the ladder represent a superbly equipped transom seating area, perfectly suited for all types of water activities.
We understand that the tender with the engine removed is not too heavy, but why does the head of the family not help in these pictures? Ah, yes - he will appear at the most crucial moment, when the tender is already inside the garage, and a mini-galley with a grill will be available on its roof.
A platform with a load capacity of 350 kg can withstand much more than two people at once.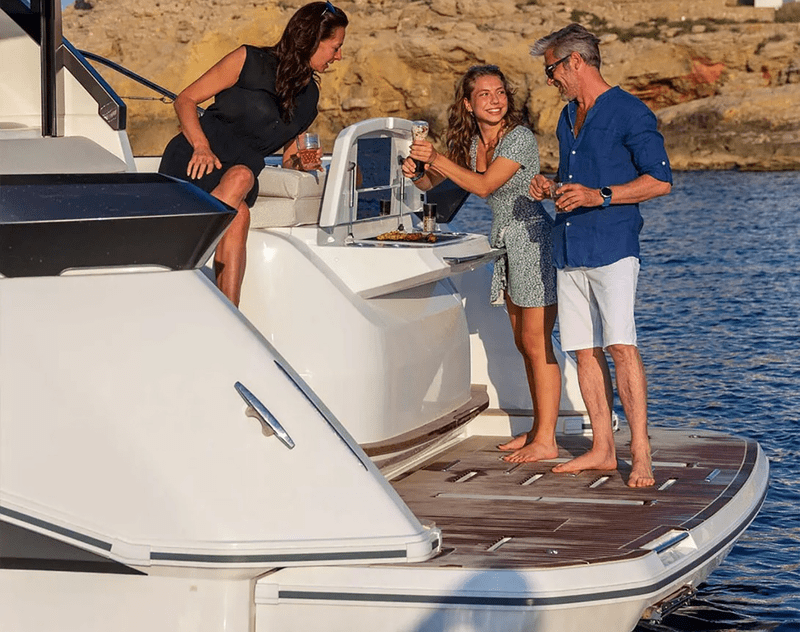 But while the head of the family is busy at the control station, it's time to have some privacy. This place is good at sunset, and at dawn, and at any time of the day...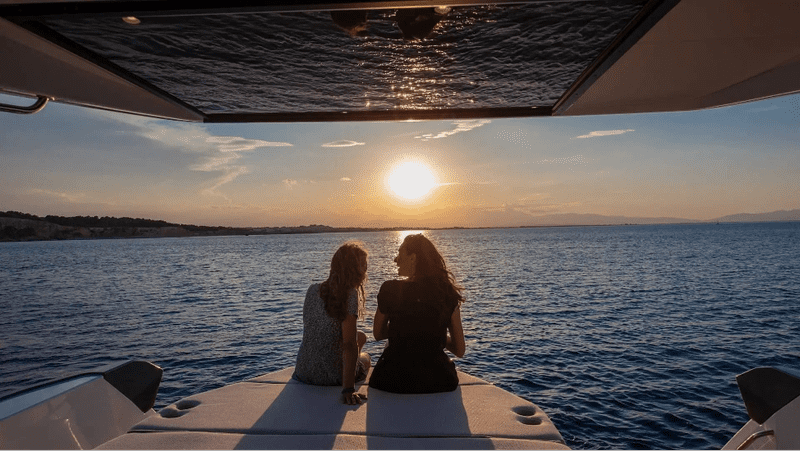 In the Cockpit
While you were salivating over what was being grilled there, you probably had a question - where are perishable foods, ice cream and drinks stored. It's right here, just go into the saloon and on the port side you will see a spacious refrigerator with a freezer.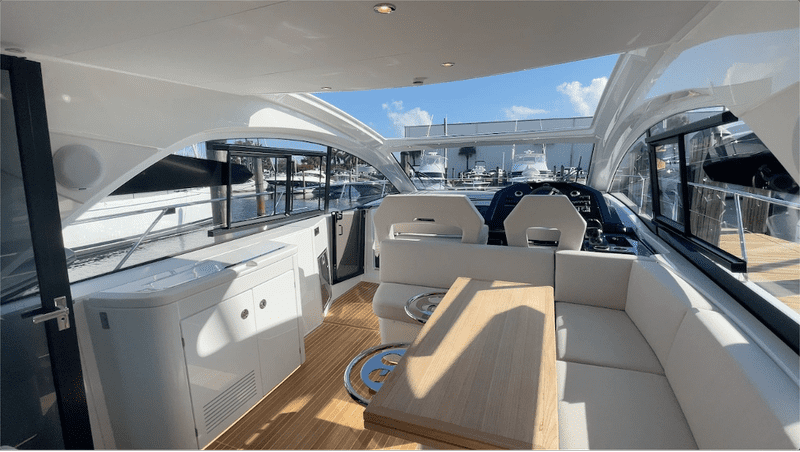 To starboard you get a comfortable dining area. So grilled dishes can be enjoyed here, complemented with drinks and ice cream from the freezer. Pay attention to the table with adjustable height, which can be unfolded. If you lower it to the level of the seats, you get a coffee table or a base that will help equip two extra beds. Of course, this solution is not for a long trip, but for some guests from a yacht next to the berth, it is quite a suitable way out.
The working area is separated from the dining or relaxation area by the backs of the sofa and chairs in front of the control post. In here everything is designed to make the pilot as comfortable as possible:
the navigator's chair is designed for one person and can be adjusted;
footrest allows people of any height to feel comfortable;
under your right hand there is a lever for switching gas/reverse and thruster controls;
the distance to the helm can also be adjusted;
the helm panel contains a large marine display, sensors for yacht equipment that requires constant monitoring, navigational instruments and communications.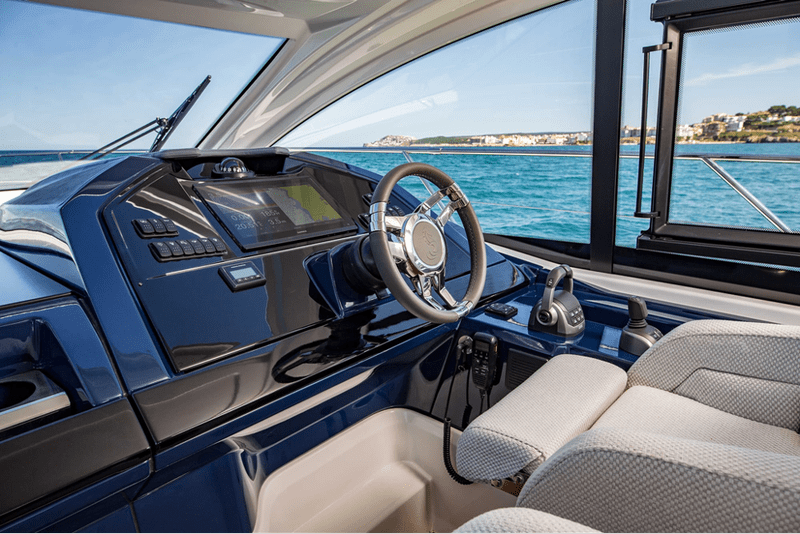 The "windshield" is equipped with powerful wipers, and the view is open from all sides.
Next to the navigator's chair you have a double seat, where those who wish to watch you do your thing can sit. Or, they can try the navigator's chair themselves and learn how to manage under the strict supervision of the skipper and other family members.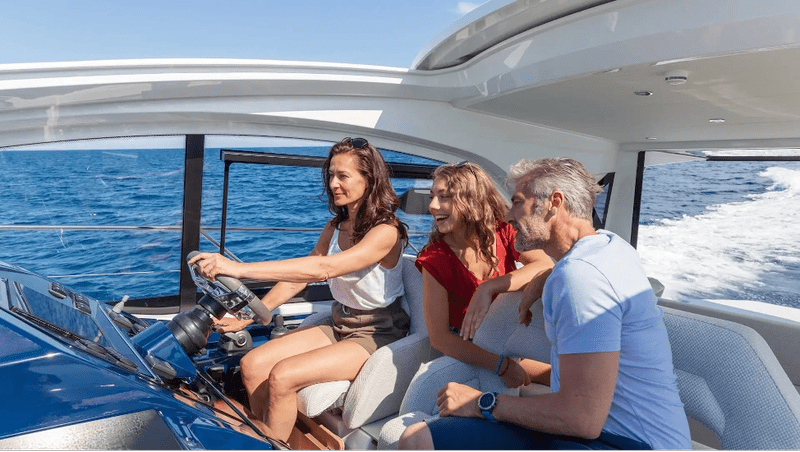 When the roof is open, depending on the speed at which the Beneteau Gran Turismo 45 is moving, you will either enjoy fresh sea breeze or a hurricane in your face.
At the Sea
With Volvo Z-Drive D6-380/DPH (2 x 380 HP) or Volvo D6-IPS 600 (2 x 440 HP) built-in engines and the famous Air Step, which made a reputation for Beneteau powerboats, GT 45 simply excels at the sea.
This is what the yacht's engine room looks like, which can be accessed either through a hatch on the port side or through a large hatch inside the tender garage.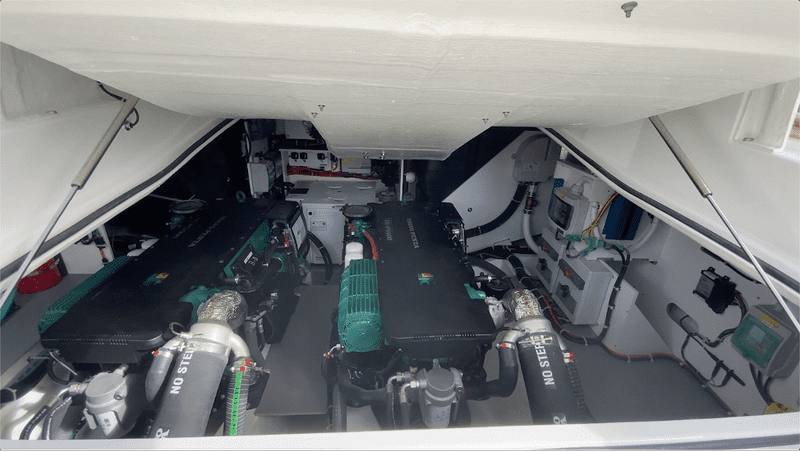 Our boat was equipped with a Volvo D6-IPS 600 (2 x 440 HP), the weather was bad enough to test it on the high waves, but we reached the 30 knots promised by the developer at 3500 rpm in 13.5 seconds, and at 3700 exceeded it by another 2 knots, and at this point they stopped increasing speed, saving fuel.
The acceleration time to planing corresponds to the declared one, it was less than 9 seconds, and in order to stay in flight, it was enough to maintain a speed of 13 knots.
We didn't have enough time to take small gaps between speed differences to check fuel consumption. Therefore, we immediately switched to a cruising speed of 9-10 knots. In our opinion, it is quite beneficial for cruising to keep the speed at 9.5 knots, in order to not exceed fuel consumption over 40 l/h.
With half-meter waves Beneteau Gran Turismo 45 rides with equal ease on the wave and against it, without excessive noise, bumps and effort. It seems that she does not feel the water at all - she simply cuts the water surface and goes towards the goal. For this feeling to last for a long time, do not force the speed over 25 knots, at 30 knots you will feel the struggle of the boat against the water element. But you can do without it just fine.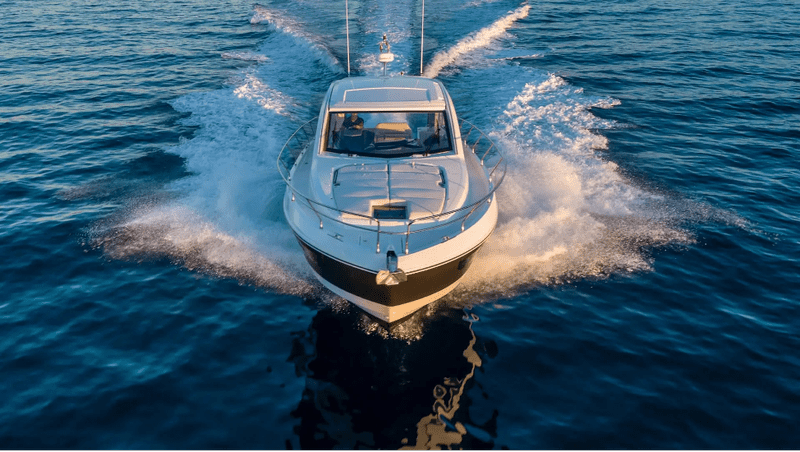 On the Foredeck
Climbing out of the engine compartment through the hatch at the stern, let's go to the bow before exploring the lower deck. According to the layout schematic, you can see that almost the entire area is given over to the solarium. And that's how it looks.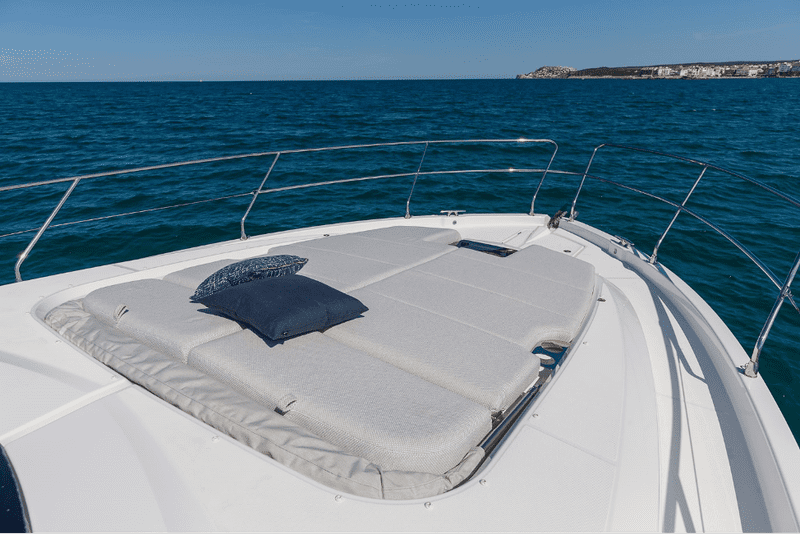 The hatch you see closer to the anchor winch is for the anchor chain. You can equip a bimini here to protect your eyes from the sun.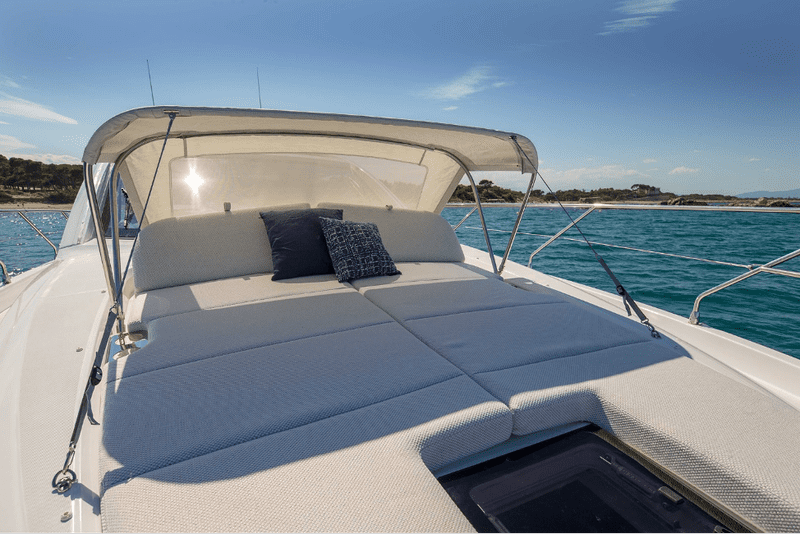 On the Lower Deck in the Saloon and Cabins
The lower deck is almost completely given over to cabins, except for the dining area and galley, which are in between the master cabin amidships and the bow cabin. In the diagram below, you can see that the shipyard offers different configuration options - for 2 and 3 cabins.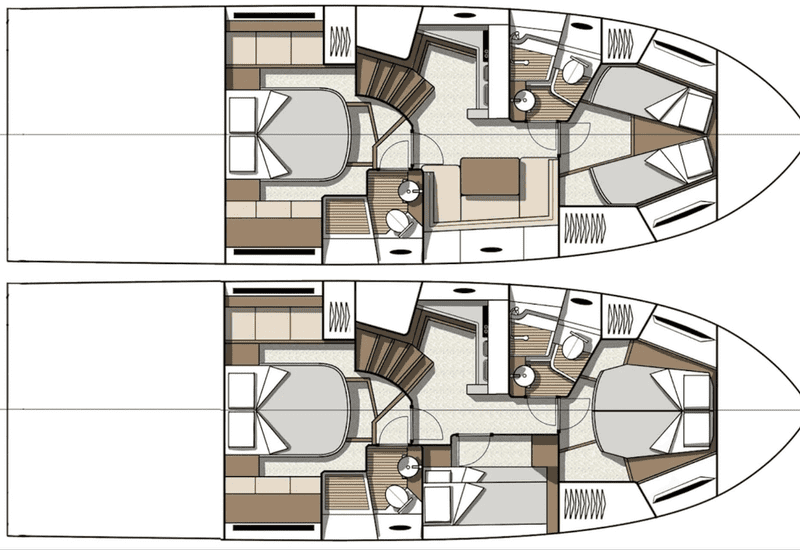 In both cases, the owner's cabin and forward cabin remain the same. Only in place of the dining area there is another cabin with a bunk bed.
The owner's cabin and the VIP cabin are equipped with a large island double bed, each with a private bathroom with a separate shower, which is rare on boats of this size.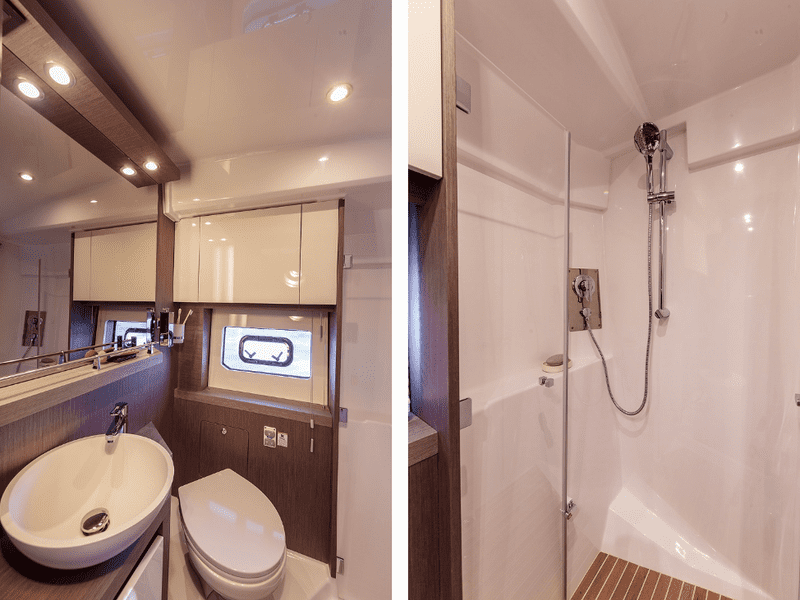 The double bed of the master cabin is complemented with other furniture, so this room looks more like a small bedroom, which has two sources of natural light and fresh air from two sides at once. The portholes have built-in "windows" that can be opened.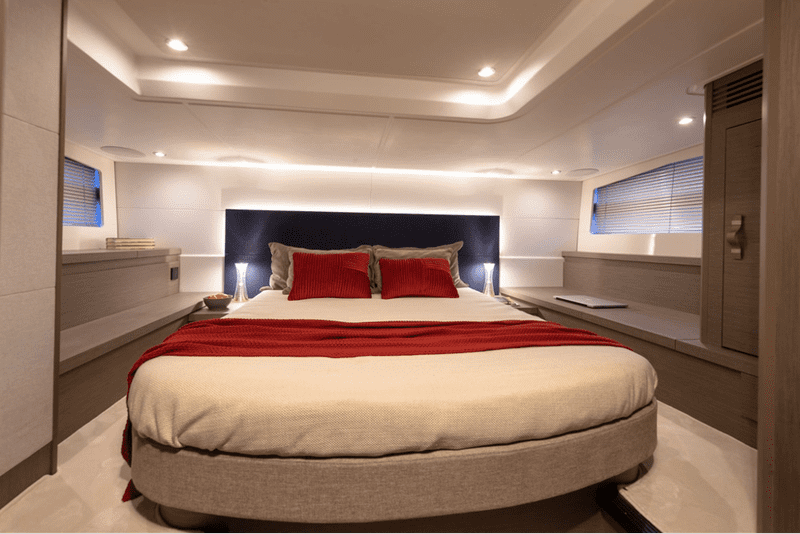 On the sides of the bed, you have lamps, bedside tables, along the entire length - shelves and lockers for storing personal items. This cabin has a wardrobe for storing outerwear.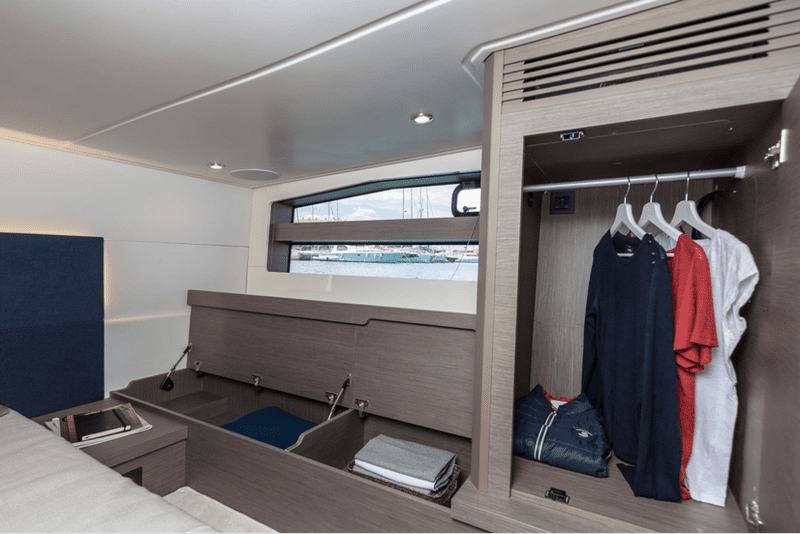 The bow cabin is more modest, but also has portholes on both sides and storage space. If desired by the owner, this cabin can be equipped with two single beds.
The cabins are connected with another living area, where the 2-cabin version has a dining table with a C shaped sofa around it. This room is also provided with natural ventilation and lighting through an opening porthole. Pay attention to rounded furniture corners – high-quality processing proves the concern of the shipyard for the comfort and safety of Beneteau passengers Gran Turismo 45.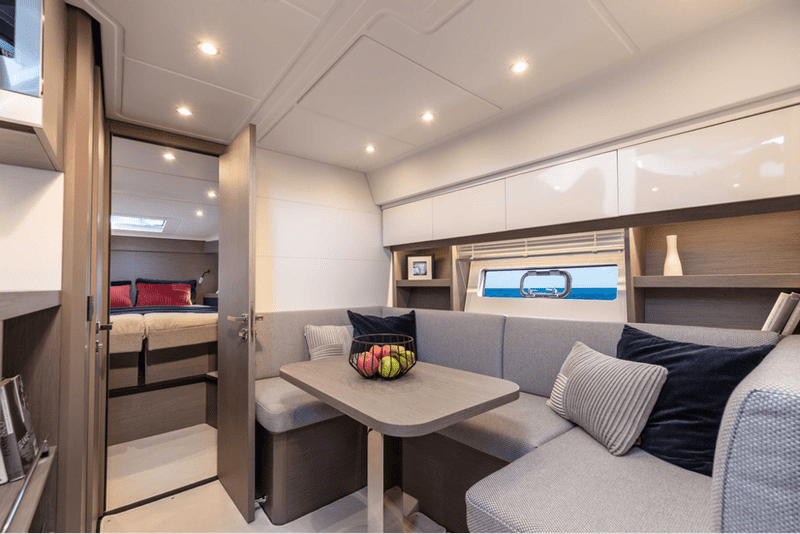 A full-fledged galley is provided in all configuration versions and includes a well-equipped kitchen with a stove, oven, microwave, spacious refrigerator, a sink and plenty of storage space for kitchen utensils and dishes.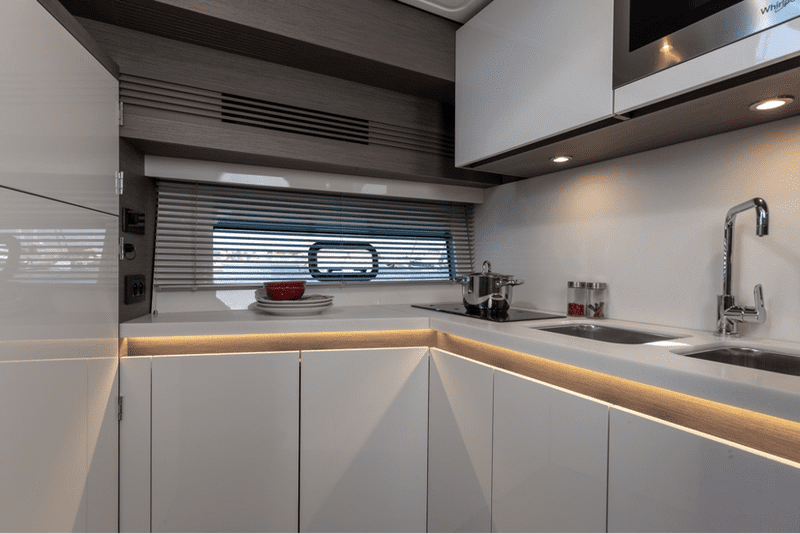 Advantages
Well, we did not find any shortcomings! Even our usual quibbles about lack of storage space, sharp corners, excessive noise and cost do not work with this yacht.
And the main advantage of Beneteau Gran Turismo 45 lies in the fact that its value is in excellent proportion to the quality of construction, the comfort of driving, life on board and the safety for all passengers, including children.
This task is also served by pathways with a width of more than 40 cm on the gunwales, and stainless-steel handrails on the sides with small outwardly inclined bends with a height of more than 60 cm.
This is a spacious boat with a thoughtful interior that provides a wide passage from the transom to the helm station. The equipment of the cabins is very well thought out - for each passenger there is a separate bathroom with a shower. All this, taking into account a sufficient number of storage spaces, allows you to feel comfortable on a cruise of any duration.
To be convinced of the quality of the equipment that improves life on board, just read the names of the manufacturers - these are one of the best manufacturers of marine equipment in the world.
Reviews of Gran Turismo 45 from Professionals
This time the reviews were all equally positive. We tried to choose those points in these reviews that we did not pay attention to during our own testing. All quotes from yachting journalists are accompanied by links to their full reviews published on the pages of popular yachting media.
Video Reviews of Beneteau GT 45
Such fast and agile vessel must be fully appreciated in action - we tried to find the most visually rich and informative videos on Gran Turismo 45 out there.
Nothing like an energetic teaser from the Beneteau shipyard to get inspired:
18 minutes of interesting and useful information about the interior and features:
Another walkaround tour around the boat:
No words, not needed. BoatTube, as always, silently shows you what Gran Turismo 45 is about:
Conclusion
topRik team's tests has shown that the Beneteau Gran Turismo 45 has excellent seaworthiness: quick enter into planing mode, excellent maneuverability, high stability even in high waves.
At the same time, it is very comfortable – you can to live on it for a long time, exploring the coastal regions of various countries and islands.
You should not immediately refuse to rent it out - it is quite suitable for corporate events with a small number of guests.
But when it comes to longer stay, for many months of life on board, this is, of course, a yacht designed for an owner, who:
prefers safe and comfortable trips with his family;
often invites close friends on a joint trip along the coast:
ready to go on a holiday with a loved one in comfort;
chooses sea travel with the possibility of speed sports;
loves speed, wind and solitude during sea cruises - the yacht is superbly managed alone.
Where to Buy Beneteau Gran Turismo 45 at a Bargain Price
If you were wondering where to buy it at a good price before reading this article, take a look at our sales page: topRik marketplace offers the most favorable conditions for selling the GT 45 through our marketplace.
We have strong ties with the representatives of the Beneteau shipyard, as we regularly replenish our fleet with sailboats from this manufacturer - and now it is the turn of motor yachts too.
We offer you a bonus that you can use right now. Go to our price calculator and use this virtual configurator to complete the Beneteau Gran Turismo 45 according to your requirements and budget.
During this pleasant session, you can take advantage of another bonus - receive free consultations from our experts.
When you finally make your choice, entrust topRik employees with other tasks that seem too troublesome to you. We will save your time by providing all the conditions for a successful and profitable purchase for you. We also will:
negotiate with manufacturers or dealers on favorable terms of sale for you;
prepare and issue all the necessary documents in all the required instances;
check the condition of the yacht and its equipment at the place of shipment;
in case something is missing or broken, we will contact the manufacturer and resolve all such issues;
we will transfer the yacht to the specified location.
topRik experts perform all these services, accompanying the buyer in this process, with or without his participation – you decide. They have many years of experience in yachting and acquiring sailing and motor yachts for our SimpleSail fleet, which is dispersed in our marinas in Croatia and Montenegro. Our employees perfectly know the boats of the leading manufacturers, have repeatedly negotiated with them and delivered their products from different ports of the world to our marinas.
topRik team is also ready to take in your yacht for permanent maintenance if needed.
The marketplace will provide you with all the necessary equipment and accessories that are not provided by the manufacturer. In one place you get the whole range of various equipment – check out our full catalogue.
All you have to do is submit a task to our experts through a feedback form, by calling the number you see on this page or by sending a message to [email protected].